January 3, 2019 Maya Khoury
Harley-Davidsons are loved the world over for their torque, style and effortless cruising ability but let's be honest, their bikes tend to lack the clearance, suspension, and tyres needed to ride aggressively. Well, that was the case until the Milwaukee-based company released this 30,000 USD FXDR 114, a brand new bike designed to handle tight corners and switchbacks.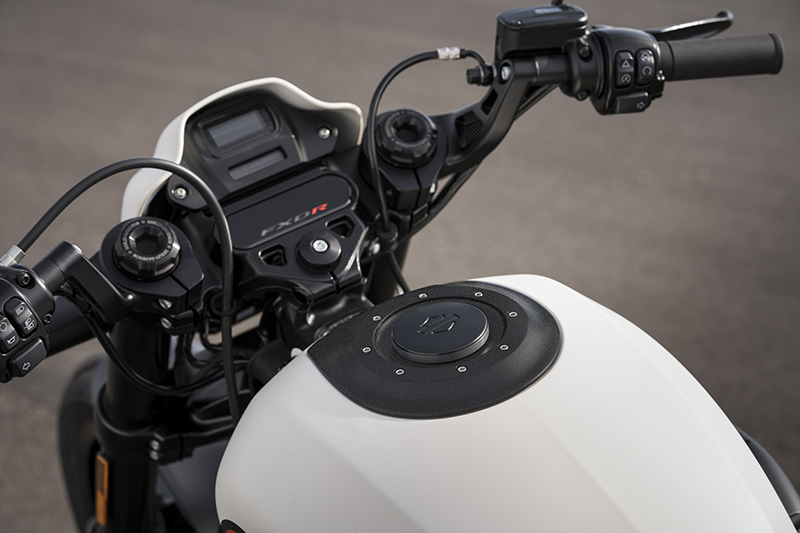 Then again, if you know your Harleys you could well be wondering whether the FXDR is a spiritual successor to the most un-Harley motorcycle ever conceived: the now discontinued V-Rod. After all, they're both low, long, and raked out, but don't worry, it's not. Not even in the slightest. You can actually tell this one has loftier ambitions as soon as you get to the rear of the bike where you'll notice a two-into-one exhaust pipe (something usually associated with modern Italian machines). And suddenly it's all too clear that Harley's no longer messing around.
Indeed, Harley has done its best to cut excess weight. For example, the tail section and mudguards are created from composite materials, instead of HD's usual go-to material – steel. The subframe is made from aluminium. As is the swingarm. So too are the wheels, in fact. Put all this together and you have a running order weight of exactly 303 kilogrammes, and that's not bad at all, especially for a Harley.
You could say the FXDR 114 is part dragbike, part custom cruiser, part corner carver, but by doing so you'd be positioning it in a segment of the market in which there's some stiff competition, including the likes of the Ducati Diavel and Yamaha VMax. Nevertheless, it comes out swinging thanks to some impressively lean angles, a 43mm inverted fork, as well as an air-cooled 1868cc V-twin monster that doles out a solid 160Nm of torque.
Out on the open road, you'll find it is endowed with a broad-shouldered stance. The seating position is a little too aggressive though, as it requires you to lean far forward to reach the drag-style handlebar and that can cause lower back pain on a longer ride. Moreover, the combination of being hinged at the waist and having your legs positioned quite far out (especially on the right hand side where there's a large drag-bike-inspired intake impinging on space) means you need to be willing to put in the effort if you want to lean into corners. The good news though is that you can swap out the forward controls for mid ones without much fuss (clip-on bars are standard, but popping off the FXDR logo panel atop the triple tree reveals traditional mounts) and doing so will help accessibility greatly.
One thing you'll have probably noticed from the image to the right is there's a massive discrepancy between the huge rear tyre and normal-sized front tyre. It's an off-set combination that takes a little getting used to. Once you do though, you'll find the FXDR to be an agile cruiser. I definitely appreciated the high clearance of the controls and can assert that unlike any regular Harley you won't ever drag a peg. Furthermore, the seat is unusually comfortable (but on the down side, there's only room for one).
Finally the stock exhaust emits a nice rumble but I got to sample a 1,000 USD titanium Screamin' Eagle slip-on pipe option, which comes with a carbon fibre end cap and I'd say it's worth every cent because it helps remind you why this is now America's best power cruiser. Japan and Italy, you have been warned.