February 11, 2020 Nadia Michel
While catering to the Middle East's conservative culture and insatiable appetite for marriage, startup dating app Harmonica wants to revolutionise dating in the Arab world. It's crazy that just a few years ago, Internet dating meant tethering yourself to your computer, but thanks to the advancement of mobile devices and location-sensing apps, the world is now your playground when it comes to finding a suitable date. Of course, Tinder is the world's best-known dating app with a wealth of 50 million people to swipe or scroll, but its speciality is hook-ups. What to do if you're looking for a long-term relationship, or even marriage, like many young people in the Middle East? Well, there's actually an Arab-made matchmaking service that has been tailored for screening and meeting your future mate, and it's designed to eliminate all the ick-factor of some of those other digital dating platforms.
"They're irrelevant. They're not for serious relationships or a culturally appropriate way to find a life partner," says Sameh Saleh, the CEO of Cairo-based Harmonica, the company he co- founded with Tamer Mohamed, Shaymaa Aly and Aly Khaled.
The idea for a localised dating app came to Saleh after he witnessed many of his friends suffering through awkward meetings arranged by family members and the fact that casual dating is frowned upon in this part of the world. And, since its launch in 2017, Harmonica has changed the game for hundreds of thousands of young Egyptians, many of whom have successfully found a spouse on the app. "Youth are taking matters in their own hands, they want high technology to help them in their life," he says.
TINDER ETC ARE IRRELEVANT. THEY'RE NOT FOR SERIOUS RELATIONSHIPS OR A CULTURALLY APPROPRIATE WAY TO FIND A LIFE PARTNER.
To that end, Harmonica is not only designed to find an ideal match for each user thanks to a sophisticated algorithm that measures values, lifestyle and ideal partners, but it also has the kind of safeguards that make it palatable for a conservative religious population. For instance, women can post a blurred profile photo that is only revealed to the users of their choice. The app also only allows users to chat with one person at a time, and even offers an optional 'guardian' function, which sends chat transcripts to a third party, so that family members can have the opportunity to put their stamp of approval on the match.
"A lot of women are using the app and think it's a smarter choice and bringing better results than waiting for someone to come to their house," Sameh points out. He and his co-founders are rife with tales of cousins and friends who have spent years looking for a life partner, unsuccessfully. But the number of users who have gotten engaged or married using Harmonica, sometimes after only a couple months of dating, is evidence that its customized matchmaking technology really works.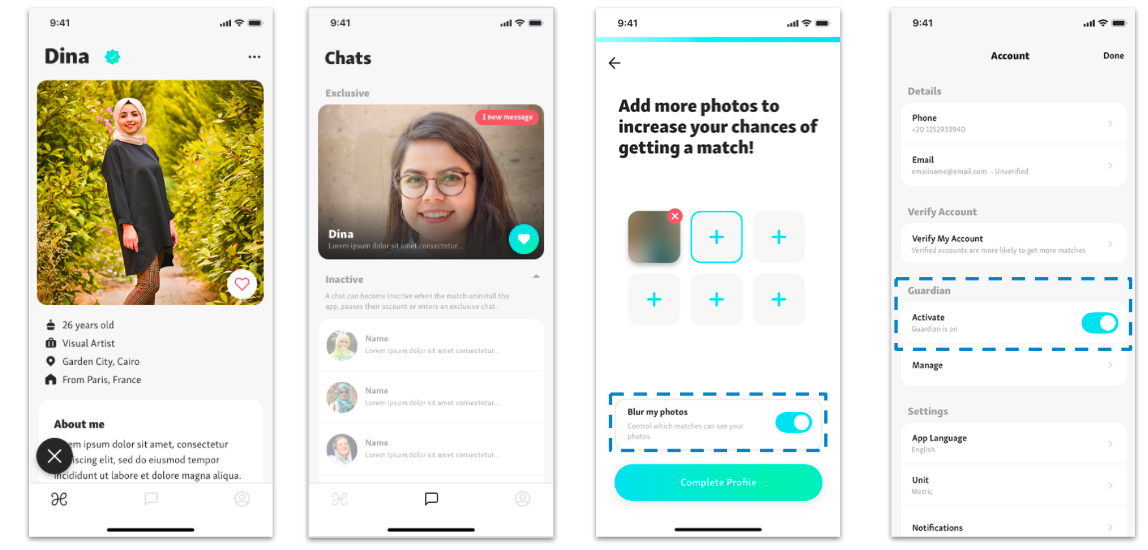 This has all made for a very attractive proposition for US giant Match Group Inc (parent company of Tinder, PlentyOfFish and Match.com), who acquired the Egyptian startup last August. Match Group has plans to serve 33 countries in Asia and MENA that have a large Muslim population using Harmonica's platform.
The growth process for Harmonica in fact has been fast and steady: initially funded during the founders' stint at the Cairo start-up incubator Flat6Labs, one of the oldest and leading accelerators of the region, it was subsequently backed by 500 Startups, an early-stage venture fund from San Francisco. "That's when we left the local market and went to Silicon Valley. We spent five months learning about giant startups, and how to build a global product," explains Saleh, who's also a co-founder of Tripdizer, a smart travel app that just secured 300,000 USD in seed funding (also from 500 Startups), Innoventures and angel investor Jamal El Dabal.
Considering Egypt's huge potential market – including more than 20 million people aged 18 to 29, and Match Group's proven capacity to scale dating technology, there's a good chance you'll be hearing a lot more about Harmonica.