February 25, 2019 Nadia Michel
At first glance, you might assume Jessica Khoueiri's achievements as a designer have come easy. I mean she's practically kebab royalty – her father, Toufic, is the founder of Kababji, a highly successful chain of Lebanese fast-casual restaurants (best known for their high quality coal-grilled skewered meats). Her brother, Sami, recently launched the 'Spiced and Sliced' concept – offering shawarma with a twist. And her husband, George Achkar, is the mastermind of a summer culinary festival in Broummana, where his family owns the Printania Palace Hotel and his father is also mayor. Now add to that the fact that Jessica is tall, beautiful, educated and well spoken, and it seems clear she could have ordered up a fashion label on a silver platter. Except, as a memorable journalism teacher once pointed out, you should never assume anything. Because when you do, you make an ass out of u and me.
The truth is that Jessica K, as she's become known in the fashion community, has worked long and hard to get where she is. "I really started this business so small, out of my own pocket money that my father used to give me," she recalls. "I'd make one or two pieces, or even bracelets, sell them and reinvest the money into the company."
As she tells it, fashion has always been a passion of hers, one that she would express when she was a little girl giving her mother advice on what to wear, or by coquettishly glamming up her school wear with pretty ribbons. Even so, Khoueiri went ahead and completed the requisite Business Hospitality Management degree that was meant to propel her into her father's fast-food empire. But instead of continuing on that path, she opted, at her father's request in fact, to pursue her dreams and take a far riskier route. First stop was a degree in fashion design at London's Istituto Marangoni. It was there that she honed her skills before returning to Beirut for a rewarding internship at Elie Saab, and an auspicious wedding – one that has produced two children, now aged six and four.
I STARTED THIS BUSINESS SO SMALL. I'D MAKE ONE OR TWO PIECES, SELL THEM AND REINVEST THE MONEY INTO THE COMPANY.
Today, as she sits in the showroom of her label that she founded in 2010, she can take satisfaction from the fact she has built a little hive that includes five loyal employees, her ever-growing eponymous label Jessica K, a cool-kids line named Little Bluffers, an exclusive deal with local retailer Depeche Mode, a stand at the Beirut Airport Duty Free and solid online sales.
"Before, if you told me I should open my own boutique, I'd have said no way. But now that I see how many clients want to come here, how many people are asking about the brand and how many orders we're getting online, I think it's starting to look interesting," she says.
Besides a possible flagship store in Beirut, Khoueiri admits to also be eyeing the US in her bid to expand the brand further. But it's something that will probably require a capital injection and some restructuring, which is why she has applied to the recently launched incubator Fashion Trust Arabia, which will be selecting a small group of regional designers to support and mentor.
She's also painfully aware that her success there hinges heavily on getting the attention of influencers and social media. "The only way to do that, it's sad to say, is through 'It' girls wearing your stuff. Then if you can to get on Net-a-Porter, Shopbop or Matches Fashion, that's it for you. You're good to go," she reflects.
Truth be told, Khoueiri usually shies away from the whole social media game. "There are bloggers who are very interesting," she says, "but there are others who don't know how to talk or how to dress. They're totally reliant on stylists dressing them, so why are they influencers? It's a tiring world, and it's becoming even more exhausting, no?"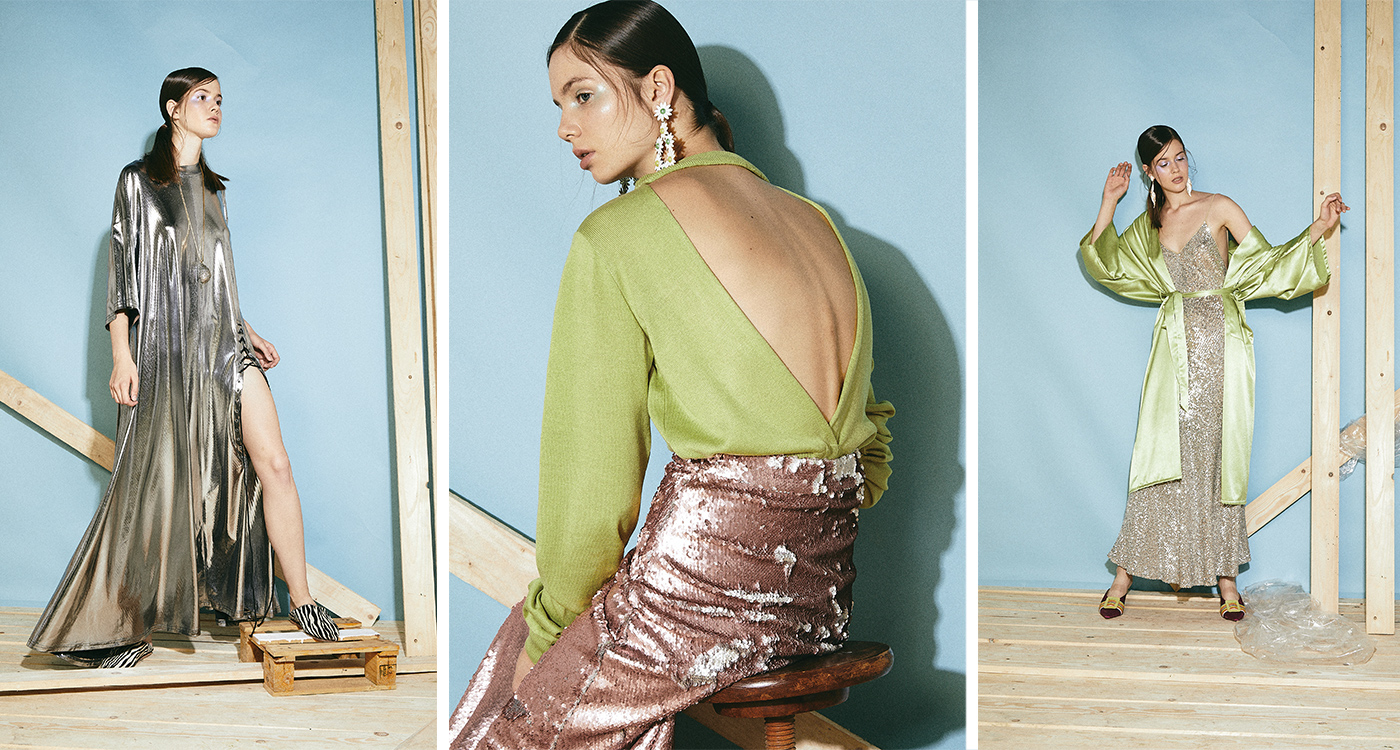 Still, she's not averse to working with a select few, including Lebanese blogger and influencer, 'Ivy Says' (Dana Khairallah), with whom she is working on a collaboration. She's also a regular fixture at Sarah's Bags, where she has presented a number of capsule collections.
Indeed, it hasn't always been a road paved with gold. Being an emerging designer in Beirut means having to compete with a bevy of fly-by-night competitors, shameless imitators and having to make do with limited fabric supplies. But Khoueiri has proven her resilience time and again, with small yet incremental growth: in the absence of choice, she's leveraged the power of vintage fabrics for some unique and eye-catching pieces, and she just showed her S/S 19 collection at Paris Fashion Week for the first time, securing distribution in several new international boutiques.
"I think I succeeded simply because I made a product that was affordable and trendy. There are other designers who became designers because they have nothing to do and they want to work, but it really has to be in you," she insists, while stirring sugar into her espresso – using, please note – a stainless steel spoon.