August 17, 2017 Nadia Michel
Henry Dakak Jr. is a designer with a singular vision. His beautifully made creations, whether furniture, functional objects or jewellery, exemplify a judicious mix of modernity and antiquity, and bely a delicate attention to detail.
The history of design is rife with drama. Truthfully, no one would care about the superficial aspects of our practical lives if it were not infused with excitement – the passion of those who create, and the glamorous (real or imagined) lives of those who consume it. We can all relate to that feeling you get when you desire an object to the extent that you rationalise it as the missing piece in the puzzle of your ideal life. That's how I felt anyway, one sunny afternoon, as I walked by the shop window of HHD, a small shop on a quaint Ashrafieh street in Beirut. There were some lovely brass doorknobs in the windows, the kind that looked like they had actually been made by a real person and not shipped over from a factory in China.
That's saying a lot, you see, because even during an earlier trip to Paris, I had failed in my quest to find these. Yes, even in Paris, some of the 'antiques' are now made in China.
Fast-forward a few months and Henry and I had designed a beautiful set of large doorknobs for my apartment, cast in brass from a design we devised together, with a hand-painted black star. It's a one-of a kind, functional object that will last forever, just like the ones you see on Parisian doors. Yes, that's the kind of thing you can get in Beirut, if you know Henry.

MOST JEWELLERY IS MADE ON 3D SOFTWARE AND PRINTED AND FLAT, SO THERE'S NO LIFE.
But doorknobs, it turns out, were only the beginning, the entry point into the world of a prolific and visionary designer. Inside his shop are whimsical visions brought to life in the noblest of materials – side tables with miniature inlaid brass keys, desks lacquered in the finest paints and even realistic-looking pistachios cast in bronze. Atop his timeless furniture designs sits his latest project, an opulent display of fine jewellery.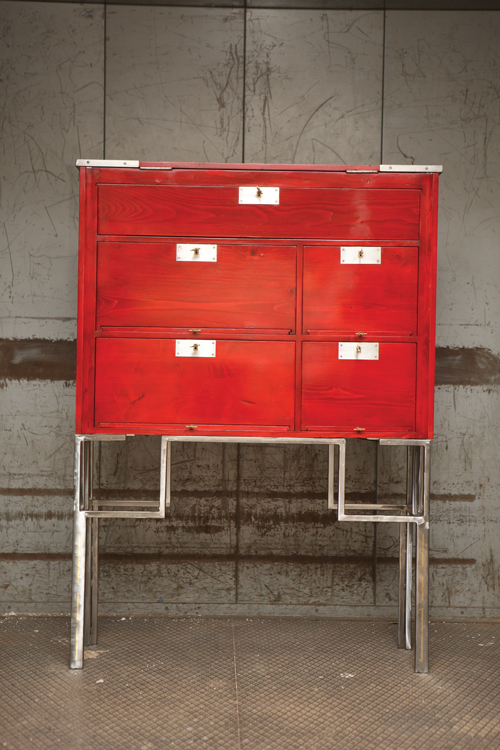 Launched last March with the help of jewellery blogger Katarina Perez, the first collection garnered plenty of attention, with it's unusual level of detail and historic sensibility. In fact, however modern his jewellery is, the pieces could easily have fit right in at Louis XV's court.
"There are no artisans left. Everything is done by computer now, most jewellery is made on 3D software and printed and flat, so there's no life," he complains, pointing to an image from an old Boucheron catalogue from the 1970s and comparing it with one from today, as an example of the uniformity and flatness that has become predominant in the industry today.
His nostalgia is palpable. Between the Brigitte Bardot books on the shop's shelves and a recent Instagram post of himself finally letting go of an enormous stack of VHS cassettes, it's evident that half of Dakak's heart is in another era. Now in his late 30's, Henry Dakak Jr. is like a collector of everything beautiful, and he uses this to inspire his production expertise, which is unique in it's own right.
"I was supposed to study cinema, but my parents, who are art dealers, had me switch my major to Art History. They told me if I wanted to study in London, that is what I had to do," he recounts. Upon his return from this forced education, Dakak took up residence at his parent's art restoration factory, the largest in Middle East at the time.
"I stayed there for six years, learning how to guild, how to repair old paintings and old tapestries, how to upholster, how to repair antique cabinets. It was the best experience you could imagine," he recalls. "But now people don't care about art and antiques anymore." His parents – partly on his advice – now focus on selling and restoring furnishings from the 1970s and 80s. Markedly, they are holding on to their vast collection of classical antiques, which are certain to be back in fashion one day.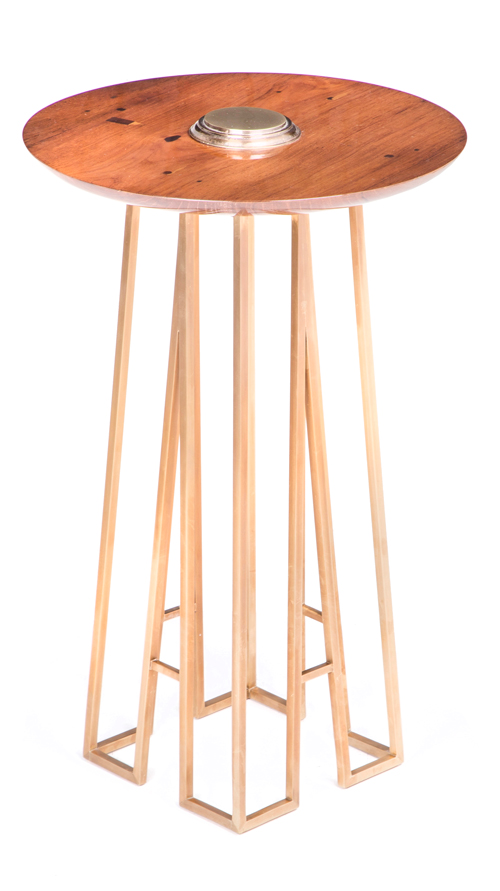 "But for restoring this kind of newer furniture, you don't have things like tortoise that you have to take out of the shell before you dye it red and press it into a cabinet, with bronze and all that. You don't smell the peau de lapin glue and the layers of gold leaf in the factory," Dakak laments. He loves details.
But about the stack of VHS tapes. "Were you still using these?" I ask incredulously.
"When I was in boarding school, I use to get 40 Swiss Francs per week, and a VHS video cost around 39 CHF. So I used to save my money to buy one VHS per week," he explains. "I never used the money to do anything else."
His response also explains a suggestive aerobics scene starring Jamie Lee Curtis and John Travolta that he recently posted on his social media. Indeed, Dakak admits to being a ravenous movie buff, with a penchant for films from the 1940s and 50s, which he watches constantly while working, and even at home on one of his numerous screens. "It's like living in another dimension and it beautifies everyday life, which can be ordinary. Old movies have some kind of magic, I feel safe in them."
He continues with a rant on LED TV's, which he compares to the old box televisions that "felt like you were entering into a world."
It all starts to make sense. Dakak thinks wood is better than plastic, bronze beats aluminium and life is better in good old-fashioned 3D – the kind that does not require a pair of disposable glasses. He's definitely onto something.