September 13, 2010 Louis Parks
A darling of the red carpet and a purveyor of exquisite style and glamour, Elie Saab – the Middle East's greatest fashion export – took time off from his busy schedule to talk to Bespoke.
WHAT INSPIRED YOU TO WORK IN FASHION?
I think working in fashion was more my destiny than anything else so even if I would have been working or investing in other fields, fashion would still have been the main focus.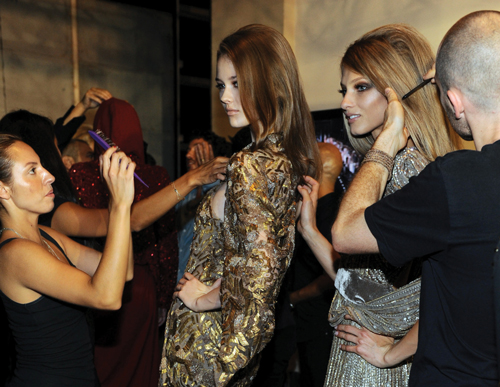 YOU EMBARKED ON YOUR CAREER AT A REMARKABLY YOUNG AGE, HOW DID YOU START OUT?
During my early years I used to design dresses for my sister and that's when I discovered that I had a talent. I believed that my destiny was to work in fashion, and thanks to my perseverance and hard work, Elie Saab Couture House kept growing over the years.
YOUR FASHION EDUCATION WAS VERY BRIEF; DO YOU THINK ENTERING THE BUSINESS WITHOUT A FORMAL GROUNDING HAS AIDED YOU?
The most important factor that has aided me in the business was my talent! And this is even more important than formal grounding, as everyone can have such a background. But what makes the difference between one and the other is the identity you create for yourself and this recommends talent.
WHEN A DESIGNER IS STARTING OUT WHAT DO YOU FEEL IS MOST IMPORTANT FOR THEIR SUCCESS?
I believe that each designer has to create his own identity to show up and persist in the fashion field, along with this, perseverance and ambition are very important in overcoming obstacles.
AND ABOUT THE STYLE ITSELF?
The secret to beauty is simplicity with a certain touch of glamour, and as long as you have a simple style you will be definitely on the right path.
THE FUNDAMENTAL DESIGN RULES FOR ELIE SAAB ARE?
Simplicity and glamour… those are my standards whether I am designing clothes or anything else.
IN TERMS OF DESIGN, WHERE DO YOU SEEK YOUR INSPIRATION?
Anything can be a source of inspiration. Imagination is important to be able to create but one must also be inspired by everything around them, whether it is nature, art, etc. Any idea or any thing seen could be a source of inspiration to the creator.
WHAT DO YOU DO OVER THE COURSE OF AN AVERAGE DAY?
I don't have a typical day as I travel a lot so it depends in which country I am, but wherever I am, I have to work ten hours a day at least.
HOW WOULD YOU SAY YOUR STYLE HAS EVOLVED?
Everything has to evolve and mature with age and time, and consequently, my style has evolved and each line belongs to a certain period of time where it was beautiful and appropriate by the time it was created.
CAN YOU DESCRIBE THE "ELIE SAAB WOMAN"?
An Elie Saab Woman is every woman who likes my designs and longs to wear them!
HOW WOULD YOU DESCRIBE YOUR CURRENT LINES?
My current lines are more sharp and pure.
YOU'RE REGARDED AS A WEDDING DRESS AND EVENINGWEAR SPECIALIST. HOW DO YOU FEEL ABOUT THIS?
Well it's not about what I think but what many people believe and that makes me very proud.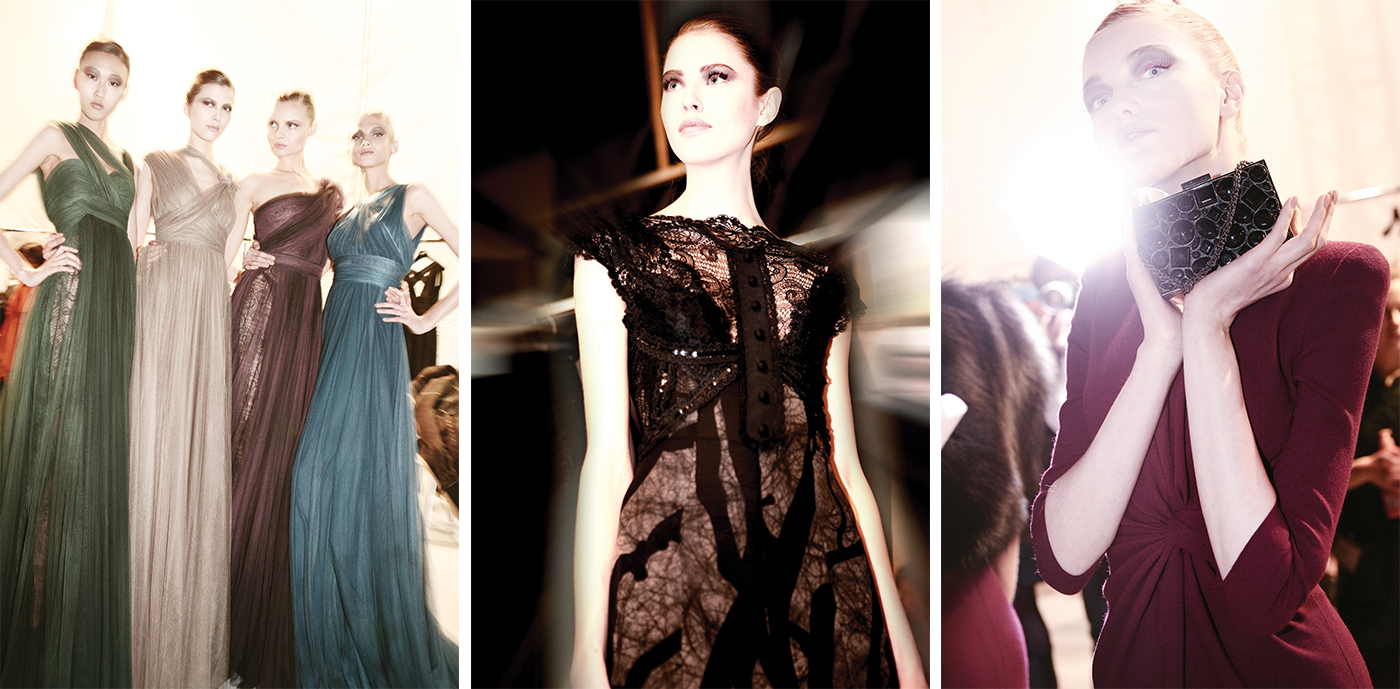 WHAT ARE YOU PLANNING AT PRESENT? WHAT NEW ADDITIONS AND STYLES CAN WE HOPE TO SEE?
Well lately I've been focusing more on a younger clientele, especially in the ready-to-wear collections; hence the accessories' style. I want to provide women with daily apparel because this is what women want nowadays. They desire nice garments that they can wear more than once. However, you can find in my collections both kinds of attire: the more simple dresses and the more sophisticated ones that have crystals and other heavy materials in them.
I'VE READ THAT YOUR BEIRUT STUDIO IS STILL CLOSE TO YOUR HEART. DOES THE CITY INSPIRE YOU?
The Beirut studio is my main and dearest studio and it will always be. And, yes, indeed, Beirut is a big source of inspiration. It has been destroyed a number of times but it has been revived again and again to become what is today the rival of European capitals. This fact not only surprises me but has taught me that perseverance and ambition are very important to defeat obstacles.
YOU WERE BUILDING YOUR BUSINESS UP IN THE 1980S. WHERE WERE YOU SUCCESSFUL IN THOSE DAYS? WHO WERE YOUR EARLY CLIENTS?
Since the 1980s Elie Saab Couture House has known success and at the beginning my clientele was Lebanese and women from the Arab world.
IN 1997 YOU WERE THE FIRST NON-ITALIAN MEMBER OF THE CAMERA NAZIONALE DELLA MODA, IN 2003 YOU BECAME A MEMBER OF FRANCE'S CHAMBRE SYNDICALE DE LA HAUTE COUTURE. WHAT DID THIS RECOGNITION MEAN TO YOU AT THE TIME?
In fact it was a moment I expected, I never worked for it directly, but I always worked and I'm still working to achieve the best I can do.
ARGUABLY YOUR BIGGEST INTERNATIONAL BREAK CAME WITH HALLE BERRY'S OSCAR DRESS IN 2002. WERE YOU PREPARED FOR WHAT FOLLOWED? WHAT ARE YOUR THOUGHTS ON THE DRESS WHEN YOU LOOK BACK?
It sure had a big impact to have my dress worn by a celebrity and a winner of an Oscar at the Academy Awards ceremony. Even now, having your dress worn at the Oscars has a special resonance. But I do believe that it wasn't the result of coincidence, it is the opposite! Because when you are building a successful career, such happy occasions, as a celebrity wearing your dress in a very particular moment is the result.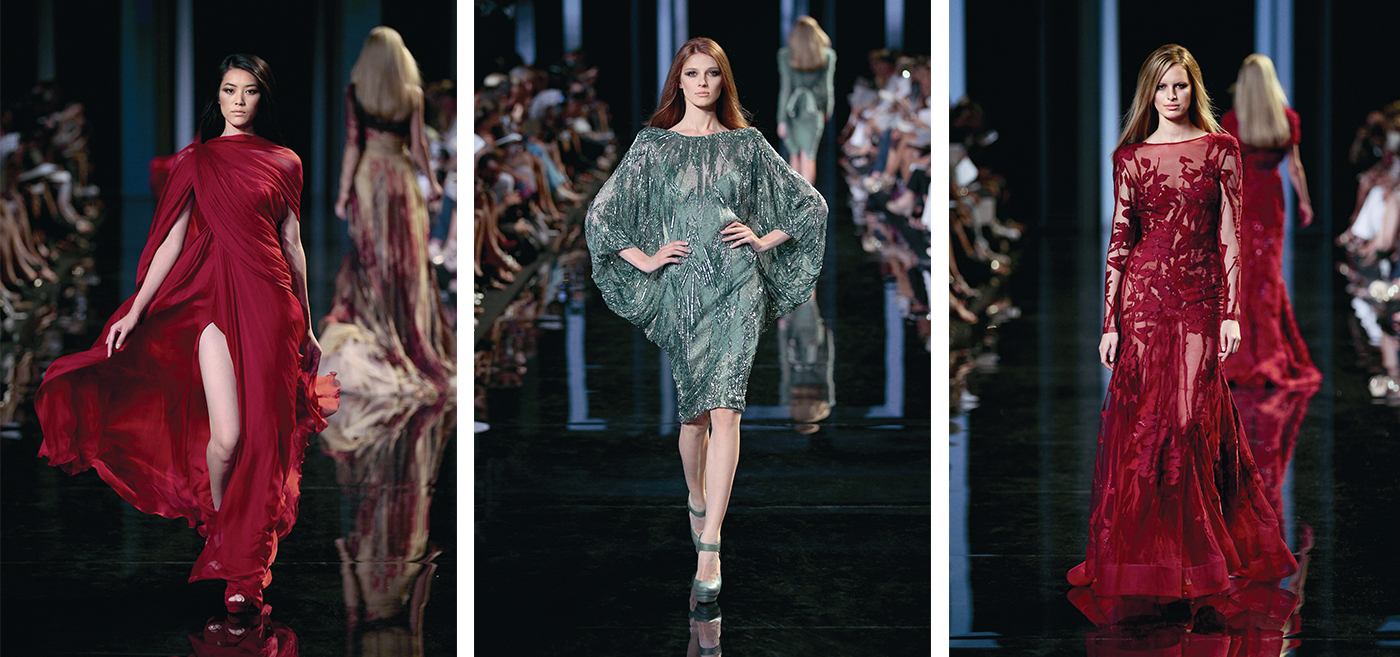 IN TERMS OF THE OVERALL BUSINESS, WHAT ARE YOUR PLANS FOR THE FUTURE? DOES GROWTH OCCUR ORGANICALLY, OR DO YOU HAVE AN OVERALL PLAN?
I currently have boutiques in Beirut, Dubai, Paris and London and the Elie Saab Couture House is growing according to a plan as both expansion and evolution are the main priorities to me.
THERE HAVE ALSO BEEN REPORTS ABOUT A PERFUME. WHAT'S HAPPENING THERE?
Elie Saab Couture House has signed with Beauté Prestige International, a ten-year fragrance and cosmetics license to present the first perfume under name of the House as the creation of perfume has become an important step in development of our couture home.
ARE YOU PLANNING ON COLLABORATING WITH ANYONE ELSE SOON?
I'm always willing to enter any field that I can add something new to it and make my own.
WHICH OF YOUR CONTEMPORARIES DO YOU FIND PARTICULARLY INTERESTING?
I respect anyone that has his own identity and his own line but believe me they are very, very few!
www.eliesaab.com