December 31, 2017 Leith El Zein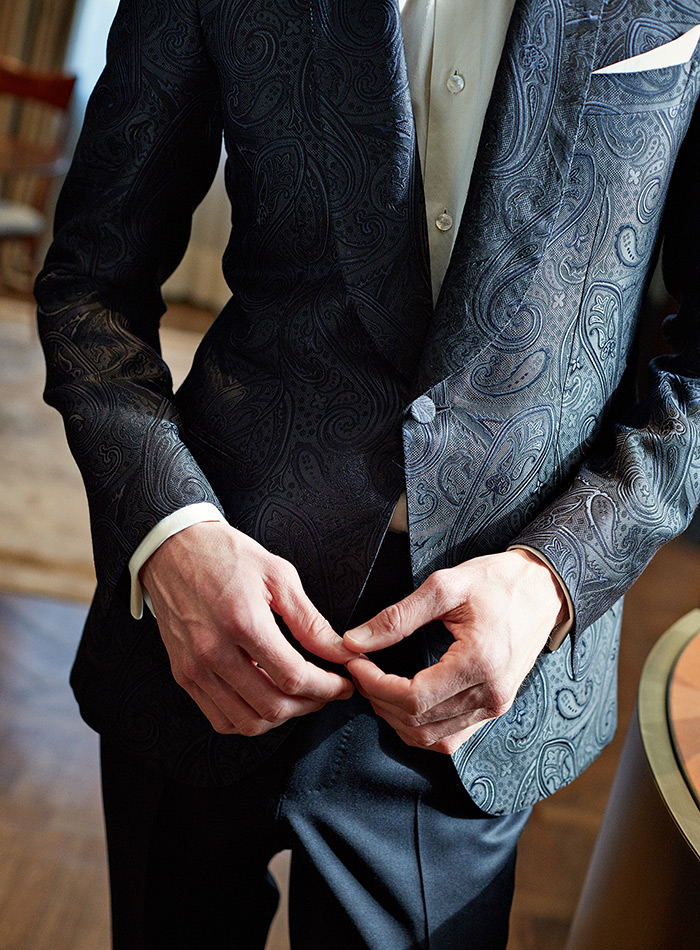 Collections are for the masses. True luxury is all about a personal experience: having something tailored just for you, customised according to your posture, the unique slope of your shoulders, and your preference for subtle pinstripe that's just so. It's about a suit that's been given the seal of approval by Zegna's exceptional Artistic Director Alessandro Sartori and having it fitted by Angelo, a master tailor who will listen to even the most specific of requests. And it's about getting all that in a setting so elegant, you'll want to stay a little longer.
Once you decide to take the plunge: the initial appointment at Zegna's Bespoke Atelier involves an in-depth consultation with Angelo about your needs and desires, and you'll have to choose between the 900 fabrics available for suits, jackets and overcoats and more than 230 for shirts. This is not In-N-Out Burger.
"Those who buy ready-to-wear want sporty, contemporary clothes in a hurry that can create immediate excitement. Tailoring lovers, on the other hand, seek increasingly personalised products, unique pieces," says Sartori.
He should know, with a proven track record of delivering exactly what men want. During his five-year tenure at Berlutti starting in 2011, he grew the company's annual revenues from less than 30 million Euros to more than 100 million. He did this by evolving the brand from an old-school leather shoemaker into a contemporary lifestyle label with over 40 boutiques across the globe. Then in 2016, he returned to Zegna (where he had worked straight out of design school and then again for eight years at the creative helm of Z Zegna) – the world's largest luxury menswear brand in the world with over 500 monobrand stores – and was given the role of Artistic Director, a position that allowed for unprecedented power over different parts of the business as opposed to only the creative direction. But low and behold, instead of just trying to sell more, Sartori has decided to sell better. "These are articles that require 70 hours of work in the hands of experts with 15 to 20 years' experience: they are almost collectors' items," he explains.
The Milanese atelier on Via Bigli, which opened last March, offers bespoke suits, shirts but also sportswear, leather pieces, knitwear and shoes can be made to order, meaning than an entire wardrobe can be created just for you. The service is unique not only because of the masterful hands behind each garment, but the level of quality it delivers.
Most of the fabrics come from the Zegna Lanificio in Trivero, Italy, the company's own wool mill since 1910. Here, special fabrications are constantly being developed in an integrated process – like a new crease-resistant wool fibre aimed to prevent felting so that the fabric can be machine washable while retaining wool's natural moisture-absorbing property – a textile project Sartori announced last spring that combines craftsmanship with nanotechnology. "This level of quality and customisation is only feasible because of our fully verticalised production structure, all the way from spinning to garment making.

An Ermenegildo Zegna bespoke suit costs anywhere from 6,000 USD to 12,000 USD, takes about three months and involves at least three visits to the atelier, which is located on the top floor of the company's flagship store on Via Montenapoleone (although it has its own separate entrance on Via Bigli).
Inside, a Pietro Russo console lines a corridor leading to a waiting room grounded by a Giò Ponti-inspired carpet while the changing room features Fontana Arte lamps and a leather pouf. An eclectic outdoor space outfitted with Harry Bertoia chairs, a Nespoli and Novara table and blooming plants year-round provide a lovely respite, as does the atelier's sumptuous bathroom, sheathed in Persian onyx and Portoro marble.
Sartori has left no stone unturned here. Sure, it's slow, it's expensive and it takes some effort on your part, but a custom order from Ermenegildo Zegna's Bespoke Atelier might be one of the most satisfying purchases you'll ever make.