April 15, 2022 admin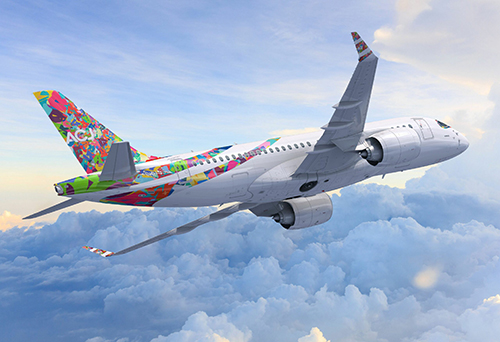 Airbus' ACJ TwoTwenty is a gamechanger in the business jet segment. Based on the successful A220 airliner, which was itself designed by Bombardier to be their C-Series (a division that was acquired by Airbus in 2018), the TwoTwenty has an airliner-sized cross-section but is only the size of a large private jet. Indeed, it combines the best of all worlds: a high and wide luxurious cabin for comfort, the range of an airliner thanks to the amount of fuel it can carry, and fuel-efficient engines that make it cost-effective. Best of all, it offers a great value proposition thanks to a modular layout that can be specced in over a hundred different ways at the time of acquisition, including options for conference rooms, lounges and even king-sized bedrooms.
Now, to really help let those customisation options speak for themselves, Airbus has gone and collaborated with the French graffiti-artist Cyril Kongo. "We wanted a break from white and brown", says ACJ President Benoit Defforge, "and Cyril has truly brought something new to the market, something avant-gardist, contemporary artful, rule breaking." And he did it by adding splashes of colour to a mostly white a grey cabin. "You can't put in too much colour," explains Kongo, "otherwise, it is too heavy. I want to make something comfortable and at the same time chic and at the same time unique." He undoubtedly succeeded.
Airbus Corporate Jets plans to deliver its first TwoTwenty in Q1 2023.