May 7, 2021 Theresa Haddad
CAN YOU TELL US A LITTLE ABOUT THE RETHINK PROJECT AND HOW LONG IT TOOK TO COME TO FRUITION?
[Giuseppe Santoni] We believe in creating beautiful products in an ethical and responsible way. For us, beauty is not just the result, but also the method. Consequently, it has been over ten years since we set out on a path of sustainability. Our factories in the Marche region of Italy are not just made up of 90 per cent recoverable materials, they're also structured for the recycling and recovery of rainwater, and they operate exclusively on solar energy, supplied by over four thousand photovoltaic panels. For Santoni, acting responsibly means being faithful to an idea of work in which inspiration and dexterity give shape to unique objects, and this philosophy has now been condensed, taking shape as a physical project: Santoni Rethink.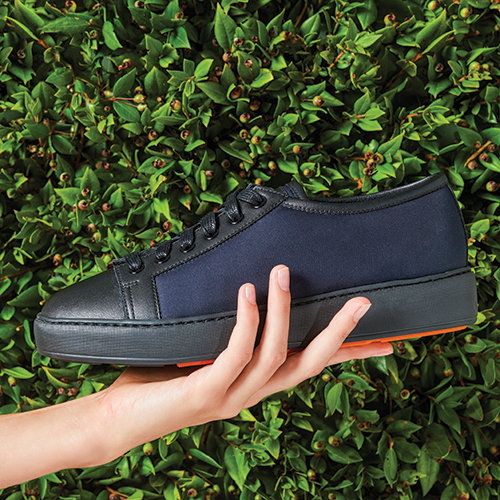 IS RETHINK A ONE-OFF CAPSULE COLLECTION OR WILL IT BECOME A PERMANENT FEATURE?
It's not a product or a capsule collection, it is a conscious project that reflects the importance of improving a culture aimed at caring for the environment as a concrete and daily purpose. In other words, it's Santoni's honest step towards profound sustainability.
WHAT DOES IT SAY ABOUT SANTONI AS A COMPANY?
It demonstrates beauty, ethics and sustainability. It is on these principles that I have transformed my family business into an example of responsible management, throughout the supply chain. From the walls to the product, everything comes together. Beauty as an expression of goodwill; ethics that inform aesthetics.
HOW IMPORTANT IS SUSTAINABILITY TO YOUR CUSTOMERS?
Sustainability is fundamental and acting consciously should be a duty for all. As inhabitants of the planet, we're all called to act responsibly. Harmony is what we seek and what our customers seek. Harmony of lines, colours and materials, and a desire for timeless products that aren't designed to be discarded after one season – this too is responsibility.
WHAT MADE YOU DECIDE UPON SEAQUAL (OCEAN PLASTIC) RECYCLED NYLON AS THE PREDOMINANT MATERIAL FOR RETHINK?
Rethink is a completely green collection. Each product has been made using natural materials, following strict parameters and respecting nature and mankind. For the first chapter of the project, Seaqual, which is a special fibre made by collecting plastic garbage from the seas, was chosen along with recycled rubber, eco-leather and water-based glue.
IS IT MORE EXPENSIVE TO MAKE A SUSTAINABLE SHOE THAN A REGULAR NON-SUSTAINABLE ONE?
I can say that the cost of a shoe depends always on materials used, technology and design. It is not taken for granted that a totally sustainable product is more expensive than a regular one. Santoni, today, is a responsible company in every respect, even when we make the entire production with the highest quality raw materials treated with natural methods, using exclusively solar energy. At the end of the day, beauty and quality cannot be separated from a conscious idea of business and society in general, and I believe it is the responsibility of every entrepreneur to continually take real and relevant steps towards a more responsible way of producing, combining respect for the environment, for the individuals and for their precious artisan and artistic knowledge.
HOW IS SANTONI FARING IN THIS COVID-19 PLAGUED WORLD?
The pandemic has sped up trends that already existed before the crisis, primarily the digital. While the growth of online business accelerates and consumers demand increasingly sophisticated digital interactions and services, our goal is to create a concrete purchasing experience for our customers, in essence to integrate the human touch into the digital. That's because at the centre of our clear system of values is the man, the measure of all things: an authentic humanism that is also the profoundly Italian essence of Santoni. It is by focussing on people that I have built a beautiful and responsible business model. And it is by focussing on people that I aim to extend and evolve it, day after day.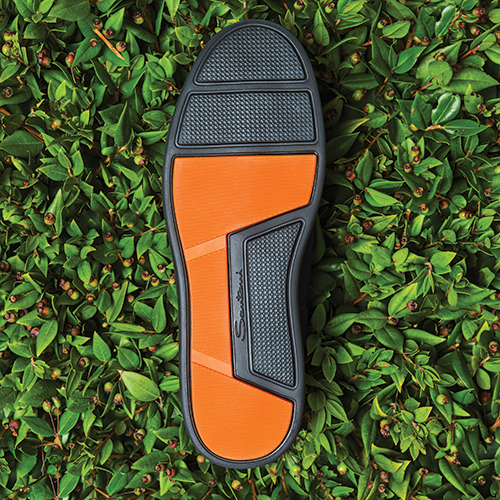 SPEAKING OF WHICH, HOW HAVE YOU BEEN LOOKING AFTER YOUR PERSONNEL AND HAVE THEY BEEN ABLE TO WORK FROM HOME?
We are a manufacturer, the passionate and savvy hands of our artisans are the real protagonists of our story, based on human work. The pandemic has changed habits and we've been working hard to build a new way for our manufacture, introducing strict social distancing, safety and hygiene measures, and we have advanced them even further to protect our teams: measurement of body temperature twice a day, defining working regiments and differentiated entry points all guarantee the distance, so too does management of the common areas. We've also done a lot of special training on new ways of working, on basic safety rules, on how to use common areas and company spaces, as the collaboration of individuals is of fundamental importance. This is our responsibility. Our employees, our partners, all our customers can fully rely on Santoni as a solid and responsible company that is close to every individual involved. We truly believe we are a family, and in a family, everyone takes care of each other.
HOW HAVE YOUR CUSTOMERS' PURCHASING HABITS CHANGED LATELY?
The world has changed, and so have customers' purchasing habits and needs. That's because there are less occasions to dress up, consequently casual and leisure moments define the new needs that we fulfil reinterpreting the new formal designs, seeking of more comfort, yet coolness.
HOW MUCH OF YOUR SALES SPLIT IS MALE VERSUS FEMALE?
Our core business in terms of sales is the men's collection, naturally led by our origins and the DNA of the house. The women's line, which is the natural completion of our renowned men's line, being two sides of the same universe in terms of brand and image, is continually growing, even now.
WHAT ARE THE KEY DIFFERENTIATORS OF YOUR TRAINERS?
Conscious of the growing influence of casual in high-end fashion, we believe that comfort, softness in materials and flexibility in constructions are the essential elements that cannot be missed for a contemporary style and, well before the pandemic, we began experimenting in this field and expanding the business. Our sneakers represent the modern interpretation of the casual attitude. Perfect for a stylish leisure moment, they superbly combine the brand's knowledge and artful inspiration with technology and innovation.
HOW HAS THE COMPANY CHANGED RECENTLY?
In recent months, Santoni has changed the main strategies and plans with the aim of investing in relevant projects, giving an important signal of courage and optimism, being aware of changes that the luxury and fashion system is facing. Digitalization and consumer-centric vision are the strengths for a successful boost in the segment.
FINALLY, IN YOUR OWN WORDS WHAT MADE SANTONI SO SPECIAL IN THE PAST AND HOW WILL IT REMAIN SO IN THE FUTURE?
Business, art and family are one in Italy. The roots are the starting point, not an obstacle. Making business is an act of creation. Santoni is a virtuous example of this approach. It is a family business, rooted in the territory. We create beauty through the hands, relying on the unique knowledge, handed down for generations, of artisans who are artists. It is precisely the family structure that creates authenticity.