November 29, 2018 Nadia Michel
Having successfully propped up young British fashion designers since 2011, Tania Fares is now turning her attention to the Middle East with an initiative called Fashion Trust Arabia, and it's got some lofty ambitions. And just in case you haven't noticed, the region's style seems to be rubbing off onto the rest of the world. It all started a couple of years ago when an inspiring Muslim woman named Halima Aden competed for Miss Minnesota in a burkini and a hijab. From there this Somali-American got snapped up by IMG and within a week made her fashion week debut in New York at the highly anticipated Yeezy Season 5 show, where her veil caused quite the commotion and sparked a long-overdue conversation that helped spawn a new hashtag – #MuslimGirlsCan. Fast-forward to 2018, and Halima is a mainstay at shows across London, Paris, New York and Milan, walking alongside a new crop of hijab-wearing models like Kadija Diawara (of Egyptian-Malian descent) and Ikram Abdi Omar (an English model who was born in Sweden to Somali parents).
Flip through any up-to-date fashion magazine and it certainly reinforces the idea that there's a prevailing new trend, what with the return of the headscarf earlier in the year and now a bevy of woollen head accessories from brands like Prada and Fendi this season, which clearly take inspiration from the various headwear styles of the Muslim world. Even Net-a-Porter is apparently getting in on the action, with a new 'Modest' category in its clothing menu. And let's not forget the Dubai-based website The Modist, founded by the Algerian financier Ghizlan Guenez, which has, since 2017, served as the go-to e-commerce destination for those looking for longer sleeves and hemlines from the world's top designer labels. Indeed, it seems this phenomenon has maintained such an ascendency that shortly after The Modist entered into a global partnership with the international giant Farfetch in September, the group's initial public offering raised 885 million USD, giving the company a market value of 5.8 billion USD. Clearly, investors are betting on a new and lucrative fashion market. You might even call this a movement.
But that's not to say that all Arab design is modest, because it's not. There is in fact a wide range of design talent around the region that's just about ready to burst, and the newly founded Fashion Trust Arabia Prize has as its mission to mentor and promote those who deserve it most.
I would love to give a voice to worthy designers and let the world know what's happening in our region.
"There's so much talent here, it's unbelievable. I would love to give a voice to worthy designers and let the world know what's happening in our region," explains its founder, Tania Fares.
Born to a Lebanese father and a Jordanian mother, Fares (née Achkar) once dabbled in fashion with a label of her own, but in 2011, she approached Caroline Rush, head of the British Fashion Council with a unique proposal for marrying fashion with philanthropy and, together with Sian Westerman (a senior luxury and retail M&A expert in Rothschild & Co's global advisory division), she created the BFC Fashion Trust, an initiative that offers selected designers mentoring and financial support to promote the art and business of fashion. "It could be about helping them with their e-commerce, merchandising or even developing a new accessories line," Fares explains, as we sit together in her beautiful summer home in Daher El Sawan, 1,050 metres above sea level and 25 kilometres from Beirut. She says that ultimately, the Fashion Trust's designers are connected to a solid network in the fashion industry and given the tools they need to grow.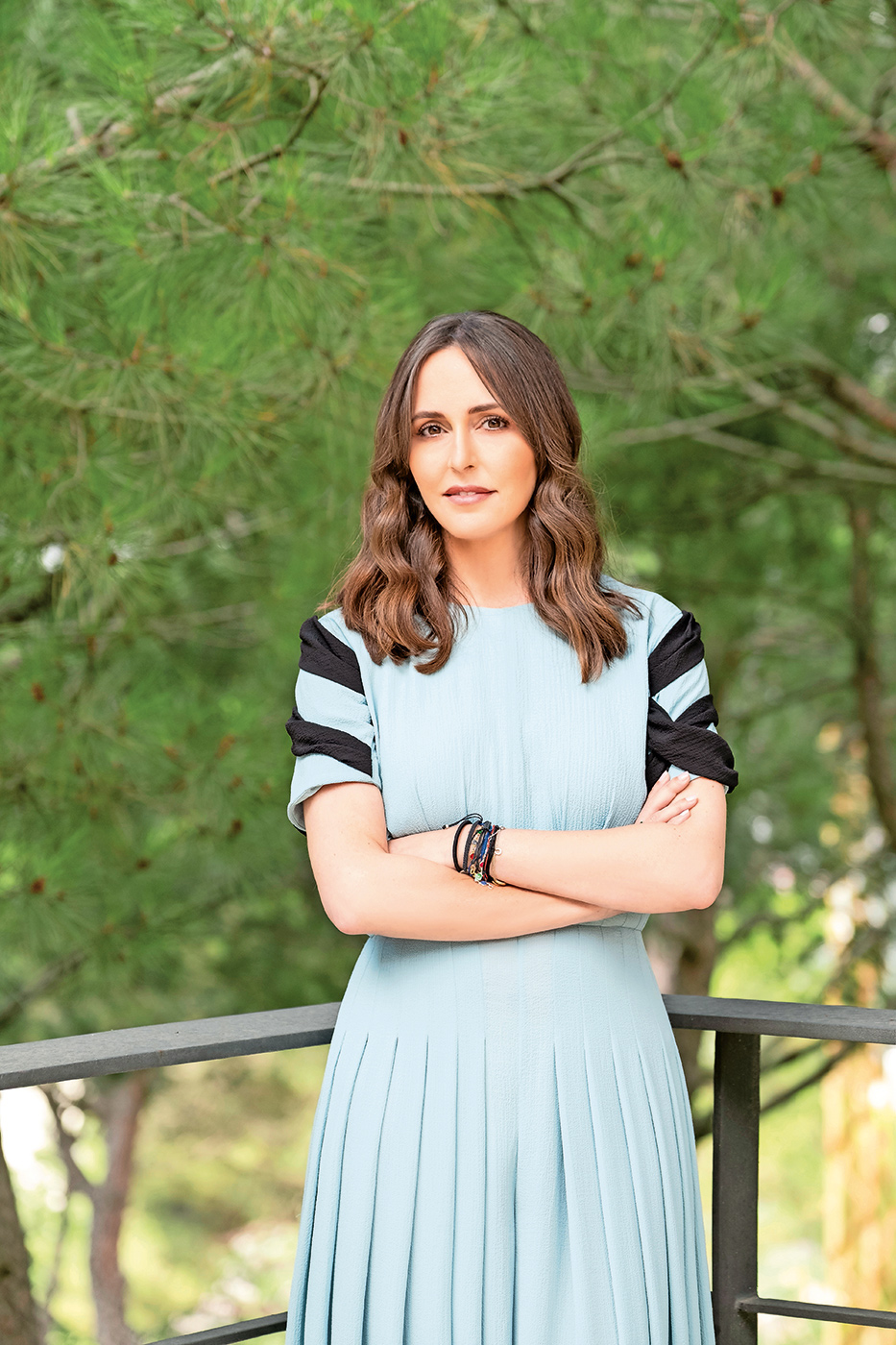 Fares, who mostly lives in London but regularly jets around the world, happens to be clothed rather modestly today in an elegant blue dress by Emilia Wickstead, one of the designers she has backed through her Fashion Trust. She explains that the Middle East version of her fashion incubator is similar in its mission to the UK one – both only accept applicants with at least three to four years of experience, ("We're not taking fresh graduates," Fares points out) and they distribute the prize money amongst the winners according to their needs – but where they differ is in their structure. The UK model is backed by 140 patrons who pay up to 15,000 GBP (almost 20,000 USD) a year for their membership (for which they not only get to support young creators but also network with them, and each other, as well as gain access to a year-round schedule of talks, studio visits, and schmooze fests). Fashion Trust Arabia on the other hand is backed by just a handful of core patrons, including Her Highness Sheikha Moza, who serves as the Honorary Chair. "She was always my idol as an Arab woman," Fares says. "She is super smart, gives back so much to her country, and of course is a style icon." The team also includes Sheika Moza's daughter, Sheikha Al Mayassa, who serves as co-chair. "They do so much to support creativity," she points out.
Additionally, Fares has assembled an impressive panel of judges, as well as an enviable executive committee, which includes industry leaders like Zuhair Murad, Rabih Kayrouz, Nadine Labaki and aptly, The Modist's Ghizlan Guenez.
"We're always on the lookout for talented designers with a unique and fresh identity and a positioning that does something different in the sea of brands out there, so beyond an altruistic motivation and desire to support talented individuals, I'm also selfishly keen on the discovery process," adds Guenez.
Considering the current global trend towards modest clothing and Guenez's involvement, it might seem safe to assume that this will be a criterion, or at least an advantage when it comes to securing the prize (the application phase is now open and winners will be announced sometime in 2019), but not so, says Fares. "It really depends on the applications we receive.
We definitely want to showcase and highlight all kinds of creativity, not just modest fashion.
With Fashion Trust Arabia, we definitely want to showcase and highlight all kinds of creativity, not just modest fashion. We want our applicants to feel that all their aesthetic is valid, as long as they are talented and have what it takes to break into the global market," she says.
"The interpretations of what is modest vary and I personally believe that it's a subjective matter. At a broad and high level, we may agree as to what is modest and could define that by the length of sleeves, hems and necklines, but when you consider the nuances, things vary quite a bit from one person to another," explains Guenez.
With Fares spearheading the project (she has also recently launched a Fashion Trust with the Council of Fashion Designers of America, both in Los Angeles and New York), all signs point to the emergence of a global platform for emerging Middle East designers. "It seems that The Modist's biggest market is in fact the US," she emphasises. And as the appetite for baring skin shrinks, it remains to be seen how the conservative spirit of Middle Eastern fashion will evolve as it strives to maintain a distinct identity.
"I think designers from the Middle East have a love of opulence and in a way those who have been successful have managed to take some elements of our rich culture and weave it with modernity to make it relevant for an international audience," says Guenez.
Let the games begin.