July 12, 2018 Nicolas Shammas
It's a key moment in time for Aston Martin. Let's not forget that the company, which is now owned by Kuwaiti and Italian investment firms, has gone bankrupt seven times in its 115-year history and, up until 2017, it had posted an annual loss for six years running.
Yet, under the stewardship of chief executive Andy Palmer, who was lured from Nissan at the end of 2014, things are already looking up. The 'Second Century Plan' that he formulated at the end of 2015, with the aim of righting the company's course and getting it back onto sustainable footing (through an increase in production and an accelerated rate of development of one new Aston per year until 2022) is seemingly already bearing fruit. Just two models in (following the launch of the DB11 Coupé and DB11 Volante) and revenues have jumped by 50 per cent, there are pre-tax profits of 116 million USD and there's positive free cashflow. In fact things are so peachy now that Brand Finance, the leading independent business valuation and strategy consultancy, declared Aston Martin the fastest growing automotive brand on the planet. But, as the saying goes, "your most important step is always your next one" and creating a successor to the Vantage meant replacing the single most successful model in the British car marque's history. So getting it right was absolutely critical.
"Creating a worthy successor has been a challenge to relish and a huge source of motivation," revealed Andy Palmer. Given the stakes, you'd think his designers might have erred on the side of safety, yet they haven't. Actually, as you can tell from the images we took at the car's launch in Portugal, they went all-in on an aggressive new design and the reason for that, we're told, was to better distinguish it from its sibling, the Aston Martin DB11.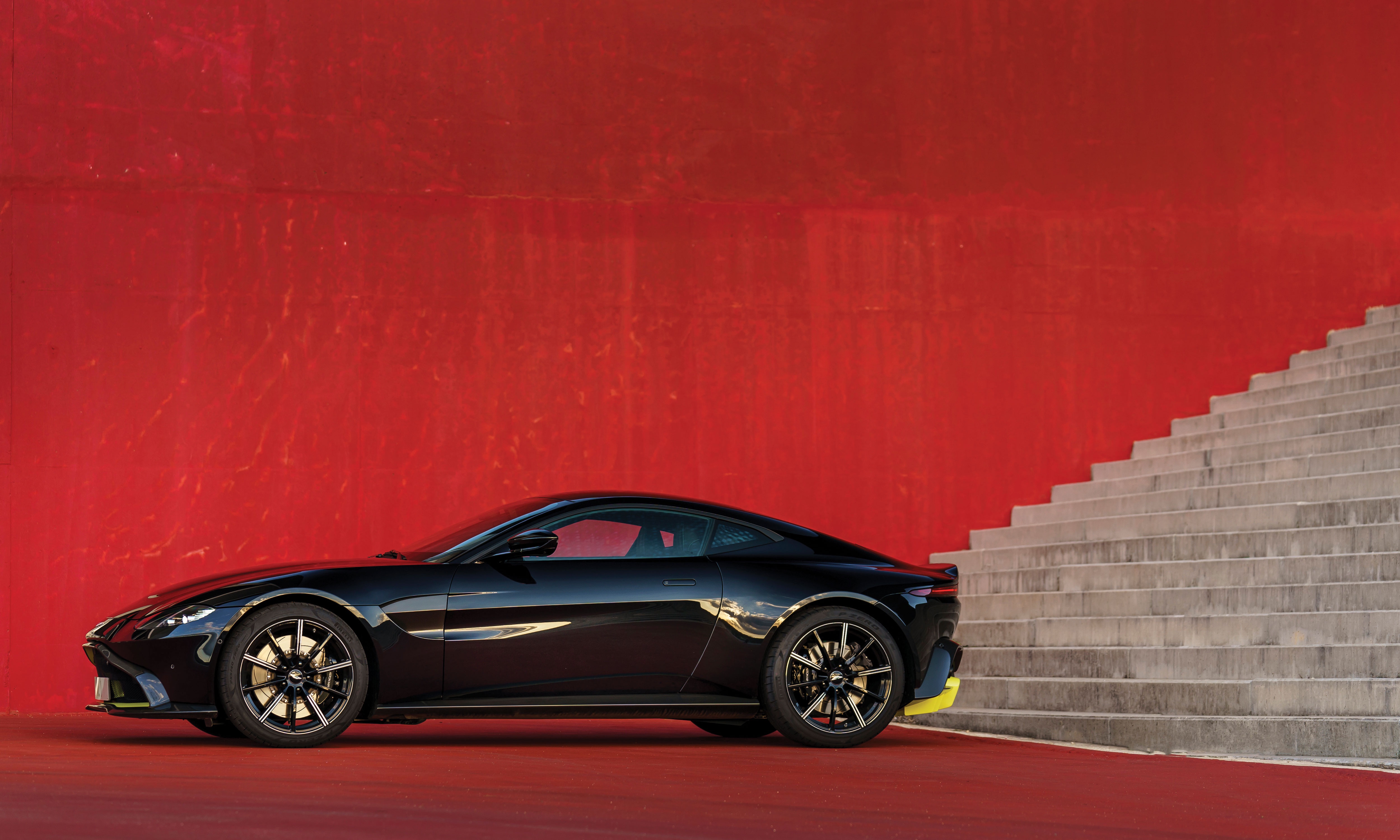 "One of the challenges we were set by Mr. Palmer was to separate the models. Each must retain Aston DNA but in a way that's appropriate for what they are destined to do. The DB11 for example, is our GT car, so it was designed for fast and comfortable grand touring," Matt Becker, Aston's Chief of Engineering, told me during a quick chat before my track session with the car. "But the Vantage is our sportscar, so it needed to be more visceral and as such we tried to remove everything that was superfluous."
The way I see it, the DB11 is Aston's more classical product, John Lobb lace-ups if you will. The Vantage on the other hand is lighter and faster, a pair of Nikes perhaps, but ones that can be worn casually or in competitive heats. Personally speaking I'm a bit of a traditionalist and see myself more in the smarter Aston but I respect what Marek Reichman and his team have done with the Vantage, even if I'm not all that convinced by the optional fluorescent streaks they added to it.
"The way I see it, the DB11 is Aston's more classical product, John Lobb lace-ups if you will. The Vantage on the other hand is lighter, faster, a pair of Nikes perhaps."
As I walk around the car with Matt Becker, he points out the car's most important design elements including its athletic, predatory stance, clean and pure surfacing, muscular flanks, broad haunches, a complete deletion of all bright-work, the lowest grill ever fitted to an Aston and, in another first for the brand, a single sweeping waist-line. In terms of size, the new Vantage is 129kg lighter and 20mm shorter than the old model, but its wheelbase has increased by 100mm, which means the front and rear overhangs have been reduced to an absolute minimum. On the inside, space and comfort are light years ahead of the old model and Becker points out that "everyone from 1.5 metres to 2 metres in height can now fit very comfortably".
Eager to sample the car at last, I took the keys of one of the many Vantages lined up in the pits of the 'Autódromo Internacional do Algarve' (commonly referred to as Portimao Circuit) only to be faced with my first, but luckily only, disappointment: Becker had been wrong. I am 1m95 and though I'm able to comfortably fit in the Vantage in normal circumstances, on a track you need to wear a helmet and there wasn't enough space to fit without touching the roof, even if I put the seat at the very lowest setting.
Moving on, I start the car up and take a moment to savour the mechanical melody that emerges. Remarkably, the engine doesn't sound like that of a Mercedes even though the Vantage uses the AMG GT's potent 4.0-litre twin-turbocharged V8 (secured along with electronic components and systems like the infotainment system, electronic differential and torque vectoring, all of which come courtesy of the five per cent stake that Daimler – Benz's overall parent company – took a few years ago in the British brand). Differences to the Merc's tune include less bass in idle and, as you accelerate through gears, less crackle and pop. When I later asked Becker about this he revealed that Aston had spent a lot of time tweaking the exhaust note "to make sure they retained Aston's DNA". He also mentioned how the Vantage has two remixes – one from the standard twin-exhausts, and another optional one with quad-exhausts that has more bark.
Now underway, I toggle between the Vantage's three drive modes: Sport, Sport Plus, and Track. (The DB11's are GT, Sport and Sport Plus). Each has its own set-up in terms of the dampers, the throttle map, transmission shift points and the power steering. The first setting is where you want to be for daily driving on regular roads, as it offers the most supple ride and smoothest gear changes. For my track experience on Portimao though I began with Sport Plus till I gained confidence both in the car's ability and my own, at which point I switched over to Track for shotgun-fast gear-shits and a little less traction control.
I must say I was impressed with the Vantage. It can play hard, attacking corners with an insatiable appetite and it was pliable even at the absolute limit. You feel totally connected to the car with excellent feedback and control through both the wheel and seat, and that's not normally something you can say about an Aston. I mean if you want to power-slide through turns you can, but be warned it's not always easy to hold, as it's clearly happier taking the fastest way around a track. The Vantage is also beautifully made with excellent fit and finish, and while its looks may be somewhat divisive, you can't say it isn't exotic. Most of all, this car is capable. Capable of cruising, capable of flying and capable of putting a smile on your face. Will it take 911 Turbo customers from Porsche? Almost certainly.