October 25, 2019 Nicolas Shammas
Bulgari and Piaget have been locked in a battle for breaking thinness records over the last few years but it's Audemars Piguet who has swept in and won the war with its RD#2 Perpetual Calendar.
In purely technical terms, the Royal Oak RD#2 Perpetual Calendar Ultra-Thin by Audemars Piguet is a masterpiece of engineering. Not only is it the thinnest Royal Oak wristwatch that's ever been produced – at 6.3mm (and, yes, that even includes the 33mm ladies' Royal Oak with a modest quartz movement) – it's also a high complication timepiece. So it's little wonder then that it required five years of research and development.
WHAT THE WATCHMAKERS AT AUDEMARS PIGUET DID IS SOMETHING NO ONE HAS EVER BEEN ABLE TO DO, UNTIL NOW.
In case you're wondering, a perpetual calendar is the height of haute horlogerie. It's a watch that tells the time, date, day of the week, month and – unlike annual calendars – doesn't even need to be reset during leap years. In other words, if you bought one today, there'd be no need to reset it until the year 2100 (and that's not because of any deficiency in the watch, rather it's a quirk in the Gregorian calendar that says 2100 will not be a leap year despite being divisible by four).
Perpetual calendars are very hard to make. Even the most skilled watchmakers take as long as a month just to assemble all the parts that go into such a watch – including the hundreds of extra gears that keep precise track of the exact date, some of which are only even called into action once every four years. In short, a perpetual calendar's mechanism is a huge interconnected network in which the seconds', minutes', hours', days', months', and often moonphase's component trigger one another.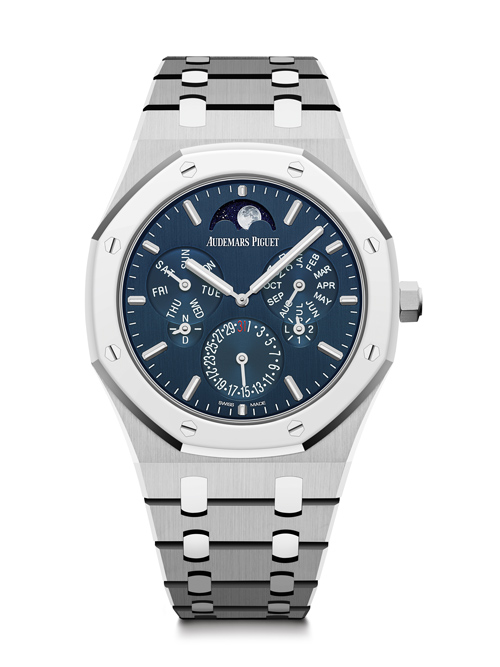 But Audemars Piguet's RD#2 Perpetual Calendar handles all that complexity in a very original way. Proof of its various innovations can be found by simply 'popping open the hood', so to speak. There you'll find that the Calibre 5133, which powers this watch, measures just 2.89mm in thickness. When I asked the team at Le Brassus, while doing a factory tour last month, how this was even possible, they told me: "The RD#2 would have been impossible to create before the advent of sophisticated computers but in a combination of craftsmanship, know-how and advanced mathematics, we were able to knock down what is essentially a three floor house and rebuild it as a bungalow."
Let's not get too bogged down in horological nerdiness but what the watchmakers at Audemars Piguet did is something no one has ever been able to do, until now; they reworked the perpetual calendar movement, which normally requires three different levels, and merged everything onto a single plane that measures just 0.35mm in thickness. Not only that, they integrated the end-of-month cam into the date wheel, the month cam onto the month wheel and, as a result of all this and more, were able to reduce the number of components on this highly complex movement by a whopping 30 per cent (from 374 to 256).
You may recall that the RD#2 was actually first revealed as a concept watch back at SIHH 2018, but Audemars Piguet took another 12 months or so to perfect how they'd put it into production. Interestingly, they also used that time to make a few visual tweaks. For instance, the prototype was an unusually heavy watch owing to the fact it had been crafted almost entirely in 950 platinum (which is a 95 per cent titanium and 25 per cent alloy). In the production ready version of the RD#2 though, Audemars Piguet switched to brushed titanium for most of the watch – central case, caseback, crown and most of the bracelet – and limited platinum to only the polished accents like the bezel and central bracelet links. As a result, it wears much more comfortably now.
One other obvious difference between the prototype and finished article is the dial. The prototype RD#2 had a quintessentially Audemars Piguet petite tapisserie guilloché dial (you know, the one with the tiny squares), the final version has (for legibility reasons) been given a plain dark blue dial with a matte finish. Now, your initial reaction to this news is probably "why did they do that", but trust us on this – the vertical brushing is super handsome, has much more depth than pictures show and, most importantly, helps make the hands and hour markers much more prominent.
So how much is this tremendously collectible watch and will it be easy to find? Honestly, that's the million-dollar question, for though the RD#2 has an official retail price of 140,000 CHF (142,000 USD), it's so limited in supply and there's so much demand for it around the globe that getting anywhere near the top of a list for this boutique-only watch is pretty much a pipe dream. Nevertheless, if your heart really is set on one then there is another option: you could wait till one pops up in the second-hand market but you'll need to be prepared to pay two or three times retail. It's a bummer, we know.