April 23, 2019 Nadia Michel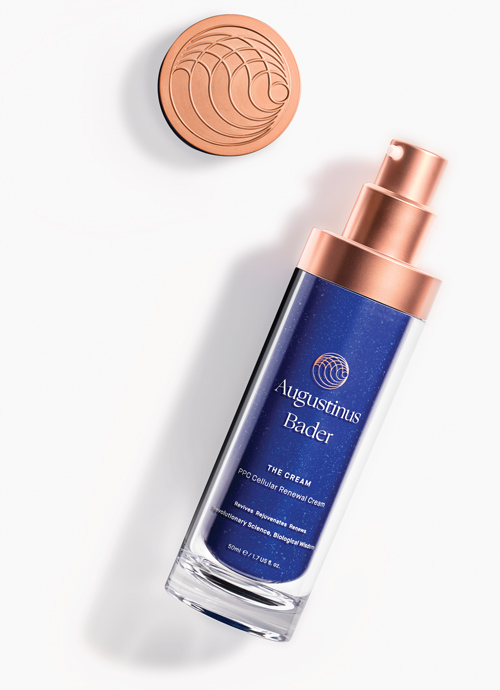 Augustinus Bader is the latest miracle product to hit skincare shelves. The age-defying formula is being pegged as a game changer by a bevy of celebrities but is it also a case study in stellar marketing?
Hollywood's latest hit is not a movie. That's the slogan being splashed across giant advertising billboards all around Beirut, the Middle East springboard for Professor Augustinus Bader's namesake brand, launched in 2018. The new skincare is an offshoot of a breakthrough stem-cell medical treatment the German doctor and researcher at the University of Leipzig developed to help burn victims, and it's being touted as nothing you've ever tried before. In the spirit of full disclosure, we haven't actually tried it, but according to a growing tribe of Hollywood A-listers, this stuff really works.
"The big difference is the concept behind it," explains Professor Bader. "Conventional cosmetics very often try to bring in fillers. So, if you have wrinkles around your eyes, you have fillers that make them disappear, but in reality they are not gone. A wrinkle is a little bit like a compressed spring. Like an old car, when you go on a bumpy road you feel it. You have to find a way to have the skin remodel."
His solution? Well, it's a carefully measured and well guarded secret formula composed of 40 ingredients that follow the same principle as his ground breaking medical gels: Activate, Boost and Commit. The idea is to trigger physiological communication systems to accelerate healing, something he's been using to help burn victims since he came up with a stem cell gel in 2007 – especially children, where avoiding skin grafts and preventing scar tissue formation is the key to a better recovery. (It's worth noting that 10 per cent of profits from the company's skincare sales go to the Augustinus Bader Foundation, which has as a mission to help burn victims, including in underserved populations.) His medical discovery is now also being tested in U.K- based clinical trials for post open-heart surgery healing and on diabetic patients with chronic wounds. The gel purportedly stimulates stem cell growth, which theoretically, could be the ultimate
anti-ageing solution, potentially even, the fountain of youth.
WE HAVE A LOT OF CELEBRITIES WHO HAVE TALKED PUBLICLY SAYING THIS IS THE BEST PRODUCT THEY'VE EVER TRIED AND THAT'S WITHOUT US PAYING THEM.
However, the cosmetic PPC Cellular Renewal Cream with patented TFC8 (it also comes in a Rich version) that Bader developed has little in common with his medical products, except that it is meant to stimulate skin regeneration. Its ingredients include aloe vera, antioxidants, amino acids and vitamins A, B, C and E to help to protect skin from free-radicals, things not uncommon in many other facial creams. "The specificity is all about the dosage," explains Bader.
It begs the question, though, as to why the formulation is not more like the highly effective medical gel. According to the French investment banker Charles Rosier, Bader's business partner, this has to do with the fact that the medical gel must be applied on a wound and come into contact with blood in order to be effective. So the cream, then, must find a different way to make its way deep into the epidermis.
"At the beginning, we asked ourselves if this was possible, because we can't ask the consumer to damage their skin before applying it," Rosier points out. "We thought of infrared lights or a brush or whatever things might cause micro trauma, but the reality is that ageing, pollution and UV are actually daily micro trauma, so the product was working and efficient without the needles," he says.
And also, the real entry point the cream needed (into the market at least) came when actress Melanie Griffith got her hands on an initial prototype of the cream, about a year before the cream launched last year, sparking a wildfire of word-of-mouth, native marketing. Demi Moore and Griffith's daughter, Shades of Grey actress Dakota Johnson are reportedly fans of the skincare brand, as is Victoria Beckham, who even had her models' skin prepped with massages by renowned facialist Nichola Joss using The Cream by Augustinus Bader for her recent A/W19 show at the Tate Britain. German actress Diane Kruger is also a strong proponent of the brand, albeit a (modestly, according to the brand) paid one. Notably, Augustinus Bader is already a bestseller at Violet Grey in Los Angeles, a highly curated luxury beauty boutique known as much for its uncompromisingly high standards as its star-studded clientele.
In Europe, it was former First Lady and model/singer Carla Bruni who opened the golden gates for the brand. "She ended up giving it to Naomi Campbell so we had these kinds of groups both in Europe and in the US and in these small communities," says Rosier.
The all-star client network Bader has developed might have a bit to do with the project's protagonist, Robert Friedland. The well-connected billionaire mining magnate (famous for his long-standing friendship with the late Steve Jobs) is highly interested in anti-ageing technologies, and he is the one who fatefully introduced Professor Bader to Rosier, the entrepreneur, as 'the best brain in the world of stem-cell research.'
As it heads into its second year of business, the company has reported a positive first 12 months, with sales of its two prestige products The Cream and The Rich Cream totalling 6 million USD. According to sources, the business will quadruple going forward into its second year. Rosier attributes the brand's success to its effectiveness. "The proof is in the pudding. We don't have the same marketing budgets as the big skincare gigantic companies and despite this, we have a lot of very demanding celebrities who have access to every single product on the planet and they've talked publicly saying this is the best product they've ever tried, and that's without us paying them," admits Rosier. "We were lucky, luck is part of the equation."
But considering the global skin care market is expected to be worth 180 billion USD by 2024 and Augustinus Bader just hired Maureen Case as its new Chief Executive Officer (she's the woman who took La Mer from 100 million USD to 800 million USD in sales as the head of specialty brands at Estée Lauder between 2006 and 2015), it's a safe bet that the brand's future success will have little to do with luck.