August 21, 2019 Stephen Doig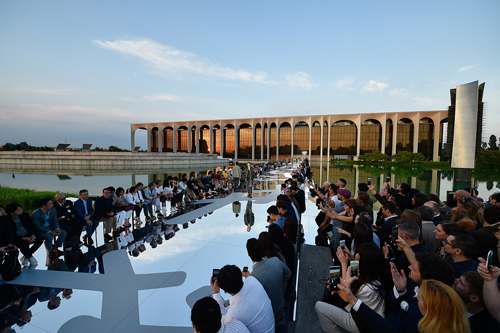 Alessandro Sartori is quietly elevating Ermenegildo Zegna's menswear with fluid tailoring inspired by modernism. And in his own singular way, he's kicking the storied label into a higher gear.
The view northwards as you come into land at Milan's Linate airport reveals a curious sight. Look beyond the spaghetti junctions and industrial flatlands, and a monolithic concrete edifice – a series of vast, sculptural arches with black mirrored windows – rises from the middle of a 20,000 square metre lake, like an Arthurian castle with modernist tendencies.
The Mondadori editorial headquarters is the largest of Brazilian architect Oscar Niemeyer's structures in Europe. It was commissioned by Giorgio Mondadori, son of the Italian publishing magnate, in 1968, and completed in 1975.
But if you had happened to glance out of the aeroplane window on one sunny evening last June then you'd have caught an even more arresting sight: a mirrored catwalk arching across the lake, the last coral streaks of the summer sun hitting the windows at just the right time, as Alessandro Sartori's models strode across the water to showcase his Spring/Summer 2019 collection for Ermenegildo Zegna. It was, as they say, a "moment".
"We were keeping an eye on that sunset, let me tell you," says Sartori, the artistic director of the storied Italian house, acknowledging the effort (and precision timing) involved. "It made things pretty stressful, but I think we managed to get a perfect combination of the light, the colours, the movement of the clothes and the lines of the architecture."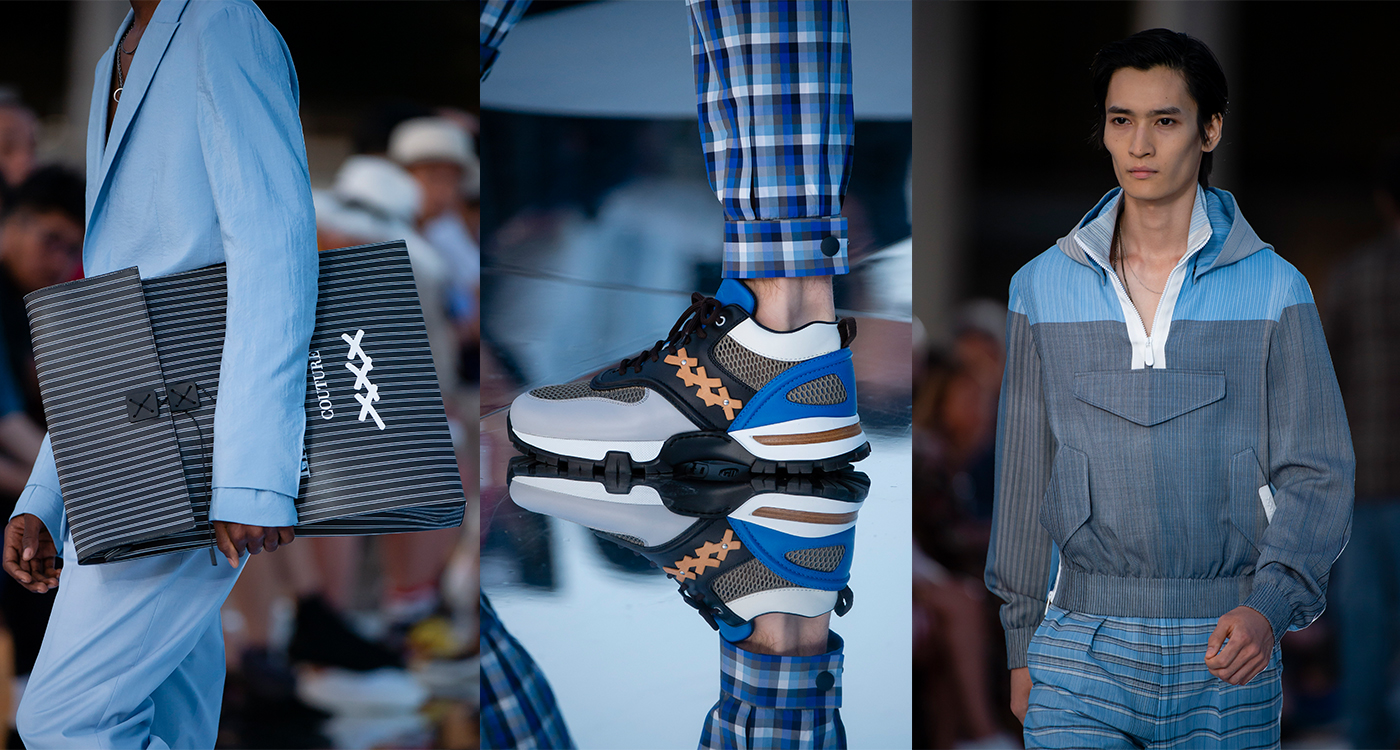 In celebrating Niemeyer's architecture to such grand effect, the unique presentation of the collection, which hit stores in March, highlighted Sartori's love of mid-century design and its influence on his fashion eye.
Since he returned to Zegna in 2016 (having previously overseen its diffusion range Z Zegna from 2003 to 2011, before departing to Berluti for five years) he has focused on an almost antiquated notion: simply, the clothes themselves. "It's never a literal thing: I don't see a particular design or way and translate it into my work; it's more about revealing layers," says Sartori.
"I went to Brazil to see Niemeyer's work, and what struck me is that while something might look two-dimensional, it's actually 3D, 4D, 5D… I feel that's like my approach to fashion design: I'm interested in creating layers," he explains. Sartori will often hone in on the cut of a jacket, creating, for example, a new silhouette between double- and single-breasted; or he will focus on the fabric itself, experimenting with R&D techniques at Zegna's considerable factory in Trivero, northern Italy.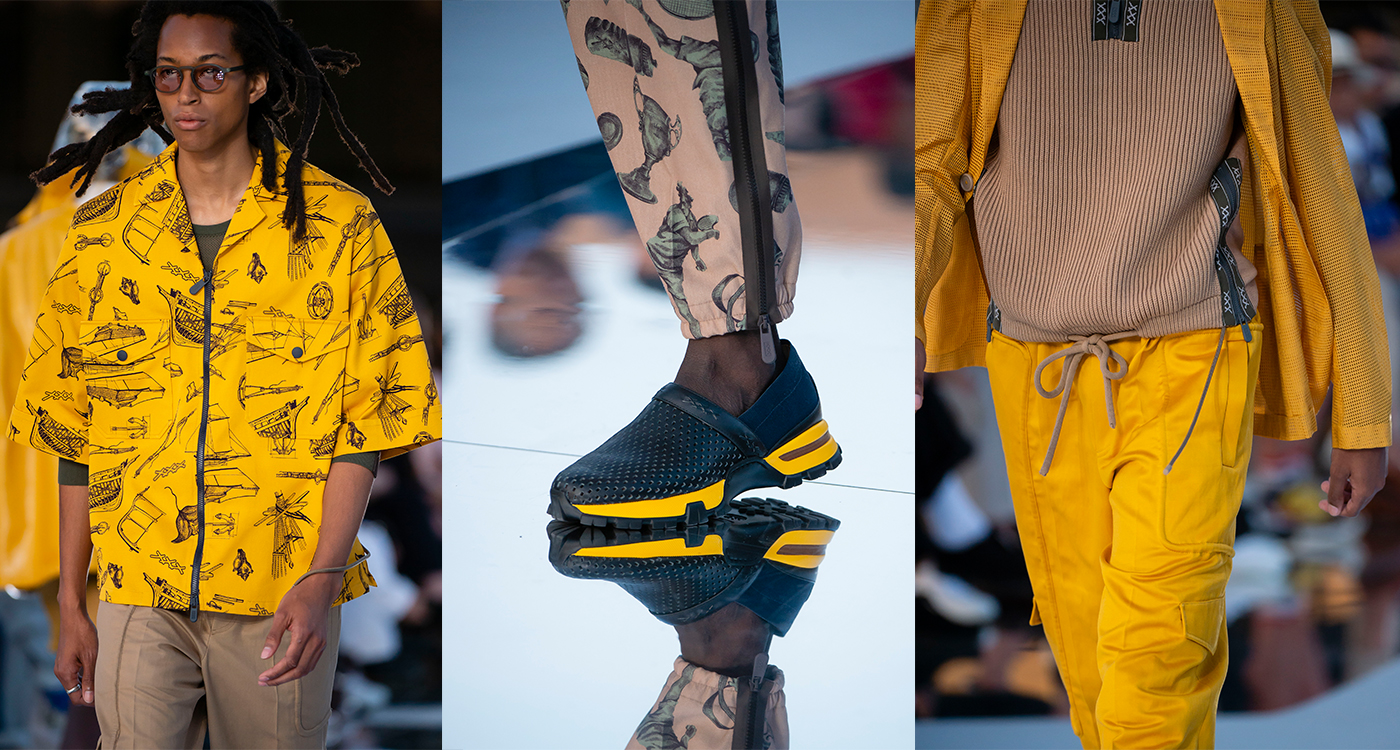 Now 52, Sartori's enthusiasm for architecture and design was ignited at a young age; the son of a tailor and a dressmaker, he grew up in the shadow of the Zegna factory. "I remember there was a beautiful magazine called Louis, which had photography of well-dressed men, real characters, and the settings were very graphic, very modern; it combined the architecture with the character of the man," he says. "I guess that informed me in some way."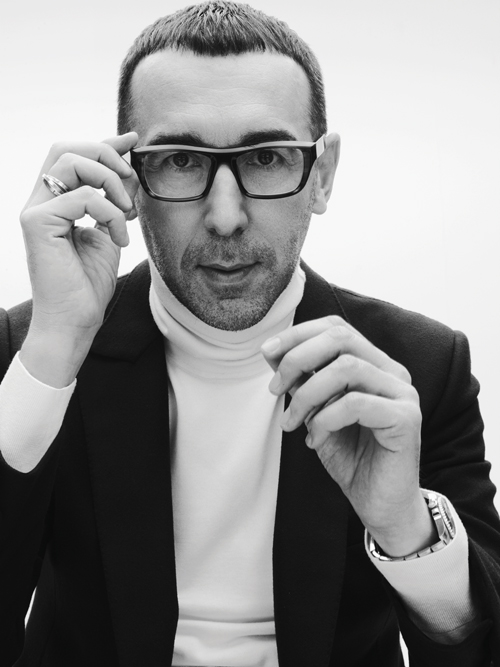 The tailoring in his spring collection, with fluid jackets that fasten halfway across the body and trousers cut without a single seam that flow like liquid, is architecture for the body. The pieces sculpt and form the torso, with concealed panels and touches of wizardry – the shape of a lapel, the slant of the pocket – to alter the frame.
Italy's post-war aesthetics area recurring reference point for Sartori – as they are for so many of us. "That period in the 1950s and '60s where there was a perfect unison between what was happening in interior design, architecture and car design – that excites me," he adds."The lines were very pure and very modern."
Sartori clearly puts his money where his mouth is: his five-strong car collection includes Porsches, a Lancia and a Fiat dating from those magical decades. "I love the work of Flaminio Bertoni, who created some of the most beautiful cars. He made the Citroën DS, which has this incredible fluidity of design: arches that don't end, a line that goes from pure perfection into something unpredictable – it's wonderful," he says, tracing the curves of a car on a picture on his iPhone as if he's conducting a concerto.
His apartment, near the Zegna headquarters in the south-west of the city centre, features some iconic pieces of Italian mid-century design too – an Arco lamp by Giacomo Castiglioni, for example, as well as more modern items, such as a Baxter armchair by Matteo Thun.
"When I came back to Milan from Paris, I was worried," says Sartori, of his move from Berluti to Zegna. "But there is so much going on, not just in fashion but in craft industries coming back to the city, in galleries like the Prada Foundation and Armani/Silos… There's an energy to the moment." The same could be said of his deft, quiet reimagining of one of the great Italian menswear houses.