August 21, 2019 Stephanie d'Arc Taylor
Through her ambitious project, The Other Story, Fatima Al-Banawi is an actress, performance artist and writer who's giving Saudis an unprecedented voice.
If you chanced upon Fatima Al-Banawi's Instagram page, you'd be forgiven for making a snap judgement. The Saudi actress is young, gorgeous, and stylish, attributes which are professionally displayed in highly stylized triplets of Instagram posts á la Iza Goulart or Jessica Kahawaty. But this isn't your garden variety influencer: Al-Banawi is packing serious ambition behind those hypnotizing green eyes, as well as the intellectual firepower to translate plans into action.
Al-Banawi's latest project – having earned a master's degree from Harvard University's Divinity School, starred in Saudi Arabia's first romantic comedy, and worked as a psychological caseworker for underprivileged communities in Jeddah – is The Other Story, a collection of anonymous, single-page stories from people in her hometown of Jeddah.
After returning to Saudi in 2016 with a degree in Theological Studies (with a focus on Women, Gender and Islamic Studies), Al-Banawi was struck by the changing nature of public space in well-to-do sections of the city that were modernizing rapidly. "The structure of public spaces, whether restaurants, the corniche, or casual cafés, wasn't tailored to facilitate people's interaction," she says on the phone from Cairo, where she's on a break from an acting workshop. "These spaces were geared towards serving an individual, rather than the community. It's alienating."
To address this alienation, one day, Al-Banawi went to the Mugg & Bean café in Stars Avenue, just around the corner from where she lives, armed with a stack of white A4 paper and some pens. She convinced some medical students to write down a personal story by hand; initially they were sceptical, but after a while "they became immersed in the experience. I went home that day with not just three stories, but the feeling of a tiny victory at having brought my idea to the public. It felt possible. I knew I could always go back home with more stories." And so it began.
THE OTHER AND I ARE NOT DIFFERENT. THEY ARE ACTUALLY ONE ; I AM YOU, YOU ARE ME, IN OUR STORY UNDER ONE THEME.
Al-Banawi has amassed over 5,000 stories to date, all written anonymously by Jeddah residents. The stories "are about human things everyone experiences, not just in Saudi: economic struggle, emotional instability, anxiety before a wedding, infidelity, divorce." Seizing the opportunity to amplify the shared human connection highlighted by these stories, Al-Banawi has used them as source material for short films, performance art pieces she writes, directs, and performs, as well as a book in Arabic and English that she plans to complete later this year. One of her short films has been selected to feature in the second annual International Contemporary Art Biennial of South America, and will travel to 43 cities around the world.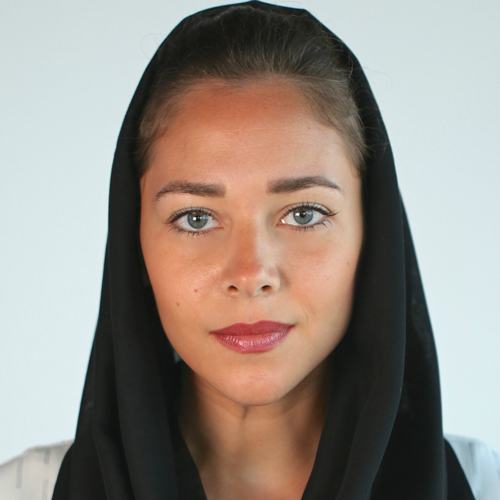 The Other Story project has deepened Al-Banawi's acting practice "on so many levels," she says. The anonymity of the storytellers has been particularly affecting. "The other and I are not different. They are actually one; I am you, you are me, in our story under one theme. Even if I am particularly moved by a story, I'm never tempted to find out who the author is. The uncertainty is important. If we knew for a fact who wrote it, something would be ruined. Having the story be anonymous is an invitation to connect with anyone at any time."
"In acting, I search within myself for these different other stories, stories I've never told anyone, experience that challenged me to become who I am today," she reflects. "Sometimes I receive roles that feel very distant from who I am. But once I consider her background and get to know the character, I really like her and the judgement just evaporates."
Al-Banawi has profound feelings for her hometown of Jeddah, Saudi's historic port city and gateway to and from the outside world. "I have the ultimate love for this place and this land," she says. Representing the diverse experiences of Jeddawis, in distinction from those of their neighbours as well as other Saudis, is an important challenge to unfair typecasting of Saudis outside the Kingdom. "Most stereotypes arise because we only know part of the whole story," she adds.
Jeddah is different, as the old saying goes. Al-Banawi's mission is to celebrate the differences as well as the common experiences shared by every Jeddawi, Saudi, and beyond. Sometimes, she says, viewers or readers forget that each story comes from a separate storyteller. "People think that each story has been experienced by the same person. This is how close we are to each other, and how common our experiences are."