August 1, 2013 Nadine Khalil
Dutch maestro Marcel Wanders is a brilliant designer but a chance meeting with him reveals that, despite his humility, it's his unique outlook that has helped him become one of the most prolific product and interior design studios in the world today.
When I meet Marcel Wanders on his visit to Beirut, I don't expect that most of our conversation will revolve around the world of ideas. "When I create an object," he begins, holding up a fork to demonstrate its outlines, "therein lies the beautiful version of an idea, distilled like a sculpture."
I squint as the fork catches the sunlight peeping through the trees. "You can tie me up, blindfold me and I will always have an idea," he says, smiling. "It doesn't come from the outside. There are so many questions and if the question is big enough, it just fills your life."
It's a warm summer day and we are sitting in the café of a new boutique hotel. Wanders is smartly dressed in charcoal black trousers and bright sneakers. His white button-down shirt, slightly open at the collar,reveals a necklace of colourful beads.
Both object and interior designer, Wanders' creations occupy different aesthetic worlds. If his object designs seem simple, quiet, his interiors are loud and ornate, some verging on the baroque. He tells me that the way he envisions an interior space is like a stage set for a symphony.
"An interior," he continues, "needs a thousand ideas. It's a different art form from product design. It has movement and repetition. It's like reinventing the world with objects that have a relationship and spaces between them. Together, they become a whole universe – an opera. The logic of each object alone is still there, but unlike in product design, the objects no longer exist as unique worlds."
I ask him what he is working on and he mentions a hotel that is due to open in Doha mid-next year. "It's exciting, the Mondrian is a fantastic project." And fantastical. In my head, images of his Mondrian South Beach come to mind. Opened in 2008 and overlooking Miami's Biscayne Bay, it was envisaged as a tropical tribute to Sleeping Beauty and includes a floating, laser-cut, black lacquered staircase, mosaics of sharks and women, vine-covered pool cabanas and enormous bell-shaped brass ceiling lights.
The same year, Wanders completed the no-less dramatic Villa Moda in Bahrain. A luxury multi-brand fashion store in black and white, its façade is made of spherical, pearl-like spheres. Essentially modelled on a traditional souk, local craftsmen were brought in to create the Islamic motifs and arabesques for its enormous light installations and arched pathways. Wanders' appreciation of regional aesthetics runs deep and he says that he dreams about designing a mosque, one day.
Whether he is designing interiors or objects, Wanders is driven by a desire to create things that are both durable and sustainable.
"Modernism is no longer sustainable," he continues. "It says there is no past, but we live between the past and the future. In it, objects become like children without parents and we think this is the norm, but they are absolutely loveless."
Wanders comes across as a humanist and a dreamer and at times, an idealist. "I'm searching for design that is humanistic, romantic and less technocratic," he explains, adding that design should lend surprise and beauty to the world and connect cultures. "Design needs to be a place where people can live together."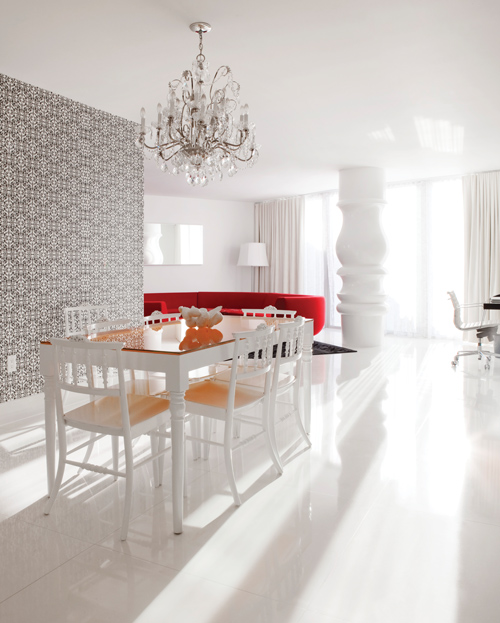 His steely blue eyes remain fixed on mine as he decries the failures of Modernism, a theme he constantly returns to during our conversation. "Perhaps I was kinder to Modernism when I was younger. I was educated within it after all. I'm more rebellious now than I was then. I feel like I'm fighting a war."
The issue he has with the movement is one of purpose, not just aesthetics or form. He feels that Modernism may be an approach that adapts easily to any style or setting but it lacks real character. "As with Minimalism, it says less is more, but it isn't. Less is less. What we are doing is creating dead interiors."
As one of the first designers behind the Droog design collective, Wanders has long married his penchant for fantasy with functionality. Droog, which means 'dry' in Dutch, was founded by product designer, Gijs Bakker and design historian, Renny Ramakers. The name refers to the sober style and often restrained aesthetic, favoured by the collective. A perfect example of which were the found objects collected by students from the Eidhoven Academy of Design , which Droog used in their first exhibition in 1993 at the Milan Furniture Fair.
They were reacting to what Wanders calls "the dressing up of design" by mocking the pretensions behind it. "There was the sense then that the structure and core of design would follow the ideas. It was the ideas that were giving the design shape."
Wanders himslef was one of those students, although he'd already been kicked out of the Academy by the time he joined Droog. "I had no idea where I'd end up, especially since I have never aspired to be a free artist." Between Eidhoven and the collective, he'd enrolled to study jewellery design at Maastricht's Art Academy, before moving to Arnhem's School of the Arts, which he says shifted his approach from the conceptual to the poetic.
Wander's design for Droog the following year was the Sponge Vase. Modelled on a natural sponge, it is made out of porcelain, which is at first hard to believe given the piece's intricate, coral-like perforations. But it was the Knotted Chair that truly defined Wanders' career in 1996. Combining both natural with artificial materials, traditional handcrafting techniques with modern technology, the chair grew out of Dry Tech, a collaboration between Droog's low-tech approach with the high-tech materials of Delft University of Technology's Aviation and Space Laboratory.
"I wanted to use carbon fibre in the same manner as textile but I didn't want it to be flat," Wanders explains. And so he braided the synthetic fibres, which were then infused with epoxy resin and hardened in a mould. "It's way more comfortable than you'd expect," he says, laughing, "though the result was much more imperfect than what was accessible at the time. I got some information from the aeronautic industry. The idea was to make a space frame."
The Knotted Chair is now part of the permanent collections of museums like MOMA and the Victoria and Albert but production stopped last year after a thousand had been made.
Wanders' humour and playful sensibility is evident in many of his pieces. Take Birdhouse, a simple roof over a plate, or Swing with the Plants, which has a seat with cavities that can be filled with soil and planted with seeds, so that vines climb up its sides.
In 2001, he co-founded the design company Moooi ('beautiful' in Dutch), where he is currently art director. Moooi designs products and interiors for international brands, including furniture manufacturers Cappellini and Kartell, tile makers Bisazza and many other high-end lighting and home accessories brands, like Flos, Christofle and Baccarat.
"At Moooi, beauty isn't the main character," Wanders tells me. "It has very little to do with what we think beauty is. These are poetic pieces." By way of illustration, he tells me the story of a ceiling lamp he wanted to build for Flos, with an inbuilt fire detector. They soon realised that by doing so, instead of solving a problem, they were perhaps creating fear of the problem instead.
These are the kinds of questions Wanders asks himself, and by extension, the rest of us, in his work. Especially when he experiments with materials in innovative ways. A case in point is his Egg Vase, a project Moooi did in collaboration with German ceramics company, Rosenthal.
Essentially, it's a porcelain vase modelled around a condom stuffed with hard-boiled eggs but Wanders' explanation of how it came about is more poetic.
"I have this philosophy of listening to the material. Porcelain wants to look refined and elegant but most ceramic objects look plump, a bit like plastic. The most unique expression of porcelain is when you throw it wet, into a mould."
For the first time, he becomes animated, gesturing with his hands. "I thought, what if I used thin stuff for the porcelain instead of the plaster mould that makes it look like plastic? So I began thinking about what is thin – egg shells and latex. What if I cast that into the mould?"
As our conversation draws to a close, I tell Wanders that I had been expecting to find him wearing his bead necklace. It pops up in most of the stories about him. He takes it off and places it on the table carefully. "I tend to do creative things with my daughter, who is 14 now," he says, describing how the pair were in a shop trying to pick out beads to make a necklace but ended up making two separate ones instead. During subsequent travels, he found himself collecting bits and pieces he came across. He points to a birthstone from Nigeria, a knot from the Knotted Chair, a kidney stone and part of a meteorite from Iowa. All from different journeys, but also from what Wanders calls his dreams.
"I use the word 'dream' to describe what I do during the day. Before I realise something, I create ideas that are hard to believe, like illusions. So I can fly a little bit. I know very well what can be made in design but the dreaming gives me the freedom to get out from that knowin." He cleans his sunglasses and stands up, towering over me. "I'm actually more like an engineer, that's the boring part. But I let everyone think I'm a magician."