April 13, 2022 Louis Wise
Lyna Khoudri has her work cut out for her in Wes Anderson's 'The French Dispatch'. In the king of kook's latest film, a love letter to journalism, France and all things quintessentially Anderson, the little-known French-Algerian actress first has to stake a claim for herself in an insanely starry ensemble that includes Bill Murray, Timothée Chalamet, Benicio Del Toro, Tilda Swinton and Elisabeth Moss. Next, she has to shine from beneath a ginormous retro motorcycle helmet, which her character, Juliette, wears at all times – a stroppy student activist from the Swinging Sixties, she is always buzzing off furiously somewhere demanding utopian rights. Finally, she also features in the most unlikely love triangle you'll see this year, as Juliette squares off for her man – Chalamet's brooding rebel Zeffirelli – against his cougar lover, played by no less than Frances McDormand. Ouff! It's a lot to take in, I know – it is Anderson after all.
"At the start we didn't get it either," the 29-year-old Khoudri laughs of the surprising ménage à trois. "I was, like, 'I'm not part of it, I think?'" Luckily McDormand told them what was what. "Frances was saying, 'It's me who passes the baton…'" So to speak.
At the risk of being trite, you could say that McDormand is passing on another type of baton too. Khoudri is, with Chalamet, part of a new generation of stars who will one day replace Murray, Owen Wilson and co. If she is little known abroad for now, she is a big thing back home, most notably thanks to two films, 'Les Bienheureux' and 'Papicha' – she won a best actress award at the 2017 Venice Film Festival for the former (not bad for her first film) and a most promising actress César, the French equivalent of an Oscar, for the latter. Both films tap into her Algerian heritage: Khoudri was born in Algiers in 1992 but had to flee with her parents when she was two because of the country's civil war. She has become thoroughly Parisian since but never lost her roots. Indeed, when we catch up on Zoom, with her talking from Marseilles, where she is working on a new project, she feels like a modern French film star: relaxed, international and multicultural. Although she says she speaks English well we do the interview in French, just as she pretty much only speaks French in the film. She is sitting in bed, looking flawless in a charcoal vest with her brown hair loose, but please, no tired old "French screen siren" tropes here, even though a starry upcoming role for her is the perky Constance in a big-budget remake of 'The Three Musketeers' – following in the footsteps of Julie Delpy, who played the role in the 1993 version. "I've got nowhere I can get comfortable," she protests, groaning and smiling. "You can't start, 'Lyna Khoudri was reclining on her bed!'"
'The French Dispatch' tells the story of a mythical American magazine based in a fictional snoozy French town called Ennui-sur-Blasé (if you don't get it, google it). Murray stars as the editor, and the film plays out as a series of magazine stories, with Khoudri, McDormand and Chalamet's "feature" sandwiched somewhere in the middle. Khoudri never imagined she'd end up in a Wes Anderson movie – in fact she was so disbelieving, she nearly didn't audition. "I always ask myself: What do Americans want from a French actress?" she says. "I've done a few international auditions, for some big productions abroad, and it has never worked out because ultimately an American got it or an Englishwoman. So I said to myself, it's another thing where they want to be able to say they looked abroad! But I guess Wes isn't like that." Anderson had apparently genuinely looked everywhere before coming to France to find his Juliette. "But I didn't know that," she shrugs.
The episodic nature of the film meant that Khoudri was on set with only a few of her co-stars, but she raves about each of them. McDormand is, she says, "so humble – she really doesn't care about Oscars and recognition". As for Murray, "when you meet him, he's not Bill Murray any more, he's your mate who you have a laugh with. He's always a big kid, trying to chuck you in the pool and stuff." But what about Chalamet? Khoudri is patiently bemused when I ask if she's aware of the circus around him. "I mean, I had maybe one girlfriend who was, like, 'Oh là là, you're going to work with Timothée!'" Most of her friends were much more interested in her working with Anderson. She does get the Timmy effect, though. "I think there are a lot of young girls and women around him! And he's doing pretty well at managing that." Her boyfriend is also an actor, though she won't tell me who. Did he mind her kissing Chalamet for work? "Oh! It was fine," she laughs. "He kisses for work quite a lot as well. So, ça va!" In English we'd say that "spices things up," I tell her. "Yes! Exactly."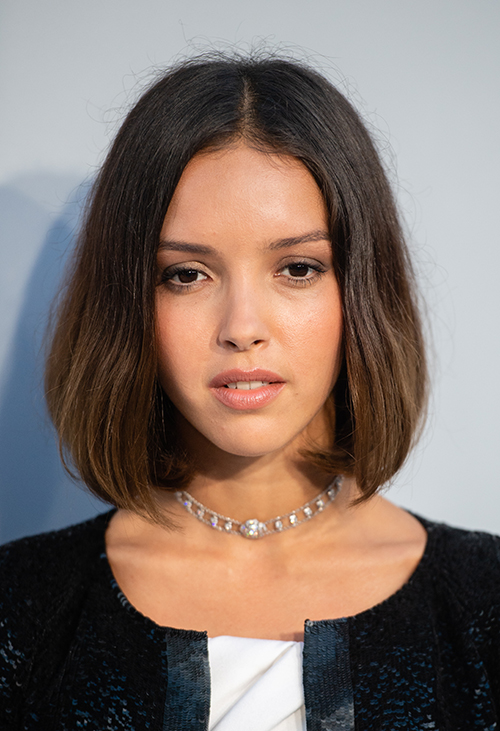 The film's subject matter of journalism hits close to home for Khoudri. The reason the family had to flee Algiers was because her father – a prominent TV journalist in Algeria who presented the evening news – was under threat from the Islamic extremists ravaging the country. She says she is not sure her parents have ever really properly healed from the shock of leaving. Her mother was a violin teacher back in Algiers, but ditched this in order to feed and house her children (Khoudri has a little brother, ten years younger, born when they were in Paris). "She would take any job that was going – she was a cleaner, a supermarket cashier and so on."
At first Khoudri wanted to be a journalist like her father, but found herself dithering in her late teens, dropping out of further study. It was only at age 20, having done a few drama classes, that she fixed on a vocation. "Ever since I was small," she nods, "I was very, very shy – but then if I wanted to have something, I had to have it. By any means." Once she decided to be an actress, her climb throughout her twenties was pretty wild, although she is tactfully modest. "I've honestly been lucky," she insists. At Venice, when she won, she made a moving speech thanking her mother in particular. "She's the best," she says simply.
Khoudri, though, refuses to be weighed down by the past. "I have no problem with having both cultures," she shrugs. "If I meet someone and tell them I'm Algerian, people say, 'That's amazing, what a gorgeous country.'" She says she's equally at home in Paris and in Algiers (which they now return to often, to see family); she knows each city like the back of her hand. Considering she wants a thoroughly international career, making "beautiful films" wherever – "whether it's Hollywood, China, London or Marseilles" – expect her to get to know many more.
Photography: Mike Marsland