September 3, 2021 Julia Zaltzman
While hotels, airports and everyday normality shut down in 2020, explorer yachts came into their own. Built for autonomous world-cruising in the deepest of remote corners, they epitomise what we're all craving these days – a private, personalised sanctuary away from civilisation where we can explore and isolate in equal measure.
But explorer yachts are not a new phenomenon. They've existed in some form or another ever since Jacques Cousteau took to the high seas to explore what lies beneath aboard his converted minesweeper Calypso in 1950.
Explorer superyachts are often converted from large commercial ships or offshore support vessels prized for their thick-steeled durability, large interior volume and ice-breaking hulls. They are akin to sherpas of the sea, carrying submarines, tenders, hyperbaric chambers and helicopters – everything the intrepid yachtie may need to access extreme terrain. Built to perform, rather than win beauty pageants, they move with industrial swagger.
But recently, we've noticed a new breed of expedition yacht: a boat built for longer range, higher capacity, larger storage and greater autonomy, but one that does all that while cutting a striking profile on the water – yachts that celebrate aesthetics alongside ability. And one of the most influential in this regard was Cloudbreak. Named after a notorious wave off the coast of Fiji, she was built by Abeking & Rasmussen in 2016 for an owner with a passion for heli-skiing, surfing and global exploration.
"The owner had been a multiple repeat charterer and knew very well what he wanted," says Jim Evans of SuperYachtsMonaco, who sold and project-managed the build. "He had a very clear idea of the 'use' profile of the boat, and heli-skiing was particularly important to him."
It's not without significance that prior to building 75m Cloudbreak, the owner had chartered 57m Senses – a yacht delivered in 1999 (now owned by Google co-founder Larry Page) that sought to combine the characteristics of a tug with the elegance of a yacht. Its exterior is far removed from today's idea of a sleek superyacht, but its ability to carry a variety of tenders in a compact hull with more accommodation and still be economical to run arguably planted the Cloudbreak seed.
"Senses was a landmark yacht, but it wasn't in the same league as Cloudbreak," says Evans. "Cloudbreak took the beautiful design aspect to the limit of form meets function and set a whole new standard."
Indeed, from a technical standpoint, Cloudbreak pushed the boat out. An impressive range of 8,500 nautical miles is paired with a relatively shallow draft of 3.45m. Heli-skiing capability meant it became one of the few yachts to have a commercially-rated helicopter deck. And its steel, ice-reinforced hull can journey anywhere. Renowned designer Espen Øino was called upon to sketch the inspirational exterior, while interior design (including the all-important ski locker, heated boot rack and lower deck spa with sauna) fell to Christian Liaigre. The owner's brief was so clear and precise that the final yacht design was almost identical to the initial sketches whipped up by Øino.
"Cloudbreak is not your typical sleek superyacht. For me, she's always had an unusual quality, which I think is what stands the test of time," says the Norwegian designer. "It has a wave breaker bulwark in front of the bridge that hints at going through heavy seas, and an enclosed stern where the multiple tenders are stored. I like to think of it as an active lifestyle boat. Certainly, the owner's programme dictated that, such as carrying big enough tenders for his surf boards, a helicopter for his skiing, and all the firefighting and refuelling logistics that go along with that."
The boat was specifically designed to travel to both cold and warm climates. Two large terraces offer panoramic views, one of which features an outdoor daybed allowing guests to sleep under the stars while cruising. An eagle nest observation tower provides sprawling vistas, as does a winter garden on the bridge deck. A huge wellness centre and gym on the lower deck reveals waterside action via an open balcony. Since delivery, Cloudbreak has more than fulfilled her owner's dream of travelling to incredible places in pursuit of the best sporting conditions: Antarctica, Greenland, Norway, Alaska, Iceland for heli-skiing alone, not to mention extreme sport exploits in Fiji, New Zealand and the South Pacific.
"It's great to see a boat doing exactly what it was designed to do," says Øino. "For me, Cloudbreak looks beautifully purposeful. And there is a trend for that now. Most owners want their yachts to be considered beautiful, but beauty is in the eye of the beholder. On Cloudbreak, the first GA [general arrangement] that I presented to the owner in 2011 remains virtually unchanged. Often, those projects where the very first concept is retained prove to be the best."
The raft of yacht designs that take inspiration from Cloudbreak's trailblazing lines continues to grow. For Evans, all-aluminium Bold built by SilverYachts in 2019 has an aesthetic that nods to Cloudbreak's abundant deck space and good looks. Others cite the subtle echoes in Winch Design's recent XVenture concept drawn up for Dutch shipyard Heesen. While the likes of Flying Fox (2019), La Datcha and Olivia O (2020) have all picked up the explorer-credential-with-superyacht-design gauntlet thrown down by Cloudbreak and run with it. Evans, who now manages Cloudbreak for charter, is often approached to negotiate a private sale – something that the owner is yet to agree to.
"We get lots of people just admiring Cloudbreak so much that they want to try and buy her, which is unusual considering she's five years old and they're ready to pay top price," says Evans. "But she's hugely admired for her exterior lines and what she represents, which is a true sense of luxury adventure."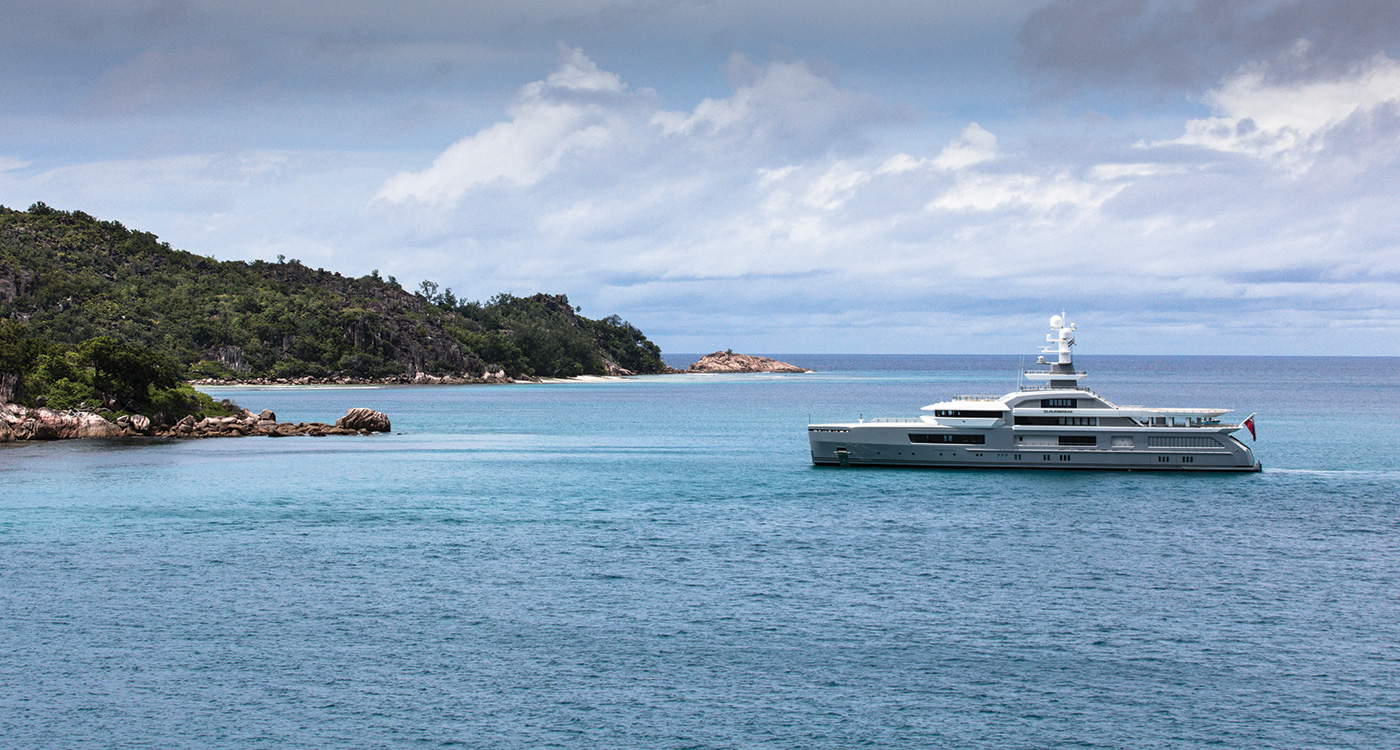 Photography: Gauillaume Plisson