September 20, 2019 Marwan Naaman
ZHA's state-of-the-art 576 million USD Al Janoub Stadium has been built especially for the FIFA World Cup in Qatar but even after the fun and games of 2022 are over, it'll continue to serve as a worthwhile sports space.
Qatar is gearing up for one of the most momentous events of its young history. In just over three years, the Gulf state will host the world's most watched and most celebrated sporting event, as football (soccer in America) fans from across the globe descend upon its Arabian shores to witness the boisterous games.
The 2022 FIFA World Cup marks the first time ever that this particular sporting event is held in an Arab country. In preparation, and in order to accommodate both the players and the tens of thousands of visitors who will come to Qatar in 2022, the country has been busy building magnificent, state-of-the art stadiums. The first to be completed, in May 2019, is the Zaha Hadid Architects-designed Al Janoub Stadium in Al Wakrah, directly south of the capital, Doha.
Al Janoub Stadium project director Jim Heverin believes that like the London Aquatics Centre, which was designed by Zaha Hadid Architects for the 2012 Olympic Games, Al Janoub Stadium will become a legacy for Qatar and its local communities. "The Aquatics Centre was actually designed to be adaptable so that it would offer the best legacy for London," he says, "and it has now become a very popular public space and sports venue for the whole community in East London."
Inspiration for Al Janoub Stadium's design came from the dhow, the sailing vessel traditionally used in the Arabian Gulf, as Zaha Hadid Architects sought to reflect Al Wakrah's maritime heritage and its coastal identity. "The stadium's roof design is an abstraction of the hulls of dhows turned upside down and huddled together to provide shade and shelter," says Heverin. "This is expressed in the stadium's envelope geometry, details and selected materiality, including the roof's beam structure that echoes the interior structure of a dhow's hull."
Since thousands of visitors are expected to attend the World Cup, Al Janoub Stadium is fitted to accommodate 40,000 visitors. But Zaha Hadid Architects designed the stadium with an eye to the future, so half of the seats are temporary and will be taken apart once the World Cup ends. Heverin explains that 20,000 seats "is the optimum capacity for legacy use as the home ground to Al Wakrah Sport Club professional football team of the Qatar Stars national league."
One of the stadium's most unique features is undoubtedly its curved roof, a futuristic wonder that manages to take the dhow's traditional shape and give it an otherworldly, fantastical flair. "The stadium has an operable roof designed by Schlaich Bergermann Partner and a cooling system powered by solar harvesting that ensures the stadium can be used during Qatar's summer months," says Heverin. "When deployed, the roof operates like a sail to cover the oculus above the field of play and create a sheltered environment for football during the summer. Passive design principles along with computer modelling and wind tunnel tests were used to maximize the effectiveness of the stadium enclosure to ensure player and spectator comfort."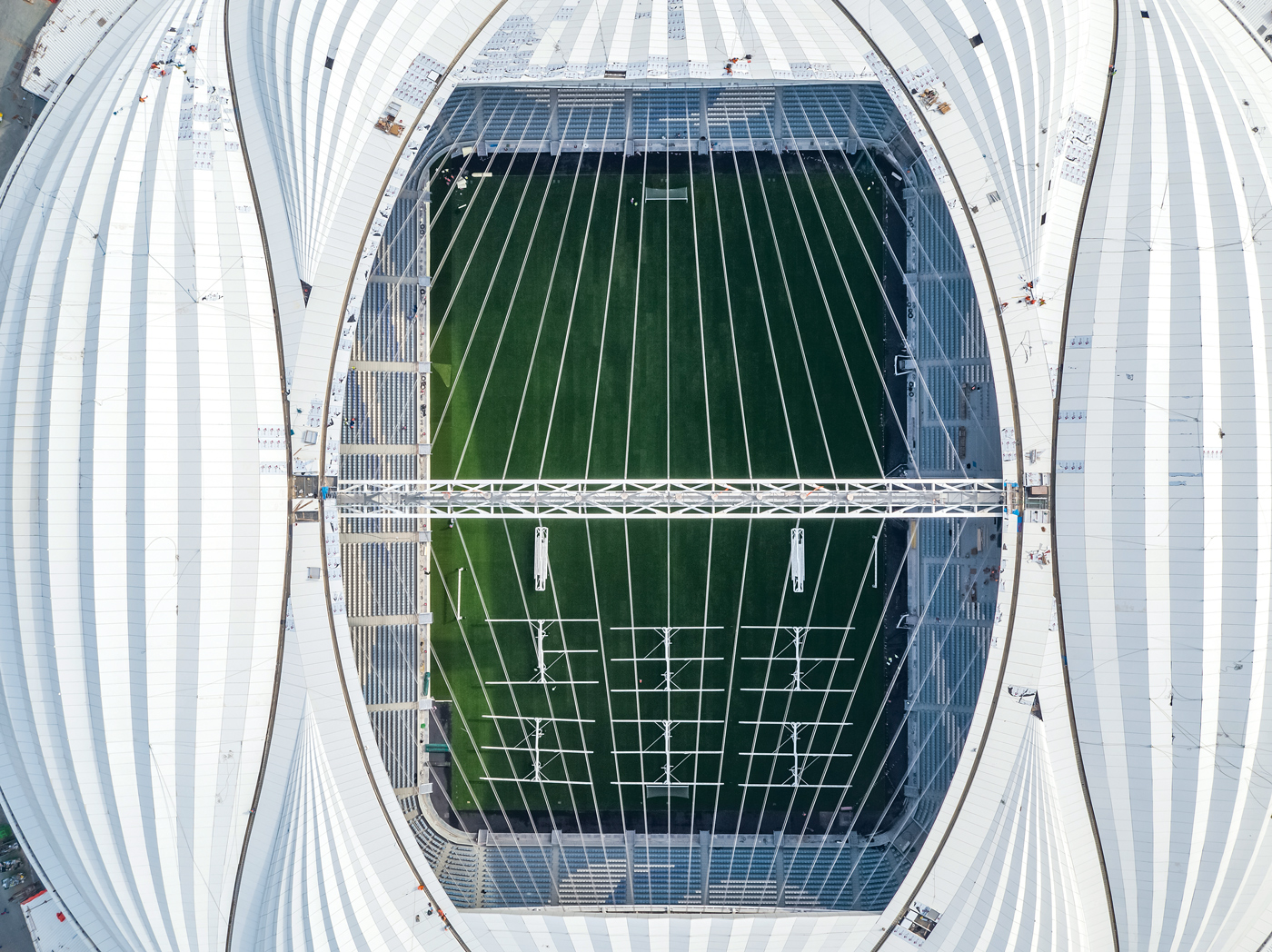 Zaha Hadid Architects paid particular attention to the choice of colour for the roof, selecting hues that hark back to Al Wakrah's waterside setting and its seafaring heritage, as well as to Qatar's Islamic identity. "The roof cladding and opaque surface areas above the eaves are white or off-white in colour, with a gloss surface finish that is reminiscent of seashells and emphasises the pleats that add texture to the building envelope," says Heverin. "The embossed eaves and the lattice screen print of the glazed lower-level façades are metallic bronze in colour, adding a sense of richness and depth to the design. The choice of a bronze metallic finish on these worked surfaces pays homage to the traditions and artistry of Islamic craftsmanship."
While not visible to the naked eye like its spectacular roof, Al Janoub Stadium's cooling system stands in a league of its own. "Powered by solar harvesting, the system is also very efficient as it recirculates and re-cools air that has already been cooled," says Heverin. "This new cooling technology developed by the College of Engineering at Qatar University offers the possibility to significantly improve the health of people across the Middle East, where inactivity and lack of exercise due to the heat outdoors is a contributing factor in a wide range of health issues including obesity, diabetes and hypertension. This cooling system can be applied in the future to cool outdoor public walkways, parks and spaces."
Like many of Qatar's breathtaking new landmarks – the National Museum of Qatar designed by Jean Nouvel and the Museum of Islamic Art designed by the late I.M. Pei – this new stadium is destined to leave a lasting imprint upon the country's architectural landscape and upon the lives of its local communities. "Al Janoub Stadium will be a memorable venue and destination during the 2022 FIFA World Cup Qatar," says Heverin, "but more importantly, the stadium has been designed to be adaptable and optimized to best serve the city's future generations."
what's nearby