January 31, 2019 Nicolas Shammas
It's a funny thing but after flying all the way to Muscat in Oman to test drive Audi's latest SUV, my first impression upon getting into the Q8 was actually one of confusion. You see, this car carries an enormous weight of expectation and that's of course because it's a flagship model and the range-topper in the company's Q-brand. And on the face of it, the Q8 is neither as luxurious as a Rolls-Royce Cullinan and Bentley Bentayga, nor as involving as any super sports, like the Lamborghini Urus or Alfa Romeo Stelvio Quadrifoglio.
Nevertheless, after a couple of days of unadulterated driving, both on the road, and off it, venturing from Muscat to Jabal Akhdar and back, I gained a real appreciation for the Q8, which exemplifies that old saying about a whole being greater than the sum of its parts.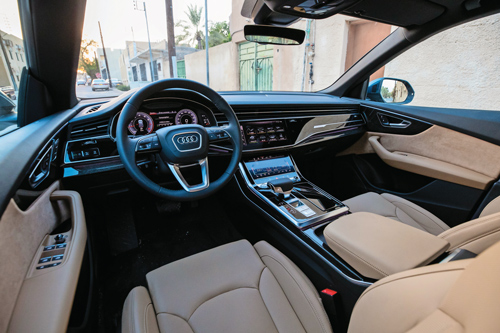 So what is it exactly? In a nutshell the Q8 (and no, there's no link to Kuwait) is a four-door, five-seater coupé-crossover designed to take on the BMW X6 and Mercedes-Benz GLE Coupé. As you know, it has come a little late to the game: BMW has been raking in sales from its X6 since 2008 and Mercedes caught on a couple of years ago with its own sporty SUV that actually follows a very similar recipe to the Bimmer. But Audi has seemingly taken its time refining the Q8's desirability so that it's not actually predicated on being harder, better, faster or stronger, but rather smarter than the existing competition.
In many ways the Q8 is the perfect SUV for those who enjoy the finer things in life but don't want others to realise it.
But before I begin explaining that statement I think I should address the elephant in the room: the Q8 may have been created to compete in the luxury coupé-crossover segment but it is not a coupé, at least not in the strict sense of the word. I mean it doesn't even pretend to have a conventional trunk and instead goes with a more conventional hatchback design. In a way, you could call it the Scirocco of SUVs, and just like VWs hot-hatch, the argument for whether it fulfils the criteria to be called a coupé or not becomes less relevant the more you realise how good it is.
First and foremost, the Q8 is beautifully put together. It is not however a driver's car, and that's predominantly because it's powered by a smooth and for the most part inaudible 55 TFSI engine, which is basically a 340bhp, 500Nm, 3.0-litre, twin-turbo V6. It's also got something to do with the fact it's built on the platform of the Q7, a 7-seater that isn't exactly known for any sense of dynamism. But instead of wasting precious time eking out faster lap times on the Nürburgring, Audi's engineers focussed on the things you'll actually appreciate on a daily basis – namely a sense of quiet and comfort, a cosseting cabin, space, effortless cruising ability and state-of-the-art technology. Speaking of which, the Q8 is equipped with 39 driver assistance packages as well as some mild hybrid tech, which includes a 48-volt electrical system and a lithium ion rechargeable battery that saves fuel by cutting out the engine whenever it isn't needed and letting the car coast. (Of course, when needed the engine restarts automatically.)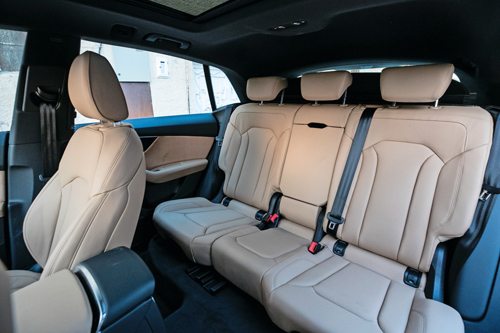 Shorter, wider and lower than its sibling the Q7, and with a vastly shorter front overhang and a slanted rear roofline, the Q8 is handsome but you wouldn't call it impressive. In many ways it's the perfect SUV for those who enjoy the finer things in life but don't want others to realise it. Still, it introduces a number of interesting design elements including an octagonal singleframe grille, a Quattro-like blacked out light strip at the rear, blisters above the wheel arches and pillarless doors, which is a first for any SUV.
Now, the single best feature of the Q8 is its interior, and here's the shocker: it may be even better than Audi's captain-of-industry barge, the A8. The seats, both front and rear, are excellent. There's acres of space in the back, and you won't be left wanting in terms of headroom, legroom or boot space. Like in the A8, the quilted leather and triple-wide-screened, high-definition, haptic-touchscreen dash add glamour to the mix, and despite there being virtually no buttons you can still easily access all of its cacophony of features.
Indeed, the Q8, at least in the Middle East, comes loaded with features such as all-wheel steering (to sharpen the handling and take a metre off the turning circle), air suspension (which does a great job on almost all lumps and bumps), a head-up display, Matrix LED lights, extended leather with an Alcantara headlining, panoramic glass sunroof, front memory seats and a phenomenal Bang and Olufsen sound system. Then there are those gorgeous 21-inch wheels. If they're not enough – and at this point I'm guessing you're a big fan of West Coast Customs – you can spec 22's. In fact, my test car had the 22's and I can tell you they didn't actually compromise the ride as much as I thought they would, and I still managed to go off-roading without any issue.
In most situations the Q8 feels smooth and effortless, and you're well insulated in the cabin too. My only gripe was that this peace and quiet can be disturbed by its raspy turbo-charged six should you push it too hard, as I did when climbing the mountain roads of Jabal Akhdar. When I asked Audi's product specialists when they might offer a V8 option, I was told they won't be, at least not for now (as a point of reference, Land Rover is also rumoured to be ditching the V8 in the next Range Rover). And to be fair, this V6 will be more than sufficient for 99 per cent of people. But for those who don't want to compromise, we have been informed by a reliable insider that Audi will almost certainly be fitting their extraordinary 650bhp RS V8 to this car in a year or two. I'm certainly excited by that prospect, but till then I'd be more than happy to take delivery of a regular Q8, it's an Ultimate SUV after all.