April 24, 2021 Ziad Taha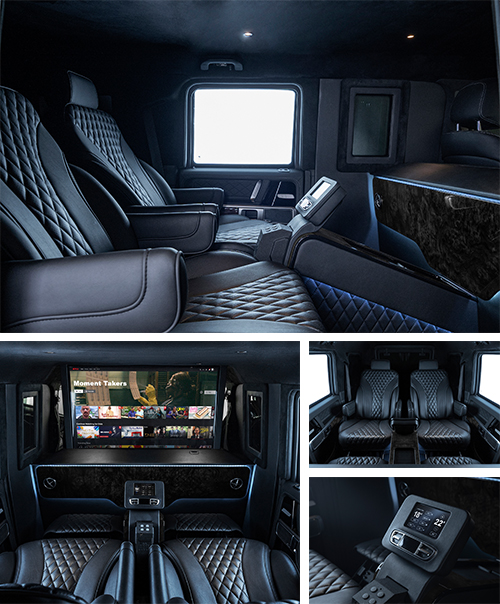 Did you know that the Geländewagen – better known as G-wagon – was first introduced in 1979? Incredibly, it took Mercedes-Benz 39 years to replace the icon, finally doing so in 2018 with an all-new model that, even though it looks very similar, boasts a range of improvements including an independent front suspension (in place of its old solid-axle unit), better sound insulation, a sophisticated 9-speed gearbox and countless interior upgrades. Yet, although Merc briefly toyed with a stretched wheelbase model on the final run of its outgoing G-wagon, they have yet to do so with the new one.
Step in Canadian armoured-vehicle manufacturer Inkas. This little-known specialist hasn't just added more space to the rear cabin of a G63 AMG, they've also bestowed its shell with enough composite armour to protect the car's occupants against rapid gunfire and hand grenades. What's more, it runs on special run-flat tyres that allow high-speed driving when punctured, and features ballistic glass and protection for the battery and electronics. But that's not even the half of it. Inkas specialists have actually devoted over 2,000 man-hours upgrading the Mercedes G63 AMG into literally the greatest SUV you've ever dreamt of. (Just for the sake of reference, it takes specialist workers in the Mercedes-Benz factory of Graz just 100 man-hours to assemble the car from scratch.)
So, what if the vast majority of us have no idea what a 'CEN 1063 BR6 level of protection' means, let alone have any need for it? It's damned cool knowing your car can protect you against 7.62 millimetre and Winchester .308 ammunition. Or that it can roll over two simultaneously detonated grenades! Oh, how's liking the fact it has a built-in chemical filtration system to ward off biological and chemical attacks? Now should your heart rate be rising at the thought of the high-level of risk your life is currently facing, don't worry, the good folks over at Inkas have thoughtfully included a host of distractions in the form of a 4K OLED television that can be raised and lowered as a functional partition between the front and rear compartments, an Apple TV integration, and two reclining rear captain's chairs that are fitted with heating, cooling, and massage functions too.
Each Inkas G63 Limo is made to order and it takes the Toronto-based company between four and six months to complete the build depending on the level of customisations you request. Now, how much will it set you back to acquire this dictator's dream ride? Anywhere from 650,000 to a cool million USD, depending on the level of customisation. Peace of mind is priceless though, right?