April 8, 2020 Nadia Michel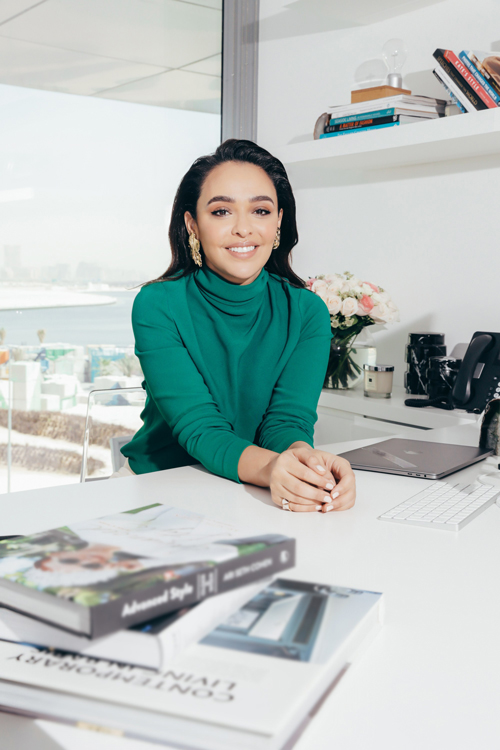 The Modist may be no more, but back in February 2019 (issue 73), it was just two years old and definitely on the rise. So we spoke to Ghizlan Guenez, the founder of this conservative fashion e-retailer, as she was on a quest to dispel the notion that modesty means being frumpy or un-chic.
She had a point too. For while online retail giants had been competing to offer the widest range of products, Ghizlan Guenez had bucked the trend in favour of a very targeted approach that tapped in to a growing demand for high-end modest fashion. Here is the interview:
When was the moment you had the idea for The Modist?
Starting The Modist is a culmination of many moments of frustration trying to shop for modest yet fashionable outfits. It was always hard finding elevated and stylish pieces that offer me the modesty parameters within which I choose to dress. A destination like The Modist was clearly needed for women across the globe, who like myself, prefer to dress in a demure manner yet love fashion and don't want to compromise on their style.
What was it that made you confident you should go ahead with the project?
Strong intuition coupled with thorough due diligence. Before setting up The Modist I spent six months travelling across different continents, meeting modest dressing women women from different backgrounds, ethnicities, age groups and religions, and researched the market and the opportunity. A lot of time, thought and work was put into understanding the potential of The Modist and the results were a validation to my initial intuition that this is a massive niche of completely underserved customers.
Were there some challenges at the outset?
Of course. Challenge is the name of the game when you're starting a business, which is why it is crucial for an entrepreneur to be resilient, positive and a natural problem solver. We are also a business that is set up between Dubai and London with markets in the Middle East, the US and the UK, 200 luxury brands, a team of about 55 people, all at only 18 months of age. It's a bit mad but we love it and we're passionate about what we do and work with commitment and heart.
Can you list some of your current favourites on the site?
It's always hard to pick favourites, but this season I've really been living in some of the pieces by Layeur, which is our own brand. It's very stylish and entirely designed for the modest dresser! I also love Alessandra Rich for a bit of a 1980s accent.
How do you spend most of your time?
I try and balance my time between being in the business with the team and the various travel commitments during fashion weeks and the rest of the year. I am mostly between Dubai and London but would travel anywhere to connect with our customer and our industry. The lines between weekends and workweeks are blurred so I tend to work across the week. I haven't mastered the art of self-care yet but I believe if you love what you do then your soul is nourished and that is a form of self-care.
Do you ever give any thought to the idea that real modesty is about not flaunting your wealth, and how designer clothes are technically not modest?
That's a different definition to the word and not how we utilise it. Modest could mean humble, inexpensive or covered. We use the term in the context of coverage, and in fact, Modist means a person who follows fashion, which is a witty play on words. I also believe that you can dress in expensive clothes without flaunting your wealth, and conversely, you could wear inexpensive clothes yet not look modest. It's about how you carry yourself, your attitude and your personality more than anything.
Do you think there could be an online platform that specialises in immodest designer clothes?
If there's a demand for it out there, then maybe. But what we do at The Modist is not about segregating a market or a consumer base for the sake of it. It's about a clear problem that requires a solution and this solution is coming in the form of an elevated luxury platform that offers relevant product, curation, styling and content to consumers.
Are there moments when you stop and pat yourself on the back for being where you are as an entrepreneur?
Hardly. I'm not known to be someone who celebrates wins frequently. My team is helping me do a bit more of it but I'm never going to be on the other side of the spectrum. I believe that being successful and winning is a daily endeavour and that you can never rest on your laurels. Having said that, I am very proud of the extraordinary business that we are building and on the great team behind it. The one thing that makes me truly celebrate is a happy customer.
What are your long-term goals?
On a professional level I'm extremely ambitious and driven, but on a personal level I'm simple. My happiness comes from being with family and loved ones, living life with kindness and generosity and working towards impacting people around me positively. I am very passionate about empowering young girls and working on a personal and professional level to create impact in their mind-set and lives.
Do you ever get the urge to wear mini-skirts or other clothes that aren't modest?
No. Nothing forced me to dress modestly, I enjoy the style and it's my preferred way of dressing. I find it very chic and elegant.
What, in your opinion, is the key to success?
Ambition, hard work and knowing what you're good at, and where your talent and magic are, and putting the energy there.
ADDITION: 
Even though the Dubai-based luxury ecommerce fashion startup had raised over $15 million in venture capital, it ended up closing down on April 2nd 2020 (exactly three years after it was founded), citing citing the global crisis brought on by the coronavirus pandemic as the reason to cease its operations. But they still leave a legacy of having sparked a conversation on a genre of fashion that's fresh, inclusive and resonates with women everywhere.