October 15, 2018 Dejan Jovanovich
Audi chose to unveil the E-Tron in Richmond, in the bay area of San Francisco in a former Ford factory. It was illuminated in the evening darkness by circuit board designs projected onto the building and accompanied by the heavy pulse of dance music.


In September we were invited to San Francisco to witness the future of Audi, and the future it seems is quiet, expensive and electric. But let's not ignore how consumers are now buying more fossil-fuelled SUVs than ever before, so the question is: why is Audi messing with a good thing?
Audi, like everyone else, is enjoying the SUV gold rush; the company introduced an entry-level Q2 and immediately sold 100,000 of them in its first year of production, and the German brand then bracketed the rest of the line-up with a brand new flagship Q8. Audi currently sells 1.8 million vehicles a year, of which 700,000 are SUVs, or some 40 per cent of the total – and this despite the fact that their offering of traditional sedans, coupés and estates far outnumbers SUVs. Moreover, trend analysis shows the gap is reducing, and fast.
At the end of the day, SUVs represent easy money for car companies and that's because 'soft-roaders' are predominantly based on existing cars (indeed almost every Audi crossover can be traced to the humble Volkswagen Golf in terms of their platform). And such a consolidation in terms of shared parts and production lines makes it far simpler for a manufacturer to juggle a portfolio of 40 or more models.
Yet even so, Audi has decided to go and fix what ain't broken by introducing its first electric production vehicle – the 74,800 USD E-Tron – but interestingly it has hedged its bets by making it an SUV. The company says that in order to get the E-Tron to market, they had to extensively renovate one of their factories in Brussels (making it 100 per cent carbon neutral), as well as figure out the complex logistical problem of charging battery-powered cars. Even so, the E-Tron's world debut went ahead on time in September, and in San Francisco, just close enough for Silicon Valley to hear the commotion: with an audience of 1,500 people, airlifted from across the globe, there was so much excitement that barely a smartphone battery survived the evening.
But let's take a moment to ask a pertinent question: if EVs are so hot, then why aren't people actually buying them? The obvious answer is because customers currently have very few viable options, but mainstream manufacturers are now working to change that. For example, each of Germany's Big Three − BMW, Mercedes, and Audi – have committed to a dozen or more electrified cars by 2025. And, even if BMW got there first with its all-electric compact, the i3, within days of each other this past September, all three brands unveiled their first-ever mainstream electric SUVs.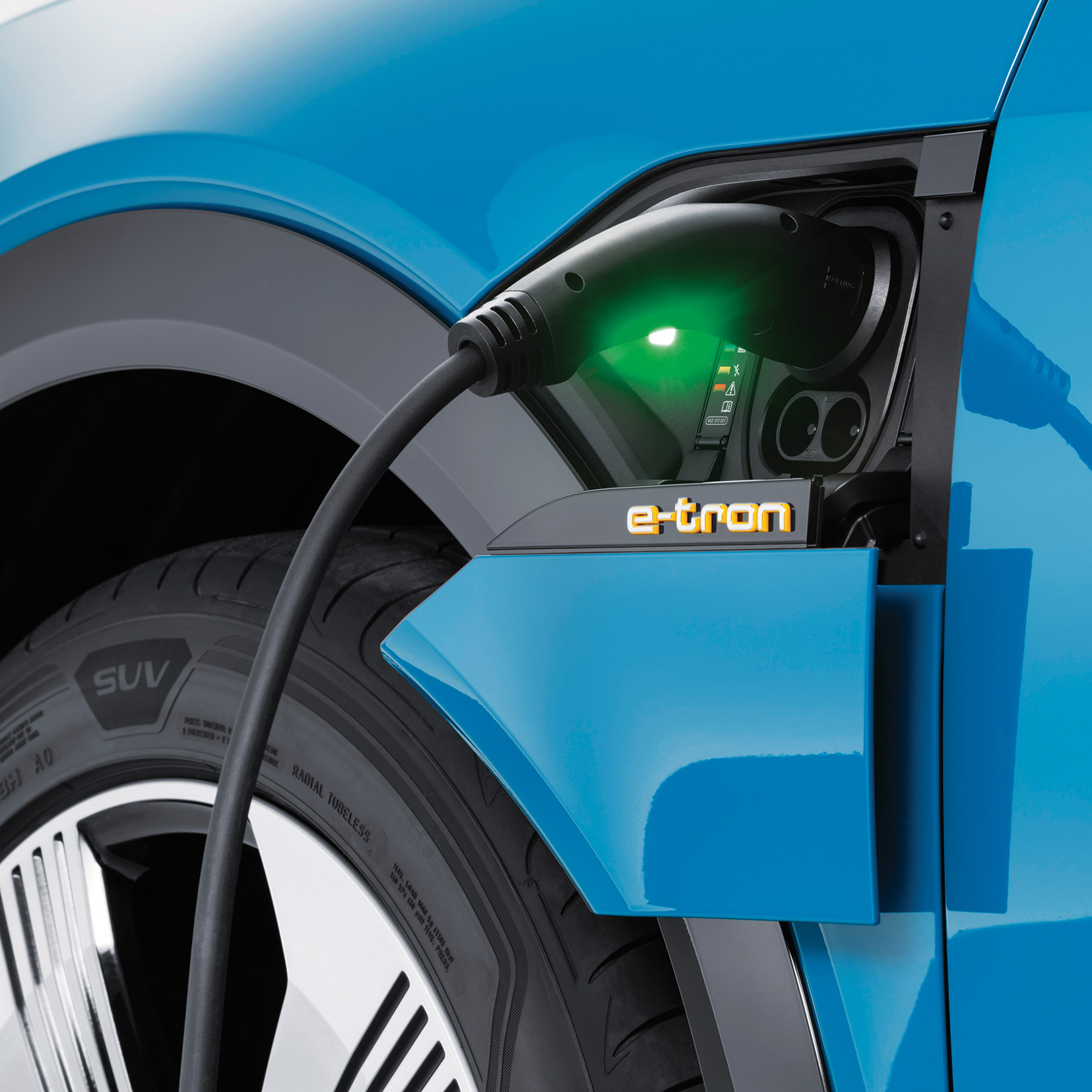 Of the global take, the EV market is worth about one per cent and even with the best possible conditions such as in California, where you get tax rebates and all sorts of incentives, the EV market share only nudges past three per cent. So in a way, you could argue traditional carmakers are now caught in a product onslaught they want no part of, but the crux of the matter is that no one wants to become the next Kodak. "It's about taking risks," says Audi's product marketing boss Fermin Soniera Santos. "It's about being an entrepreneur."
A decade ago, predicting market trends was much easier, but with electrification and driverless technologies rapidly entering the fray, carmakers have to pick a lane and stick to it. "Something that's been proven in all companies throughout history is, if you don't move, you lose," says Santos. "There are enough examples of very successful companies who had a unique proposition, and unique products, so why aren't they here now? They are done, they missed the chance."
Being an entrepreneur, however, isn't cheap. Audi has spent about 2.5 billion USD to get to this point in its electrification strategy, and it's only the start. The company aims to launch 12 new electrified models by 2025 including a hot luxury Grand Tourer consolidated with a Porsche-Developed vehicle architecture.

The payoff will be the introduction of a new "heritage" as Audi puts it, with the company already ahead of the curve and well positioned to succeed thanks to their quattro know-how. (The norm with EV's is to drop an electric motor into each end of the car, so it would seem EVs and all-wheel drive go hand in hand.) But for the shift to happen, more than one per cent of you will have to start buying electric cars, and now that all the mainstream players are giving you choices, it just might work. Mere days after the E-Tron party in San Francisco, Audi received 10,000 pre-orders.
Long live progress.