November 11, 2016 Nadia Michel
The fashion industry is undergoing a major shake up. Both Tom Ford and Burberry have adopted a see-now-buy-now system, where ever since their SS17 runways in New York and London, buyers can purchase looks directly. Increasingly, the lag between demonstration and delivery is vanishing, while mobile commerce is becoming the norm.
Evolving technologies and online marketing are making – or breaking – brands, regardless of the years spent building up reputations and worth, so it takes a certain type of designer to survive these times, let alone prosper in them. But for Lebanese-born contemporary designer Lama Jouni, it's all about the product. Her belief is that her formal training and traditional schooling at Parsons Paris, the European campus of New York's famous Parsons School of Design (which boasts notable alumni including Tom Ford, Alexander Wang and Donna Karen) will give her fashion label a head start over the regional competition.
"Studying in Paris meant I was taught a very traditional process in designing my collections," explains the 28-year old, who cut her teeth working at Balmain, Rad Hourani and Reed Krakoff. Though we may be living at a time when pretty much anyone with a bit of cash and a hearty social media following can launch a fashion line, it's heartening to see that Jouni wanted to learn her trade the conventional way before even imagining venturing out on her own.
Her three-year-old ready-to-wear label is built around feminine tailoring that aims to enhance and celebrate the female body. Strong-shouldered dresses, capes and waist-enhancing separates in muted and monochrome tones have become staples of the brand, while her new A/W 16 collection adds pops of emerald green, dusty pink and merlot reds to the mix. Not unlike her business strategy, it's timeless but with an edge of modernity.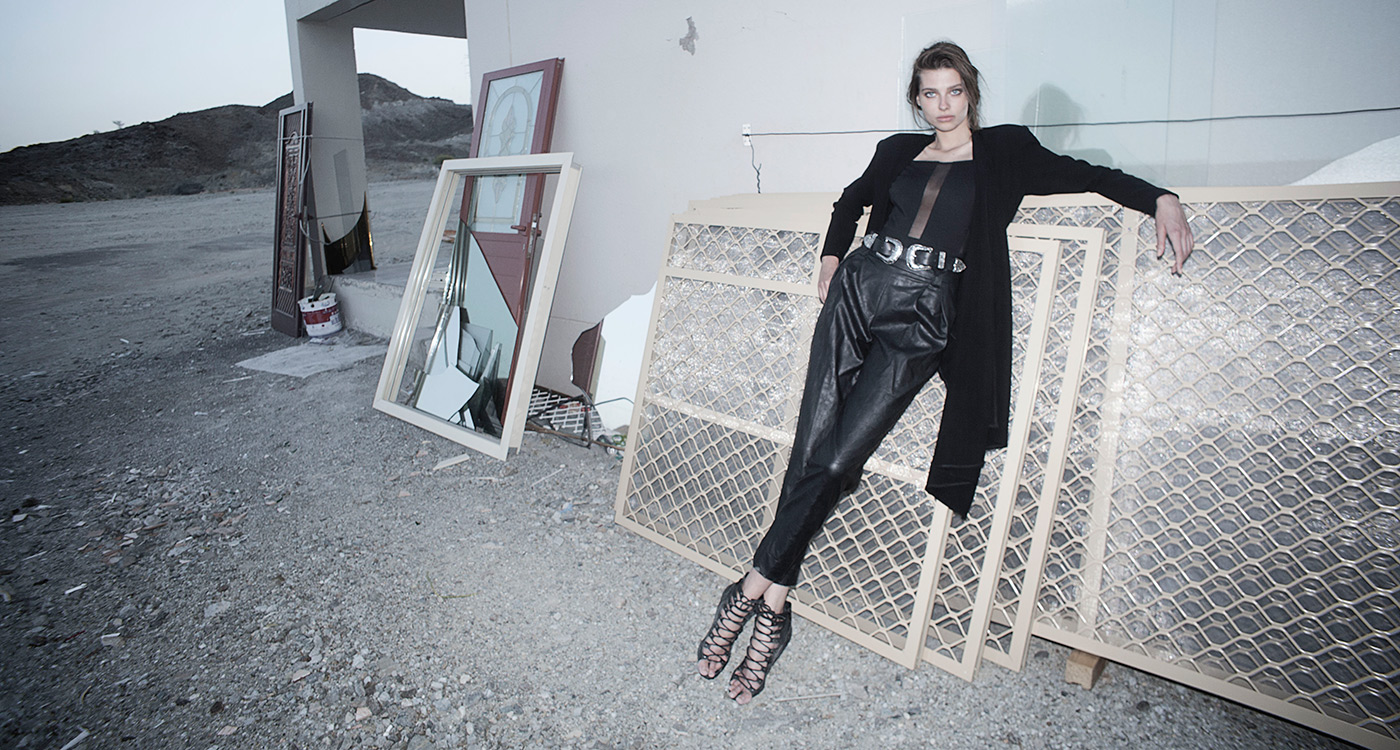 I SEE MY BRAND EXPANDING TO EUROPE AND MORE REGIONS IN THE MIDDLE EAST. I WOULD ALSO LIKE TO SEE MY ONLINE STORE CATER TO THE MASSES AND BECOME MORE ACCESSIBLE TO ALL TYPES OF WOMEN.
When we queried whether the industry's shake-up has changed the playing field, Jouni responds with a tempered no, admitting that she's refusing to drink the digital Kool-Aid. "E-commerce has played a huge role in the industry, it's made brands more accessible to different regions and that helps us get higher exposure and expand to bigger markets. Personally, I think that online shopping is fun and exciting for the consumer, but I can't say its better than a store just yet."
As a matter of fact, Lama Jouni's online store currently constitutes just 30 per cent of her overall sales, with the rest coming from private clients in Europe and the Middle East. And though word of mouth and good old-fashioned appointments in her Dubai Design District atelier form the bedrock of her business, she concedes that establishing new clients is indeed heavily dependent on exposure across online outlets.
"Nowadays, social media is a huge part of any brand's marketing; it's the key to selling your brand and certainly the most effective avenue," she says. "Sales will increase when an influencer is spotted wearing something, but only when the influencer fits your brand's profile and aesthetic."
Still, the official Lama Jouni Instagram page has a following of just over 7,500 – a modest number in comparison to the tens of thousands of some of her contemporaries – but it's carefully curated with a sophistication that belies any short-term sensationalism. Her personal account also bears testament to this approach with a through-the-peephole look at her jet-set lifestyle and beautiful friends, adding a deeper level of intrigue to the contemporary narrative of the Lama Jouni brand. In a sense, Jouni has all the ingredients to become a social media crowd-puller yet by staying her own course and not selling her soul to the ether, she manages to gain more credibility.
"The buy-now-wear-now revolution is a fresh idea but I don't think it's sustainable," she reflects. "I do think the industry is going to be very promising for a new generation of designers though and right now, young and talented designers are receiving great support from fashion influencers and digital platforms around the world. As a designer, I circumvent this somewhat, but the younger generation is changing the future of fashion."
So, while Jouni may be refreshingly old-school, she shouldn't be considered a wallflower either. "I have a strong vision when it comes to the future of my brand," she insists. "I can see the brand expanding to Europe and more regions in the Middle East. I would like to see my online store cater to the masses and become more accessible to all types of women. I am also working on a lower cost line inspired by the main aesthetic of the brand."
To Jouni, shake-up or no shake-up, the secret to survival is constancy. "The key will be working hard and staying true to my aesthetic as a designer. In the long term, that's what's going to matter the most."