August 19, 2019 Marwan Naaman
In Kuwait, Studio Toggle envisioned the very modern Villa Yarmouk as a two-volume house that would allow two brothers and their families to live with each other while still enjoying the privacy of their own homes.
The brief for Villa Yarmouk was a challenging one. The owners wanted a modern and environmentally friendly home that would maximise natural light yet maintain privacy, and they wanted to split the plot between two identical yet independent units that could be totally insulated from one another yet offer shared areas that would allow interaction between the two families.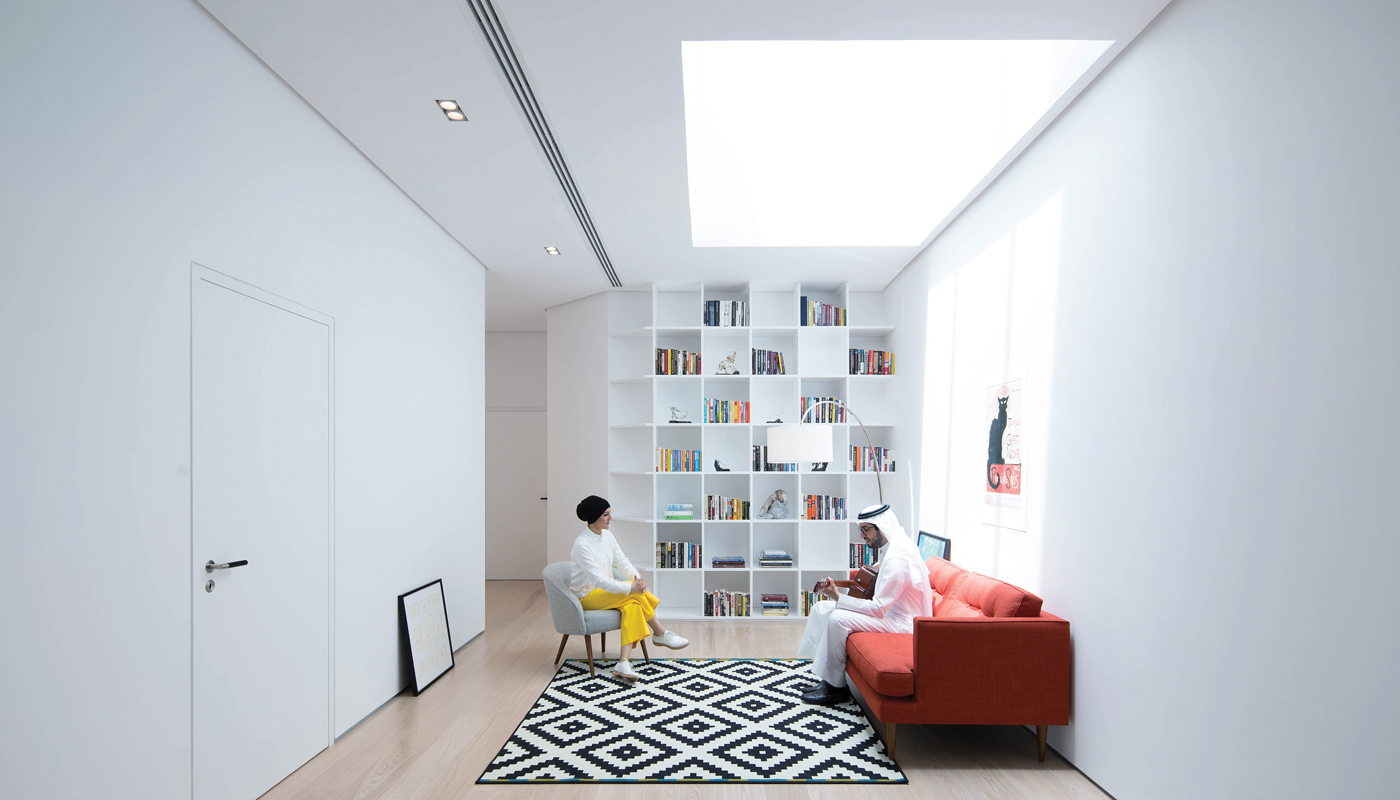 From the outside, the sleek, purist structure appears to be a single home yet it is, as the brief stipulated, effectively two private residences designed to blend seamlessly with one another when viewed from the exterior, but function as distinct, independent spaces.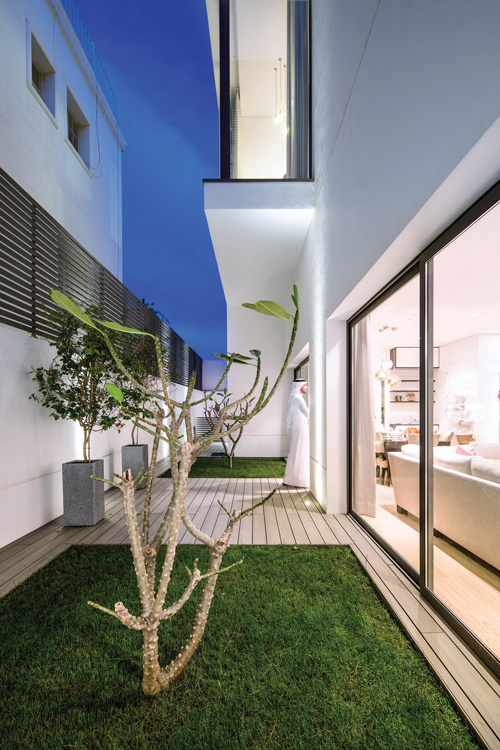 It's the work of Kuwaiti architecture firm Studio Toggle, which has offices both in Kuwait and Porto, Portugal, and was founded in 2011 by Hend Almatrouk and Gijo Paul George, both graduates of the University of Applied Arts in Vienna. "Studio Toggle focuses on logical design and problem-solving techniques, with expertise in commercial, residential and hospitality architecture, as well as interior design," the founders explain.
Their first major project was F.LOT, a private villa in the Al Bidaá area of Kuwait. "F.LOT is a single-family house with a six-metre cantilevered living space on the first floor. It really established who we are," says George.
They say that it was around the same time as F.LOT that they received the commission for Villa Yarmouk. "We were contacted by two brothers in Kuwait who appreciated our work," says George. The clients owned a 750-square-metre piece of land in the residential suburban neighbourhood of Yarmouk and they asked Studio Toggle to build two homes within a single structure on that plot. "It was a particularly challenging request," says Almatrouk, "as it was a very compact plot and we would not compromise on promoting views of greenery and space for light."
"They're two different houses in one building but they had to have the same identity and look like they're a single house. Inside, the space is split into two houses," says George. "We had to cater to the needs of two families and design the space on a hierarchy: semi-private, social and private."
The prevailing norm in Kuwait is to emphasise privacy at the expense of all else: walls block sunlight and dense architecture often separates home-dwellers from their immediate environment. But for Villa Yarmouk, the architects created skylights, light wells, internal gardens and courtyards to provide a feeling of infinite space, connecting its residents to the surrounding elements without infringing upon their privacy. "Cantilevers, skylights, recessed windows, louvers: these elements are particularly suited to Kuwait and they add a wonderful quality to the house. We created closed spaces without blocking the sunlight," says George. "I would definitely say our biggest achievement is how natural light is really working," adds Almatrouk.
For the villa's interior, Studio Toggle wanted to keep the space flexible, in order to allow each family to furnish the living areas to its own liking. "We kept the spaces as a canvas upon which the client can create his or her own personality," adds George. To that end, the architects chose an austere palette of white cement render for the exterior, not just because it would help emphasise the interior's natural light, it would also reduce the heat gain and repel dust. To maintain homogeneity, the interior walls were painted the exact same colour of white. "The interior walls are contrasted by a warm, light-coloured parquet and then you have a more aggressive marble that contrasts with the rest of the house, adding bold strokes in certain areas," explains George before listing off the ways in which they incorporated sustainability into the home, such as with sensors and smart irrigation systems, low VOC paint and coating systems, as well as eco-friendly cork for acoustic and heat insulation under the parquet flooring.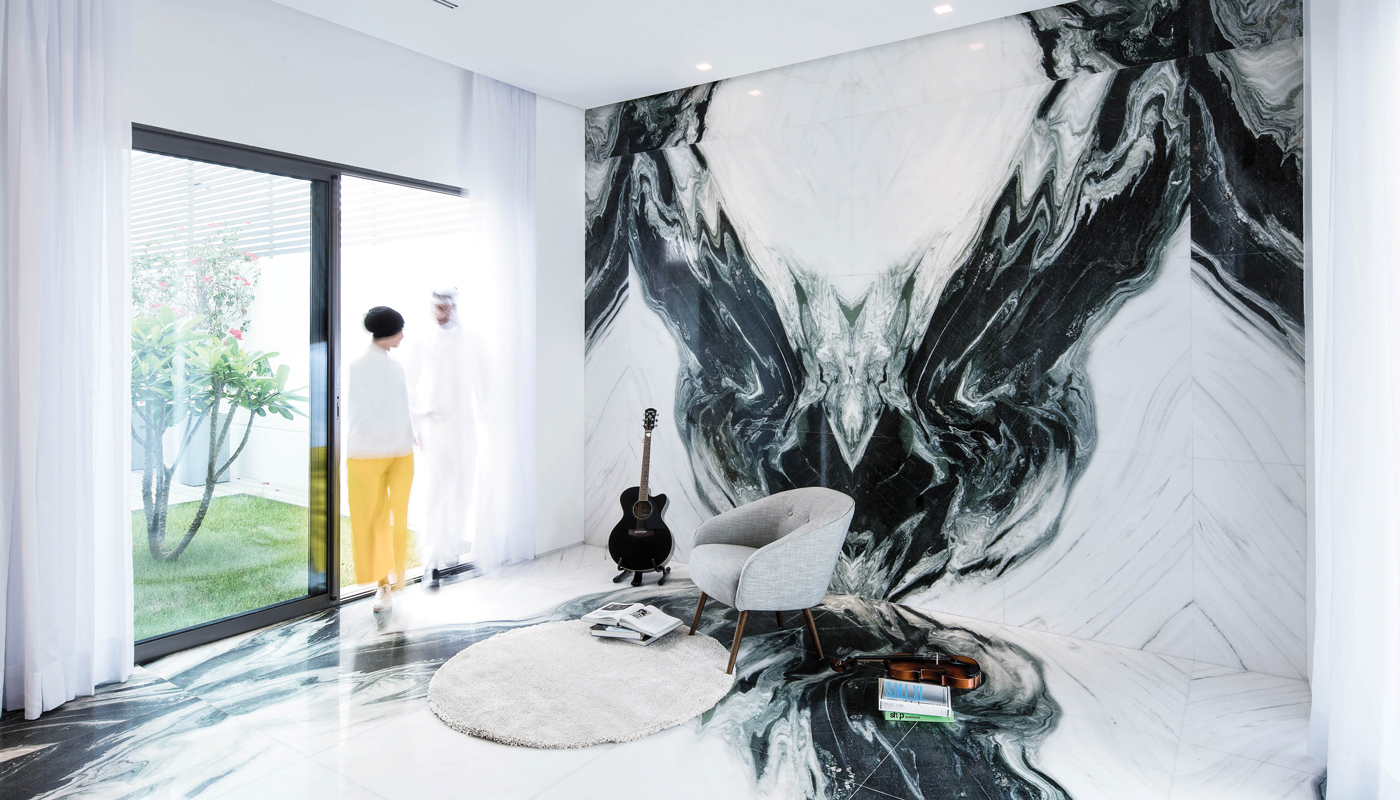 As exciting as the Villa Yarmouk project was, Studio Toggle faced a number of challenges during construction, especially when it came to architectural details. "You can see the details where the floor meets the wall and where the wall meets the ceiling," says Almatrouk. "When you have a pure form, there's no ornamentation so you can't hide anything, you can't hide imperfections. Everything has to be perfect. Many contractors in Kuwait aren't used to working in this way, so we had to show them the steps. Communicating with contractors was also a challenge. They've been working a certain way, and we had to convince them to change the way they work."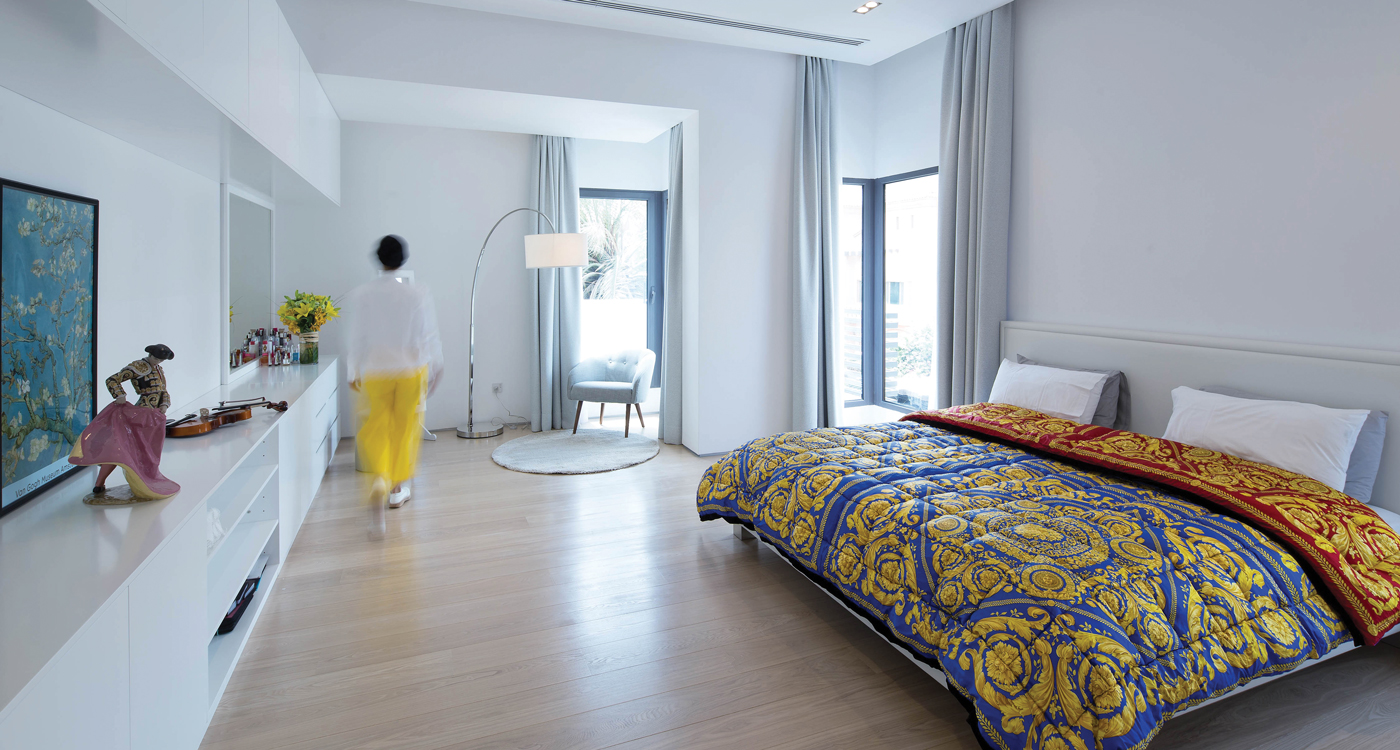 Challenges notwithstanding, Villa Yarmouk does reflect Kuwait's rapidly changing lifestyle and its increasingly sophisticated architectural landscape. "People used to follow international trends – Mediterranean, Moroccan, Arabesque – but they now demand better spatial quality and less ornamentation," says George. "Spaces take precedence over ornamentation. More and more clients are demanding it, and this is what we achieved with Villa Yarmouk."
Photography: Gijo Paul George