October 13, 2014 admin
A sophisticated mix of the best of the industrial and the artisanal, Santoni's hand-finished shoes strike a stylish revolt against mass produced uniformity.
As I clatter along the pebble beach at Portonovo, I notice a path snaking its way through the forest of pine trees and Mediterranean oaks carpeting this headland on Italy's Adriatic Coast. Behind me is the Fortino Napoleonico, an 18th century vestige of the French emperor's conquest of Italy, now a modestly luxurious hotel. Capping the small rise in front of me is an older watchtower, now some lucky Italian's summer home.
It's a blustery Sunday in early spring. Despite the nip in the air, the beach is quite crowded. As I pass the watchtower, sunlight sparkling off the turquoise waters to my right, I find myself on an even longer stretch of beach.
My destination, the old Romanesque church of Santa Maria di Portonovo, lies at the far end. I've been told it's probably closed but fresh off the plane from Beirut, I'm keen to stretch my legs.
The church, indeed, is closed. All I see are its outer walls – 11th century – and some Roman brickwork beneath, the remains of an ancient cistern. As I head back to the hotel, the sea is dotted with kite-surfers performing acts that defy gravity. I walk beneath a simple but beautifully proportioned blue and white shack with a forest of sunshades on its terrace and a row of surfboards lined up beneath, a gaggle of sun-bleached surfer dudes chatting loudly beside them. Abruptly, I am transported to Malibu.
I'm shaken out of reverie by my phone alarm. Time to head back. I'm here on business and tonight that will begin with a fish dinner at a nearby restaurant known for its regional specialities. Generally, I've found that business dinners tend to happen after you've actually done, well, business but as I learn over the next couple of days, at Santoni, business may not be far niente but it certainly is dolce.
Santoni make shoes. Perhaps best known for its men's lines – although since 2005, they have been making shoes for women, too – they occupy an interesting niche, somewhere between the artisanal and the industrial.
WHAT SETS SANTONI ASIDE IS A DESIRE TO FIND A WAY TO COMBINE THE MADE-TO-MEASURE WITH THE READY-TO-WEAR, SOMETHING THEY CALL THE 'INDUSTRIALISED HANDMADE' SHOE.
The factory itself is an 80-minute drive away, out on the rolling plains beneath the sun-kissed sandstone walls of the medieval hilltop town of Macerata. It was here that in 1975, a time of tight white suits, polyester bell-bottoms and plunging necklines for men, that Andrea Santoni planted his flag. Turning his back on the mass production, Unisex styling and the one-size-fits-all mentality of the era, he embarked instead on what other shoemakers told him was a fool's errand; the creation of hand-crafted, made-to-measure footwear.
So far, I hear you say, so what? Bespoke shoemaking may be on the wane but it's hardly unheard of. But what sets Santoni aside was not Andrea's belief in handcrafting but his desire to find a way to combine the made-to-measure with the ready-to-wear. After a few years of experimentation, the result was what Santoni's PR head, Gloria Birbei, calls the 'industrialised handmade' shoe.
"Machinery is used but the production line is controlled manually," she explains as we zip along the autostrada towards HQ, "and shoes are hand-finished. What's important to us is not how long it takes to make a pair of shoes but the quality with which they are made."
As we draw up outside a sleek glass and steel building, I am surprised to discover that we have arrived. This is about as far removed from my image of a shoe factory as possible. A Green building that produces electricity and harvests rainwater, it is the first stage in the redevelopment of the entire enterprise. Eventually, even the factories will look more like this.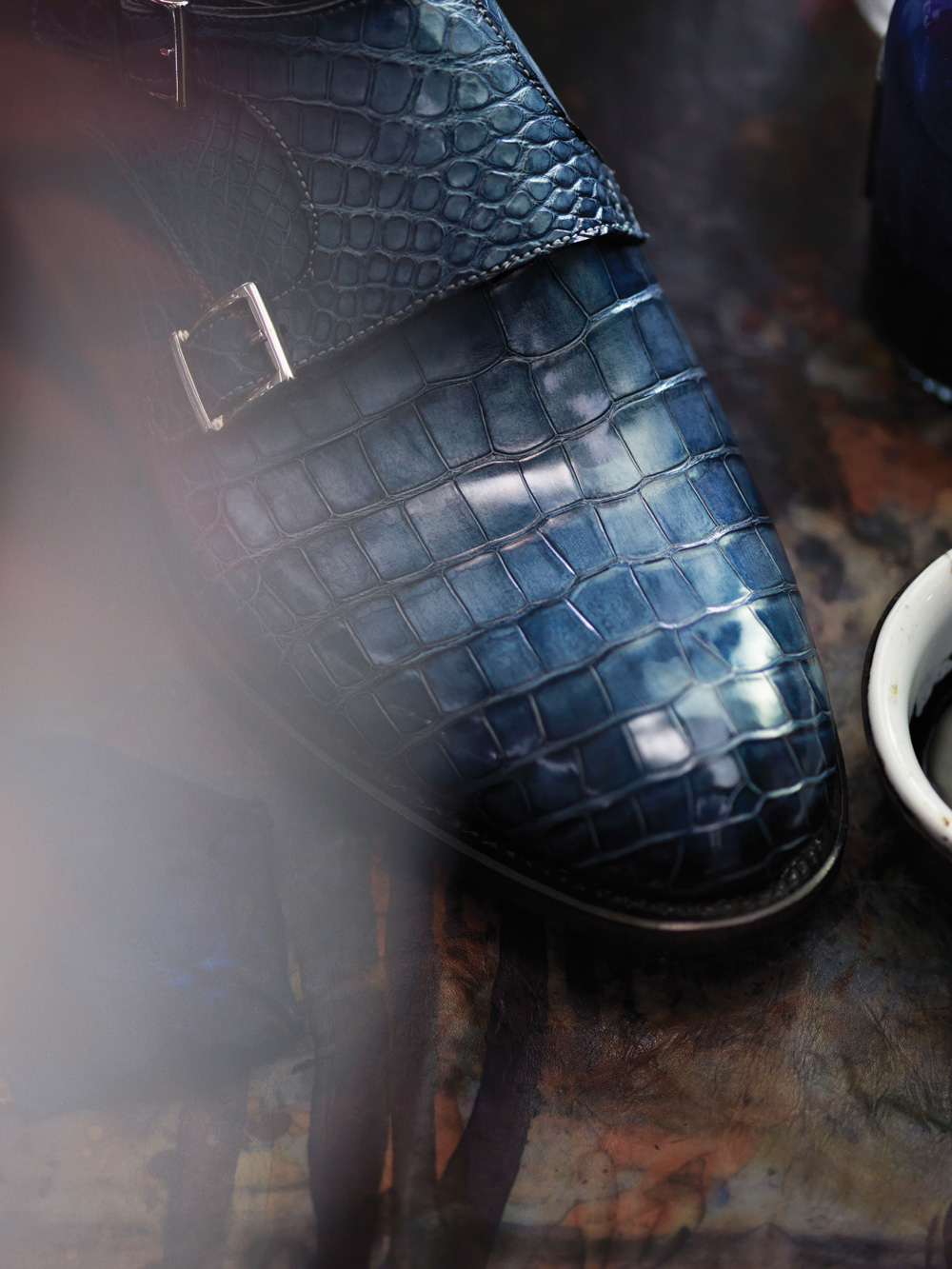 Inside, the large covered central courtyard, which all the offices and design departments look into, serves as a showroom. The company's 2014 range – strappy stilettos in lush turquoise crocodile leather, bordeaux bovver boots, soft suede sneakers, chocolate brown double monks, butter-soft chelsea boots, delicately embroidered sandals – is laid out in a dizzying array of colours, textures and finishes. The most prized pairs are encased, like jewels, behind glass.
Nosing through them, it's easy to see that each pair is the result of careful thought and craftsmanship. Colours that have been mixed on the leather itself, built up a layer at a time. Stitching done from within, so that the pieces of leather appear sutured. Antiquing effects that leave shoes with a pre-purchase patina. Patterns that look less cut or punched than tattooed.
Another striking feature is the overlap between the men's and women's collections. Shoes you'd normally associate with men – sneakers, brogues, boat shoes, monks – are tweaked and adapted to appeal to women. The overlap is one-way. Men may (or may not) be relieved to know there are no stilettos, thigh boots or pumps on their menu.
This is, Sra. Birbei explains, a signature feature of Santoni. "We borrow masculine elements but propose them in a feminine way," she says, as she takes us upstairs to the ultra-modern meeting room, with its vast living well of very happy plants. "It's a way of taking some of the DNA of our men's line across into our women's line."
Our tour begins. We traipse through the leather storerooms on the way to the bank vault-like room that contains Santoni's most valuable swatches – crocodile, ostrich, ray fish, python. Here before us lie hundreds of thousands of dollars worth of leathers, some still in their natural state, others already dyed.
"We only buy enough for one season at a time," Birbei confides, as I casually finger a piece of café latte-coloured Cordovan, adding that even standard hides are becoming ever more expensive. "There is less leather available than there was before, people are eating less meat."
As we emerge onto the factory floor, the hush of the storerooms is replaced by the relative din of the production line. This is where all those lovely little numbers I eyed earlier are made, at a rate of up to 1200 pairs a day.
Naturally, machinery plays an important part in making this happen but even machined pieces are finished to differing extents, by hand. For those looking for a little extra, the company offers a complete made-to-measure service, as well as a customisation service, through which the off-the-shelf models can be made in different colours, materials and different finishings.
"We create more than shoes," Giuseppe Santoni, Andrea's son and current CEO explains, "we create a culture. For us, quality is a philosophy." And it's a philosophy Santoni seeks to share with everyone. This is why their workers are so rigorously trained, why the emphasis is always on making quality, not the quota. It's why each pair of shoes is individually hand-coloured, introducing minor variations of colour and tone. It's why enough automation is used to keep prices reasonable but never so much that the shoes become uniform.
It's also why the company never rests on its heels (as it were) and constantly redesigns previous collections, regardless of how well they sold the first time around because, the Santonis believe, they can always be better.
"We don't do this because we want to make more money, we do this because we want to guarantee our clients the best possible product," Giuseppe continues. "Our quality is our insurance. Most of our clients are friends of other clients. Once you go Santoni, you don't go back."
And just like that, their seamless presentation makes sense. Their choice to put us up in a seafront hotel, almost 2 hours from the factory, the simple, yet exquisite lunches and dinners, the informal tours of the area, the impeccably dressed staff and the beautifully proportioned offices. For Santoni, luxury is not a matter of rare materials or elitist price tags. Nor is it derived from attention to detail or the championing of tradition. For Andrea and his son Giuseppe, luxury is an attitude, a quality and it's the way we all (ought to) live, all the time.