September 26, 2019 Julia Zaltzman
Technology and design converge in Sanlorenzo's 52-metre Seven Sins, a flagship vessel for the brand. It's also the gateway to a bright future for the visionary team behind Officina Italiana Design
Contrary to her name, Seven Sins is a floating symbol of design virtue. From her glass-bottomed pool to her exuberant wellness area with hammam and sauna, and drive-in tender bay to her mega bar on the sun deck, her carefully conceived assets make this yacht pack a whole lot of punch. The first model in Sanlorenzo's flagship 52Steel range when launched in 2017, she represents three main pillars of success: a feat of technical engineering for the yard; a triumph on the charter market for her owner; and a meticulously planned move into larger yacht design for Officina Italiana Design.
At first glance, one of the overriding observations is that Seven Sins' 52m frame contains features more often found on a 60m-plus yacht. And all masterfully packaged within 500GT. Central to this achievement is the exuberant beach club. The crystal-bottomed swimming pool on the main deck (the largest found on any comparable yacht) floods the lower deck beach club with natural sunlight. Side hatches drop down to reveal swim platforms port and starboard, providing uninterrupted views through the width of the yacht. But when required, the stunning teak-soled floor rises up to the ceiling in a feat of technical engineering, revealing an 8-metre tender bay. Once pumped full of water and the transom door is opened, tenders are able to float in and out with ease.
For Sergio Beretta, co-founder of Officina Italiana Design, the beach club epitomises the overriding aim of all involved in the project – to "create something unique". Rather significantly, the beach club falls outside of the 500GT calculations, allowing designer Mauro Micheli to repurpose volume and space elsewhere. "The beach club is the biggest area where we stole GT back," says Beretta, "but this boat is full of clever solutions like that."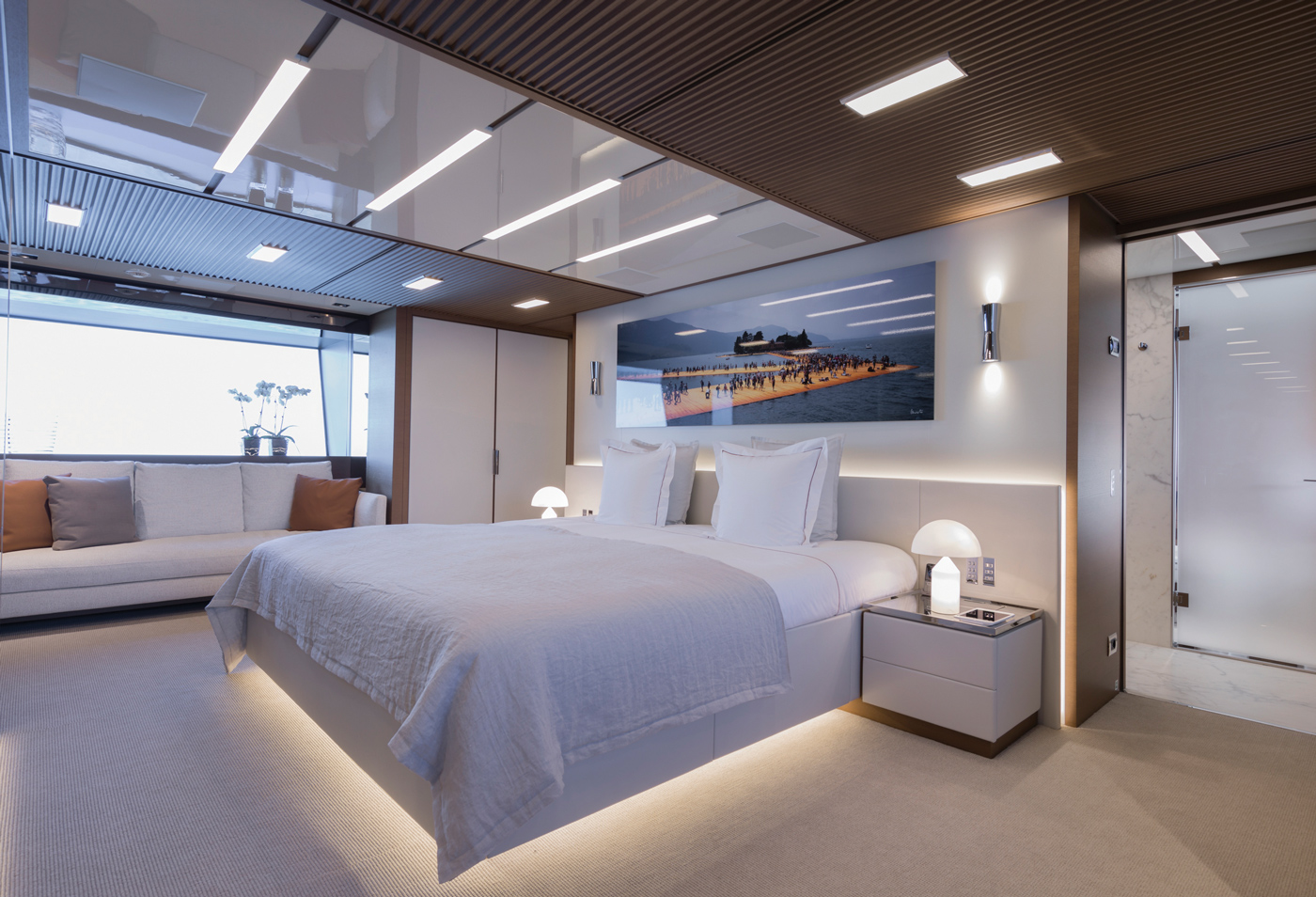 From the initial concepts, Micheli's primary aim was to conceive a yacht that would be "aesthetically long lasting", with swathes of natural light, and that gave preference to areas more frequently lived in. With that in mind, the often-over-looked main saloon doubles up as a cinema, with a large discreet screen hidden inside a mirror ready for use at the touch of a button. Forward of the main saloon is a white Carrara marble staircase with floating treads to give the space a light, open feeling, while on the upper deck, floor to ceiling windows further enhance the yacht's airy and bright appeal. Difficulty lay in matching the large blacked-out panes of glass with the external lines, but a complementary flow between the exterior and interior was a core criterion.
"Seven Sins was designed with a balance in mind between living spaces and entertaining areas," says Beretta. "We understood that this balance needed to extend to the interior too, so we opted for something comfortable and harmonious." Subtle and chic in its delicate use of taupes and creams, the owner's suite forward (with extra wardrobe space) is supported by four lower deck en-suite guest cabins, each featuring leathers in warm tobacco brown and cool white.
While most custom yachts pivot around the needs and lifestyle of one central owner, Seven Sins was conceived with the charter market in mind. When the Belgian owner, Hugo Verlinden – who was the founder and former CEO of one of Belgium's biggest insurance brokerage companies – acquired the yacht partway through the build, it perfectly matched his vision for an aggressive charter angle, and he adapted her for the purpose with top-of-the-line OLED televisions hidden within mirrored cabinets plus powerful UniFi AP AC Pro WiFi and VSAT antennae, an extra steering position on the sundeck and larger fuel tanks, upgraded from the standard 55,000 to 68,000 litres. Finally, at the suggestion of Sanlorenzo, he also had the designers create the option of a sixth cabin, which can be reserved across from the captain's quarters in a space normally used as an office.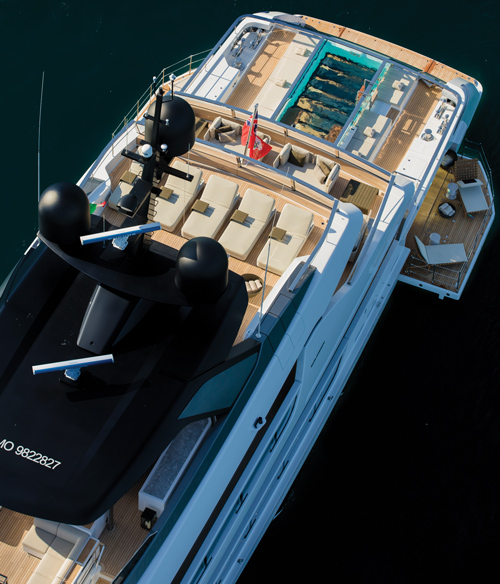 When in profile, Seven Sins' silhouette showcases a shortened upper deck that's more akin to "a terrace on the sea" according to Beretta. The unusual design decision was made to provide the below-pool-dwellers with more sunlight, as well as give the entire main deck – the largest of the exterior areas – with even more living space. And again, it allowed for more volume to be allocated elsewhere.
When it comes to signature features, both the impressive swimming pool and the sun deck canopy contain Officina Italiana Design DNA. "We wanted to capture the Sanlorenzo style but with a personal touch," says Micheli. "That extends to the structure too, and we feel these bespoke features give a little added value to the yacht. But, none of our signatures are extreme, we shy away from anything excessive and lean towards well-balanced, clever design."
Twenty years spent sketching the elegant lines of Riva's classic vessels has earned Micheli global recognition within the design world. Few can argue with the refined beauty and elegance of the seductive Riva brand. But, what Seven Sins brought to the table was the exciting opportunity for the studio to go longer, and bigger, and to stretch its vision.
"At the time of Seven Sins, it was our largest yacht to date, other than the interior of a 57m," says Beretta. "Our intention had been to move into designing bigger yachts, but the success of Seven Sins was undoubtedly the start of that."
Since the launch of Seven Sins in 2017, Sanlorenzo has delivered a second one, KD, and has five more on the order books. Meanwhile, Officina Italiana Design has collaborated with the yard on a 60-metre, successfully launched the 1,600GT 64Steel, Atilla, and has been working on the creation of a new Riva superyacht division, with the first of Riva's 50m creations, Race, having had a soft launch in March. (She is set to make her official debut in June at the Venice Boat Show before attending the Monaco Yacht Show in September.)
For Beretta, it's the dawn of a new era. "It's thanks to the synergistic collaboration of Sanlorenzo and the entire Seven Sins team that we have been able to realise this new direction for Officina Italiana Design."