October 1, 2020 Maya Khoury
IT HAS BEEN 23 YEARS SINCE YOU FOUNDED YOUR COMPANY, HOW WOULD YOU CLASSIFY WHERE YOU'VE REACHED AND ARE THERE ANY AMBITIONS YOU HAVE YET TO REALISE?
[Zuhair Murad] I'm very happy with and grateful for how far I have come. I've worked incredibly hard to get to this point. But, as a person I always strive for more. For me, there's always a next step. I have many ambitions to grow and expand my brand further.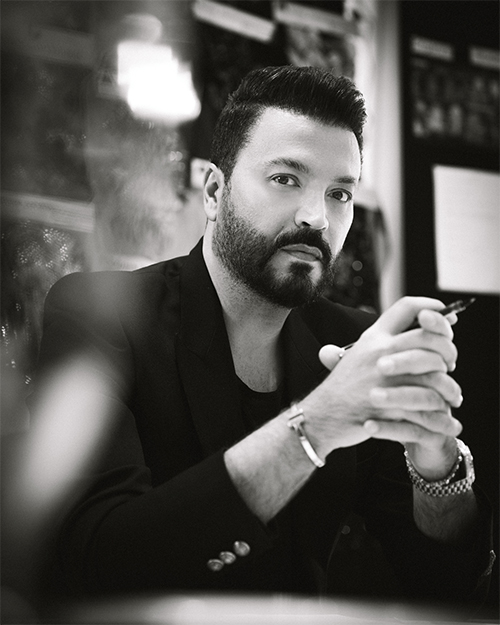 YOUR OFFICES WERE ON THE FRONT LINE OF THE AWFUL AUGUST 4TH BEIRUT BLAST. WHAT ARE YOUR MEMORIES OF THAT DAY?
Horrific… I don't think there are words to describe how I felt when I saw our headquarters. Of course, the first thing I did was make sure all my employees were safe. But after that, it was just shock. Everything I had worked for during my long years in the business was in that building – it wasn't just the result and symbol of my hard work and dedication, it was my home, my routine, my life.
HOW MANY EMPLOYEES WOULD NORMALLY HAVE BEEN THERE?
On any typical day, around 250 but due to our COVID-19 distancing-measures many employees had left earlier in the afternoon. Thankfully, the last of the employees to leave that day had left just minutes earlier, and that includes myself. Some were still around the parameter even, but thank God they were only lightly injured and are doing fine now.
HOW MUCH DAMAGE DID THE BUILDING SUSTAIN? IS IT RECOVERABLE?
Let's just say that we lost a lot… The structure is still good but besides that everything was lost. We'll redo everything, from scratch.
HOW HAS THE BLAST AFFECTED YOUR MINDSET? FROM WHERE ARE YOU DRAWING INSPIRATION NOW?
From a professional point of view, it was very difficult. Initially, I felt utterly demotivated, as though all my years of hard work were for whatnot. But through the help of my team, family and friends, I managed to pick myself back up and rise from the ashes. I owe it to my country to persevere and not give up, so that's what I am doing. I definitely count my blessings though, as you can't take anything for granted. Tomorrow isn't guaranteed, we must make every day count.
WITH A PANDEMIC, A LOCKDOWN, CAPITAL CONTROL IMPOSED BY LEBANESE BANKS, AS WELL AS A DECIMATED HQ TO DEAL WITH, WHAT'S THE SECRET TO DEALING WITH SO MANY ISSUES AT ONCE?
Most importantly to love what you do, because you have to wake up every day and do it. But also, dedication, because times will get tough. And lastly, by surrounding yourself with people who ground you, who push you to your limit and who motivate you to do better every day.
HAVE YOU CONSIDERED MOVING YOUR HQ ABROAD, TO PARIS LET'S SAY, WHICH IS ALREADY WHERE YOU SHOW ALL YOUR COLLECTIONS?
Paris is my second home. We already have a showroom there, an atelier with a big team and a boutique since 2007. It would be an easy move but I always arrive at the same conclusion: Lebanon is my home and I don't want to be based anywhere else. It is where most of my inspiration comes from; it is engraved within my brand's DNA.
HOW DRASTICALLY HAS COVID-19 AFFECTED YOUR BOTTOM LINE GIVEN WEDDING DRESSES CONSTITUTE A MAJOR PART OF YOUR BUSINESS, YET SO MANY PEOPLE ARE DELAYING TYING THE KNOT?
Most of our clients aren't actually postponing their ceremonies, rather they're sizing them down, making them more intimate. And so for our Ready-to-Wear lines we are adapting our dresses to suit their needs and the occasion. As for Couture, most brides who were set on customising a Couture dress, still will but at a later date.
HOW IMPORTANT ARE READY-TO-WEAR AND ACCESSORIES?
Ready-to-Wear is a big part of the business. It targets the growing needs of our customers that Couture cannot fulfil. It has also helped us expand our clientele and target market over the years. We have a number of accessory lines already but also plan to grow, penetrate and further strengthen our ready-to-wear line in the market.
WE HEARD YOU'LL LAUNCH A PERFUME SOON, IS THAT TRUE?
It was in my near future plans to create and launch a perfume, but now with everything going on in the world, we will hold off on that for a little while, at least until things stettle down globally.
WHAT ARE YOUR BIGGEST CHALLENGES IN THE COMING YEARS?
Rebuilding our headquarters and dealing with the aftermath of the coronavirus pandemic. Brands will need to adapt their business models and operations to a new market, and I think it will be challenging to do that under the current conditions that my country is facing.
ON THAT TOPIC, WHAT ARE YOUR HOPES FOR LEBANON?
I hope for a country where love and unity rule over corruption. Where the Lebanese can thrive freely, without being chained down by a corrupt government. People here have so much talent and potential in all sorts of fields. Together I do believe that we will achieve the Lebanon we dream of.