November 11, 2019 Kevin Hackett
The EV market is heating up with traditional carmakers competing with the frontrunner Tesla. But Lucid Air is about to change everything, and Saudi investment is what's financing its impending ascent.
"There's no silver bullet when it comes to tackling global warming. It's kind of like the space race, it's a catalyst for change." The words of Peter Rawlinson, the newly appointed CEO of Lucid Motors – a car company you're unlikely to have heard about but one that could soon cause a seismic shift in emission-free luxury transport. Rawlinson is serious about this and Lucid's debut vehicle, called the Air, is nothing if not a serious piece of cutting edge engineering and technology.
We've seen plenty of casualties in the electric car business, with start-ups promising they're going to change the automotive landscape with their futuristic, slippery show cars then failing to deliver any tangible product to the market which, in all honesty, is hungry for such vehicles. Rawlinson is acutely aware of the pitfalls and his approach to business appears to be measured and prudent, having been Lucid's Chief Technical Officer (a position he still occupies) since 2013. Previously he had been in the employ of Tesla, where he was Vice President of Vehicle Engineering and Chief Engineer of the Model S, before which he had been Chief Engineer at Lotus and Principal Engineer at Jaguar. So it's safe to assume he knows what he's doing.
And what he's doing, he says, is introducing a new car brand that offers absolute luxury and previously unseen usability. "Nobody has done anything truly radical when it comes to electric cars," he opines, "yet the freedom offered by the lack of a traditional engine and transmission allows for unconventional design language."
Feast your eyes on the Air and you might not think there's anything at all radical about it but the devil, as usual, is in the detail. While other companies have stashed their batteries flatly under the floors of their cars, Lucid has packed them with more strategic placement so as to design an interior that offers more space than a long-wheelbase S-Class Mercedes, while the physical body of the Air occupies a smaller area than an E-Class. Its roof is lower, its silhouette more sleek than most luxury cars and the design successfully combines aggression and prestige. Damn it looks good.
The Air is no conceptual flight of fancy – it has been developed the hard way, with engineers carrying out real world testing in full view of everyone. So far, this has resulted in some frankly jaw-dropping performance numbers. During its first high speed stability test, performed in Marysville, Ohio last summer, it reached 350km/h and the production version will be capable of even higher speeds. It will accelerate from rest to 100km/h in fewer than 2.5 seconds and, here's the deal-sealer for many potential buyers: its offers more than 640 kilometres between charges. Bye-bye, range anxiety; it wasn't very nice knowing you.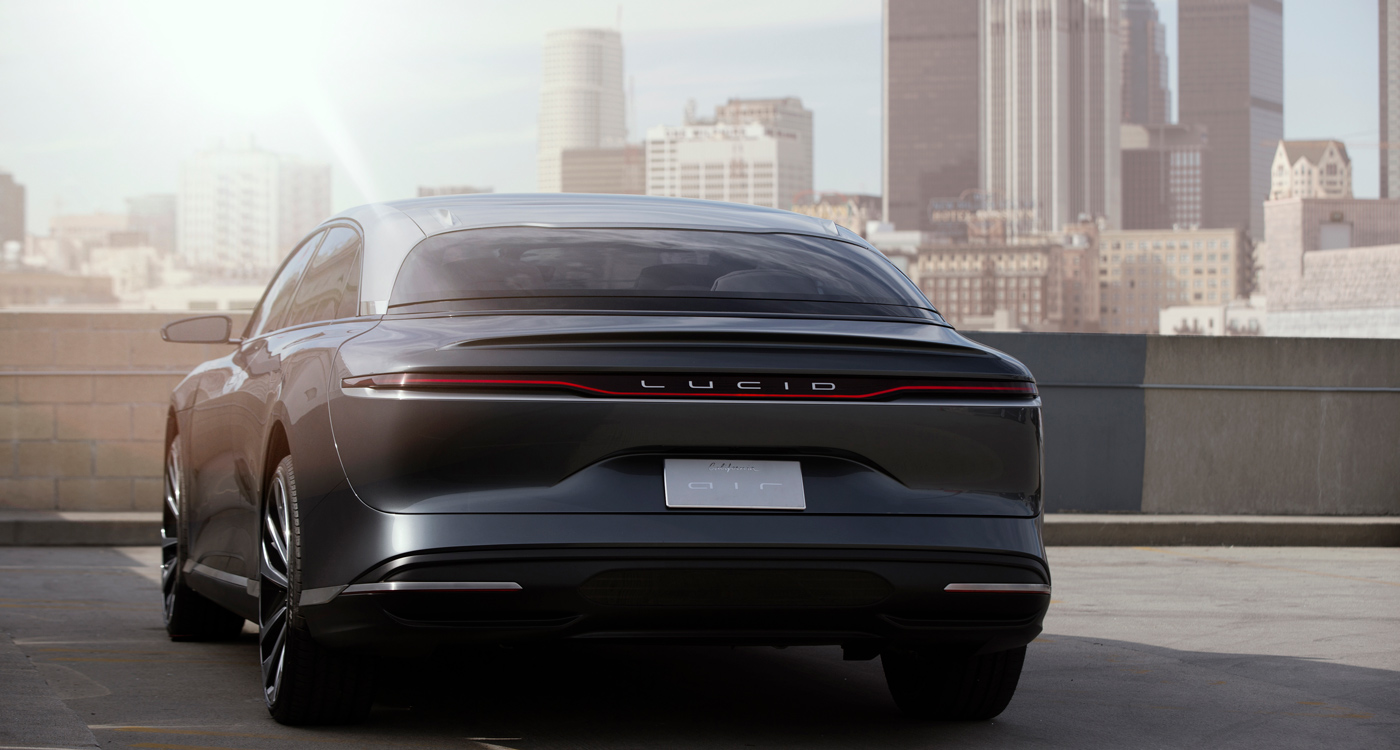 Rawlinson explains that the technology that allows such performance has been created entirely in-house following sizable, multi-national investments, the most recent and significant one being from Saudi Arabia's Public Investment Fund (PIF), which last year pumped more than a billion dollars into the company.
Lucid has been around for a while now, founded in 2007 as Atieva, a maker of batteries and drivetrains for electric cars and commercial vehicles, by Bernard Tse, a former ex-VP of Tesla. Seven years later, one of the leading state-owned carmakers in China, Beijing Automotive Industry Holding, along with a Chinese internet company, invested 100 million USD into Atieva, so that it could develop its own vehicle. The road since then has not been an easy one to navigate and it was basically the Saudi cash that saved Lucid and allowed it to make good on its plans to set up a bespoke manufacturing facility in Arizona.
The delays in bringing the Air to market are understandable but, during its development hiatus, the establishment has been rather busy. Audi, Jaguar, Mercedes-Benz, Porsche, Volvo (under the Polestar brand) and others have been unveiling and launching their own all-electric models, meaning Tesla has stopped enjoying its monopoly. What would you rather drop 100,000 USD on – an electric Porsche or a Tesla Model S? That's the multi-billion dollar question being pondered by the industry right now but Rawlinson reckons the Lucid Air will occupy its own, unique space once it's launched.
"Do you think of a Tesla as luxurious?" he asks. Not really, no. The Model S does, indeed, look rather lovely and the blisteringly fast P100D version is a family car that can outperform practically any supercar you'd care to name. But it's a bit Spartan, a bit bland, and the company's build quality has been questionable, to put it mildly, with some of its cars sporting panel gaps you could drive another Tesla through. Many appear to have been slung together with all the care and dexterity you'd expect from an airport baggage handler on the last shift of a Friday afternoon, yet the retail pricing is more BMW 7 Series than kit car. Lucid, Rawlinson says, is different.
"Look, Tesla has done a great job so far. It's high-tech, it's disruptive, but it isn't luxury, and that's what we will offer. We just hired a new president of manufacturing from Audi (Peter Hochholdinger) and already he's making an enormous difference. German car quality, right here in Arizona. We offer California cool – the American dream. In fact the Air was greatly inspired by California; the iconography of the State. Clean design, simple, West Coast luxury."
When can we expect the Air to whisper and hum its way onto forecourts? "It'll be another 18 months," Rawlinson concludes, "with production commencing in 2021. Once we're delivering cars to customers, the Middle East will follow, starting in Saudi Arabia." The Air won't be cheap, with pricing hovering around the 100,000 USD mark. But if his promises are fulfilled, if the Air really does offer Germanic build quality and standard setting levels of luxury, along with the ability to blow any Lamborghini into the weeds while the entire family's on board, Lucid might just be the exception to the rule: a genuine disruptor that goes the distance and makes a tangible difference for the better. And who doesn't want that?