November 13, 2018 Warren Singh Bartlett
Santoni make shoes. Perhaps best known for their men's lines – although since 2005, they have been making shoes for women, too – they occupy an interesting niche, somewhere between the artisanal and the industrial.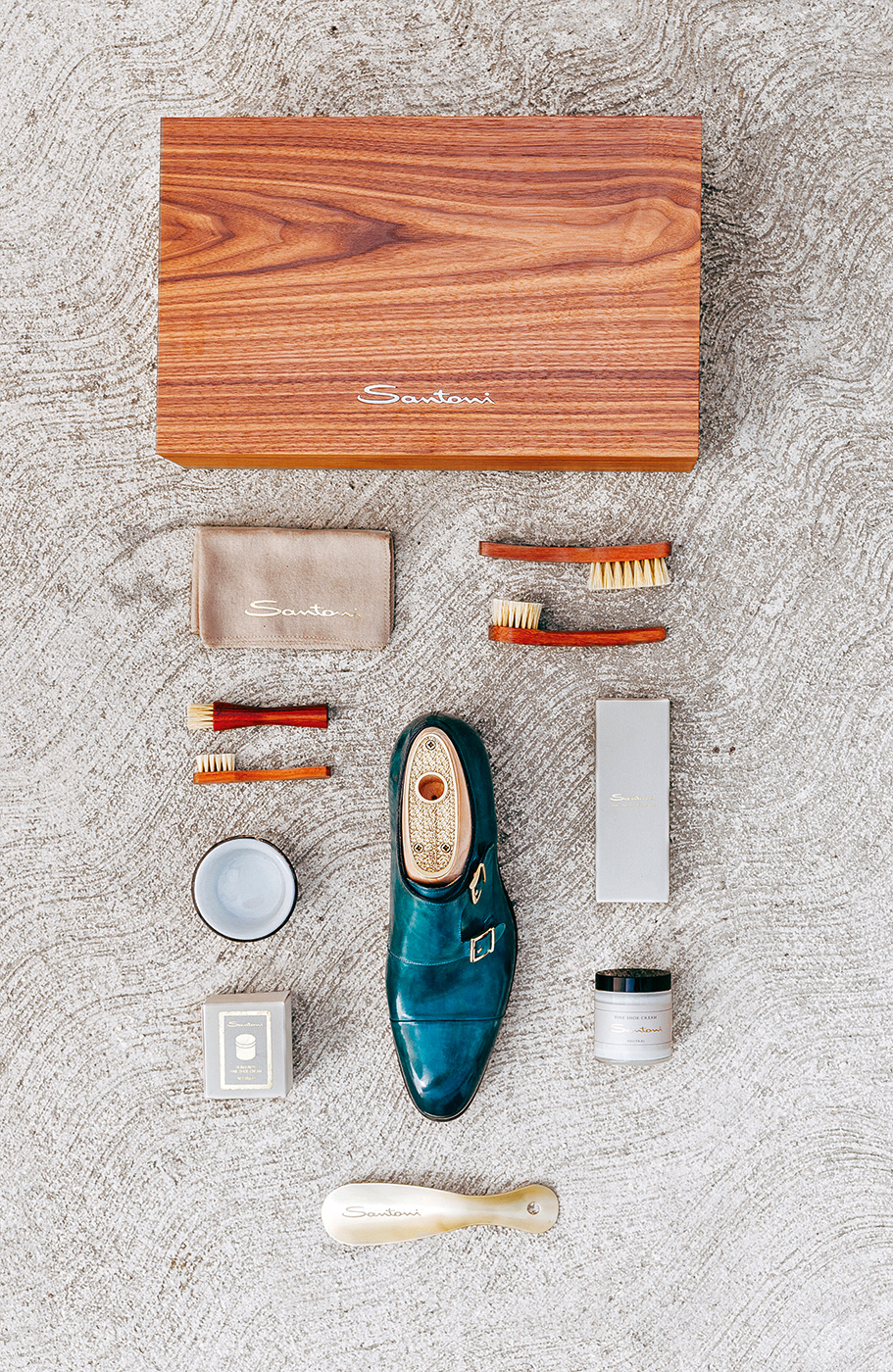 They're also 100 per cent made in Italy – in a stunning eco-friendly factory on the rolling plains beneath the sun-kissed sandstone walls of the medieval hilltop town of Macerata. It was here, in 1975, a time of tight white suits, polyester bell-bottoms and plunging male necklines, that Andrea Santoni planted his flag. Turning his back on the mass production, unisex styling and one-size-fits-all mentality of the era, he embarked instead on what other shoemakers told him was a fool's errand; the creation of hand-crafted, made-to-measure footwear.
So far, I hear you say, so what? Bespoke shoemaking may be on the wane but it's hardly unheard of. What really set Santoni aside was not Andrea's belief in handcrafting, it was his desire to find a way to combine made-to-measure with ready-to-wear. After a few years of experimentation, the result was what Santoni PR head, Gloria Biribei calls the "industrialised handmade" shoe. "Machinery is used, but the production line is controlled manually and the shoes are hand-finished," she explains, "What's important to us is not how long it takes to make a pair of shoes but the quality with which they are made."
Unlike the vast majority of English shoemakers, Santoni shoes are painted rather than burnished or dyed in the leather. And unlike most French and Italian companies, the painting is done slowly and individually. It is this care that creates the depth of colour that makes Santonis so easy to spot.
What's more, on the technical side, Santoni will often include things like skeleton stitches, where the thread can just be seen pushing against the surface, or hidden seams, where they don't show at all. Some English bootmakers do use such techniques, but they make a song and dance about it, claiming this to be the pinnacle of their know-how. For Santoni though, these and other complexities are just par for the course.
Then there's the diversity of models and wide range of colours available for each style that really differentiates the brand – from fringed summer slip-ons to camo-patterned suede monks. Very few European shoemakers offer such a combination of fashion and traditional shoemaking. Finally, there's the fact that Santoni never rests on its heels (as it were). The collections are constantly being re-worked and redesigned, regardless of how well they sold the first time around and this is because the Santonis believe they can always be better.
"We don't do this because we want to make more money, we do this because we want to guarantee our clients the best possible product," Giuseppe Santoni concludes. "Our quality is our insurance. Most of our clients are friends of other clients. Once you go Santoni, you don't go back."