October 24, 2018 Nicolas Shammas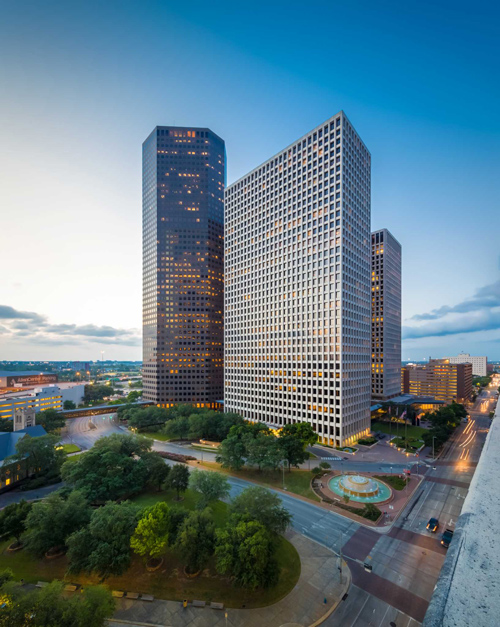 It's a similar problem for most cities: what to do with that enormous 1970s eyesore? In the case of the Allen Center at the corner Smith and Dallas streets in Downtown Houston, the solution was not to knock the whole thing down and start afresh, rather its owner, Brookfield Property Partners, decided from the outset to go about a major redevelopment and invested 48.5 million USD in order to get it done right.
The first phase is now complete and presents a new lobby in Allen One that boasts a modern two-storey glass façade as well as a stunning 'Prismatic Cloud' light sculpture by the Japanese artist Tokujin Yoshioka. Spectacular in scale, the piece comprises 17,700 acrylic rods that are suspended and stacked in a nebula formation across the ceiling so that they reflect natural light during the day and emit their own light at the night.
The renovation has apparently worked a charm, for the complex is now better looking, the newly landscaped outdoor spaces draw in the general public at last and one particular tenant, Saudi Aramco, has decided to double its square footage signing a new lease for its subsidiary energy firm, Motiva Enterprises, that'll see the building renamed Motiva Plaza
what's nearby