September 7, 2016 admin
Unbelievably, it has already been 20 years since one of the world's greatest fashion powerhouses, Milanese duo Domenico Dolce and Stefano Gabbana, ventured into the world of menswear. In honour of their one-fifth century, Bespoke was granted access to the industrious pair.
"It's the end of an era and the beginning of a new one," Dominico Dolce says with gusto. "We have rediscovered a willingness to move people and ourselves." Dolce and Gabbana, or, to name the people behind the fashion behemoth, Domenico and Stefano, are in a very good place indeed. Even after so many years in an industry others may call fickle, they each radiate positivity and strength as we chat to the two of them about their impressive career together. 'It's as if we have fallen in love with our brand again," Stefano chimes in, as the two close friends finish each other's sentences seamlessly.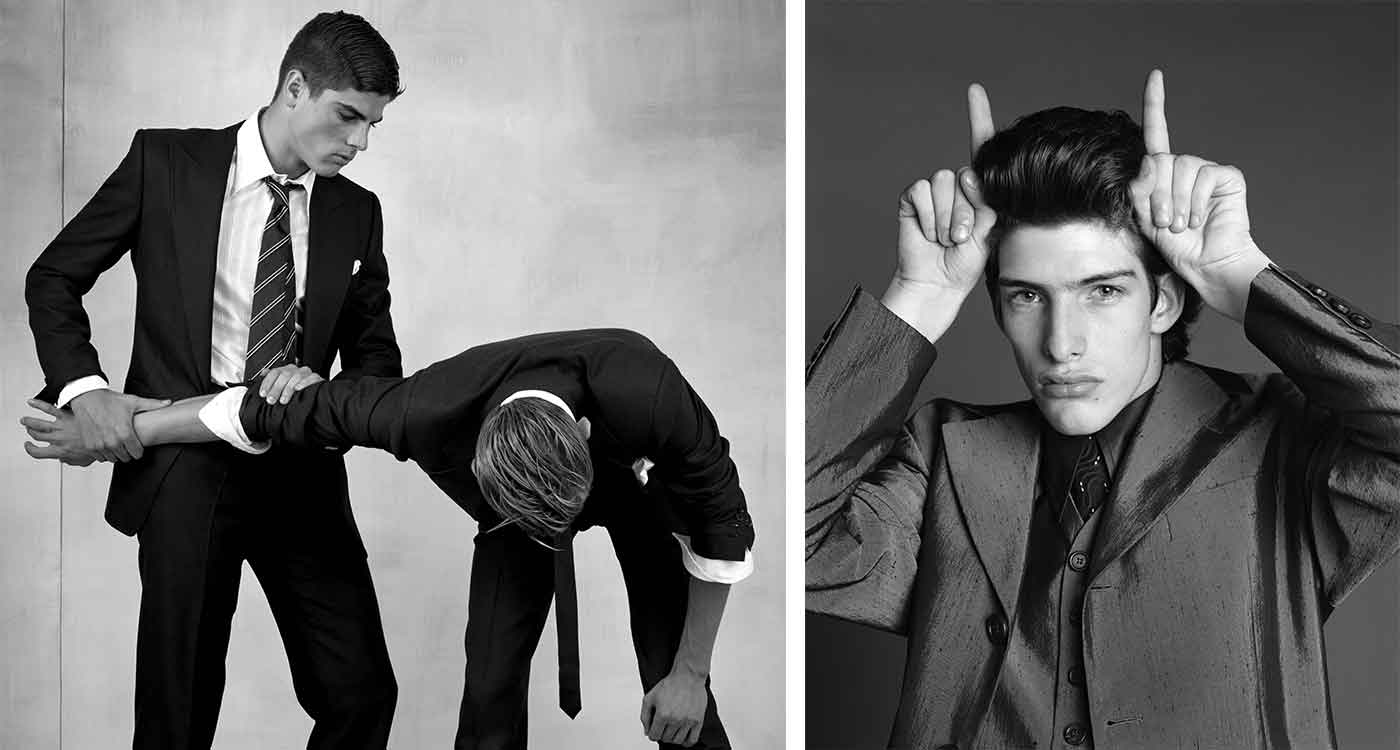 But before we hear about the new era – let's cast an eye back on the previous one. The creativity sparked amid a pile of shoulder pads and hairspray when Dolce met Gabbana in Milan during the 1980s. In October 1985 they made their debut in the New Talents section of the Milano Collezioni show, followed by their first in-house collection at the Real Women show in March 1986. Tangible success quickly sprouted in August 1987, when they flung open the doors of their first showroom in Milan, and then in April 1989, when Dolce & Gabbana wowed the world with their first women's wear fashion show in Tokyo.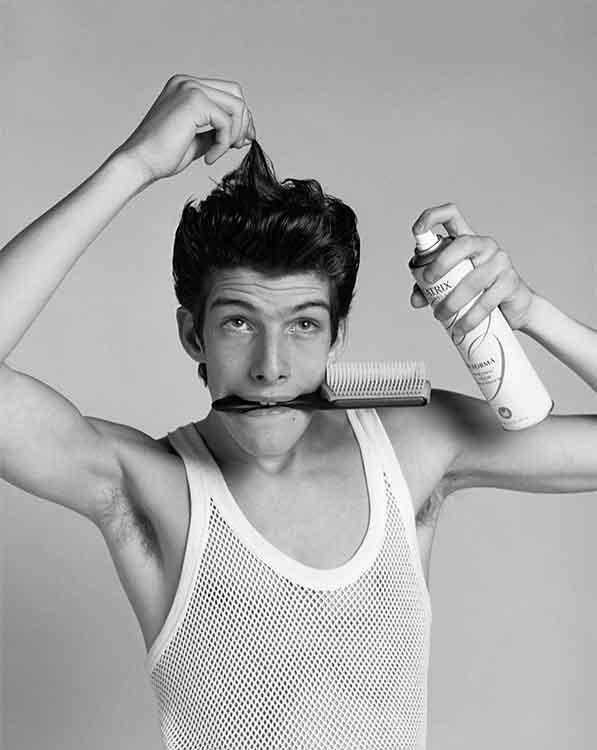 "Since the very beginning our women's collection was different from all that you could see at that time," Dolce, the talkative half of the pair, explains. "In the 1980s it was all big, big shoulders, big hair, while at that moment we preferred a more fitted and deconstructed kind of fashion."
There has always only been one woman who truly personifies the D&G look. "Which celebrity embodies the Dolce & Gabbana woman? Well, of course, Madonna!" Dolce says with a smile, as he drops the name of his and Stefano's long-term muse and friend, for whom they have designed hundreds of world tour costumes. The American queen of pop recently designed a sunglasses collection for the brand, despite the recent gossip feast of un-retouched images from the Italian duo's last spring ad campaign surfacing on the net, revealing her aged hands and protruding veins.
Back in January 1990, meanwhile, it was time for the Italian designers to conquer men's fashion, when the their first male collection hit the catwalks. "We started to do menswear almost by chance, we didn't sit at a table and decide to start working on a collection for men," Stefano explains. "We did clothes for ourselves, because we were not able to find what we liked anywhere else."
"But we didn't want to do anything extraordinary!" Dominico exclaims. "Little by little we understood that we could change many things, that we were not the only ones to have this desire of something different, of things to wear every day."
These days you no doubt know the label for its iconic tuxedo. "But it is not only the tuxedo that is important for us," clarifies Dominico. "We value the whole wardrobe, together with the awareness that men can wear different Dolce & Gabbana styles, according to the different times of day." Versatility is the word he is looking for. Stefano further explains: "We structure some of our fashion shows according to the different moments of the day, from the gym, to the office, to the happy hour until the evening."
And what type of man, we wonder, would slip into these various outfits? "There is one celebrity above all that fits the Dolce & Gabbana mould: "David Beckham," asserts Stefano. "David and his wife, Victoria, besides having been our friends for a long time, embody the quintessence of the modern man and woman. He was the first to become a global icon, as a sportsman and as a man." Now they both model for the label, as well as sport the clothes before the world's audience regularly.
Aside from the celebrity A-listers, there lie other inspirations behind the male clothing lines. "He is the Mediterranean man, manly, a guy that likes himself and is aware of being liked, but without arrogance," starts Dominico, only to have his sentence finished by Stefano, who agrees: "because with time he has become more confident about himself and his position in society and for this reason his attitude has also changed, he is sweeter and more sensual."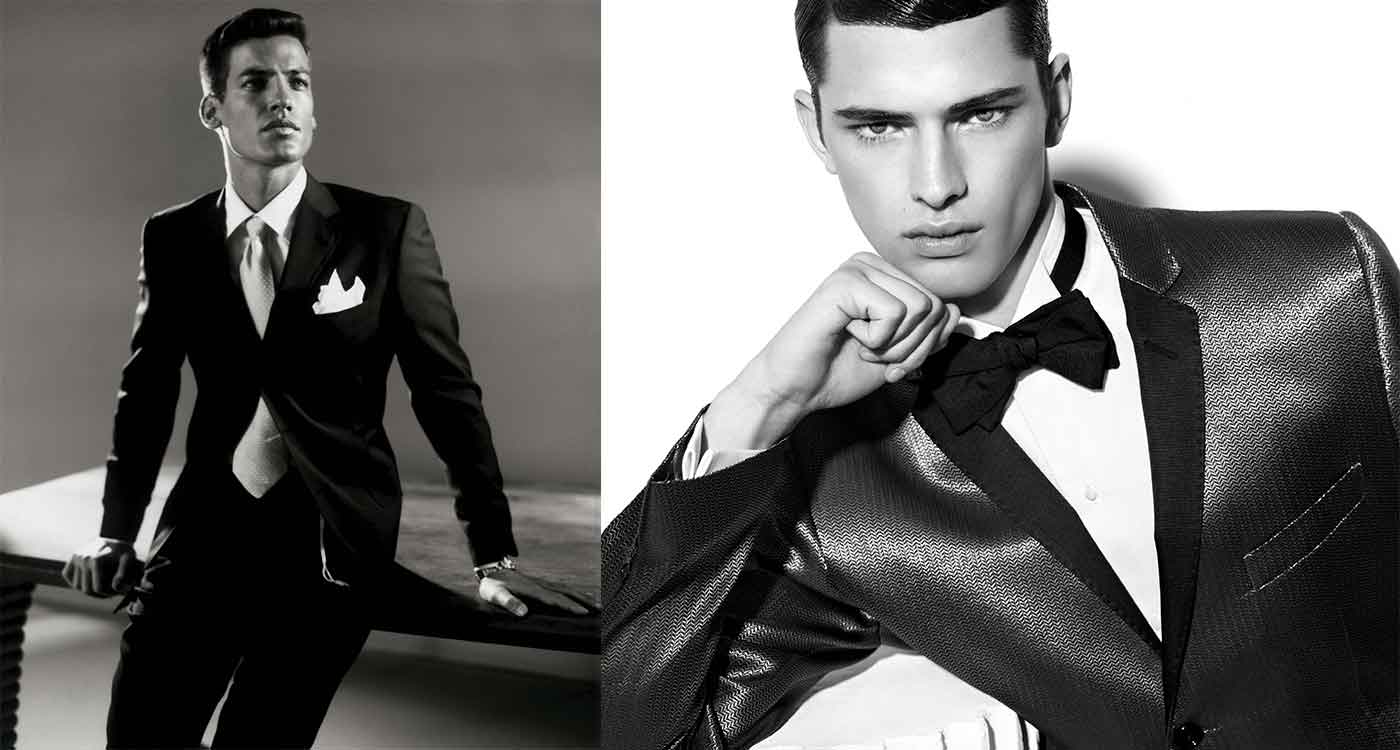 Could the global recession have softened him too or made him appreciate the more valuable things in life? "It would be useless to deny that this crisis has changed many things," Stefano says. "The time when you could sell anything at any price is over. Customers are better informed and more careful about how they spend their money. Even those that used to be able to afford to buy a jacket or a pair of pants without looking at the price tag, now they look." To this Dominico reflectively adds, "If there is a positive thing in all this, though, it is that this crisis has led to a more rational approach to spending. Maybe one buys a little less, but does not give up on quality."
Yet it seems the two have come out the other side unscathed via their canny ability to tap into the world's relentless stream of new trends. "Every day the question we ask to ourselves is this: is our idea tuned with the world? Because you can't be left behind, but at the same time you can't be too far ahead," describes Dominico. "To be always updated on people's desires and to have a constant dialogue, we launched an online blogazine called Swide, we have an official page on Facebook, and I also have an account on Twitter," says Stefano. "The Dolce & Gabbana and D&G fashion shows in February 2010 were even streamed live on iPhone and on the Android mobiles."
Yet despite such an embrace of the post-modernist 'now' of social communication, the pair contributes recent success to their ability to look to the past. "In the last few seasons, we started a journey back in time to recapture all those elements that formed the Dolce & Gabbana style, the purest one," says Dominico. "But this doesn't mean we are doing the same things we did 20 years ago!" Stefano quickly interjects, "No, the new thing is to do tradition with today's eyes." Something so easily done by the pair who don't seem to blink, let alone take their eyes off the ball. With such obvious passion, innovation and forward thinking, it seems Italian's finest tailors are going to remain on the right side of fashionable for many decades to come.