June 20, 2007 Warren Singh-Bartlett
A nine-hour drive into the desert from Cairo, and deep within the Berber village of Siwa is located the Adrere Amellal hotel. A secret getaway for nature-lovers and the jet-set alike, its untouched beauty allows you to surrender to the peacefulness of the moment.
As the vast carpet of date palms and olive trees that is Siwa abruptly swung into view, I felt elated and relieved. Much, I imagine, as endless generations of desert travellers have felt upon spotting an oasis. Water. Trees. Life. There is no more beautiful sight in the world.
My journey out to the western edge of the Great Sand Sea – the vast desert that runs from the Egyptian-Libyan border to the Atlantic Ocean – had taken a mere nine hours by cab. I say 'mere' because even 30 years ago, it could take quite a bit longer and for early visitors, like Burkhardt and Hassanein Bey, the journey took over a month by camel.
Still, after an endless day of jolting and juddering at high speed along the often bumpy road from Cairo, I suspected that camel might still be the best way to arrive. Perhaps the driver was tired, perhaps I should have been paying more attention but as it turned out, we missed the turn off for the Adrere Amellal hotel by miles.
As we drove into the town and past the Shali – the vast honeycomb of crumbling mud houses that was old Siwa – I realised we'd gone the wrong way. The Adrere, the luxury eco-lodge I had come here to visit, was out on one of Siwa's massive salt lakes, not in town. Stopping at a shop for directions, we were pointed in the direction of some towering cliffs on the horizon. "Why go there when there are plenty of hotels here?" the rather helpful shopkeeper said leaning in and lowering his voice to a conspiratorial whisper. "They don't have electricity, you know."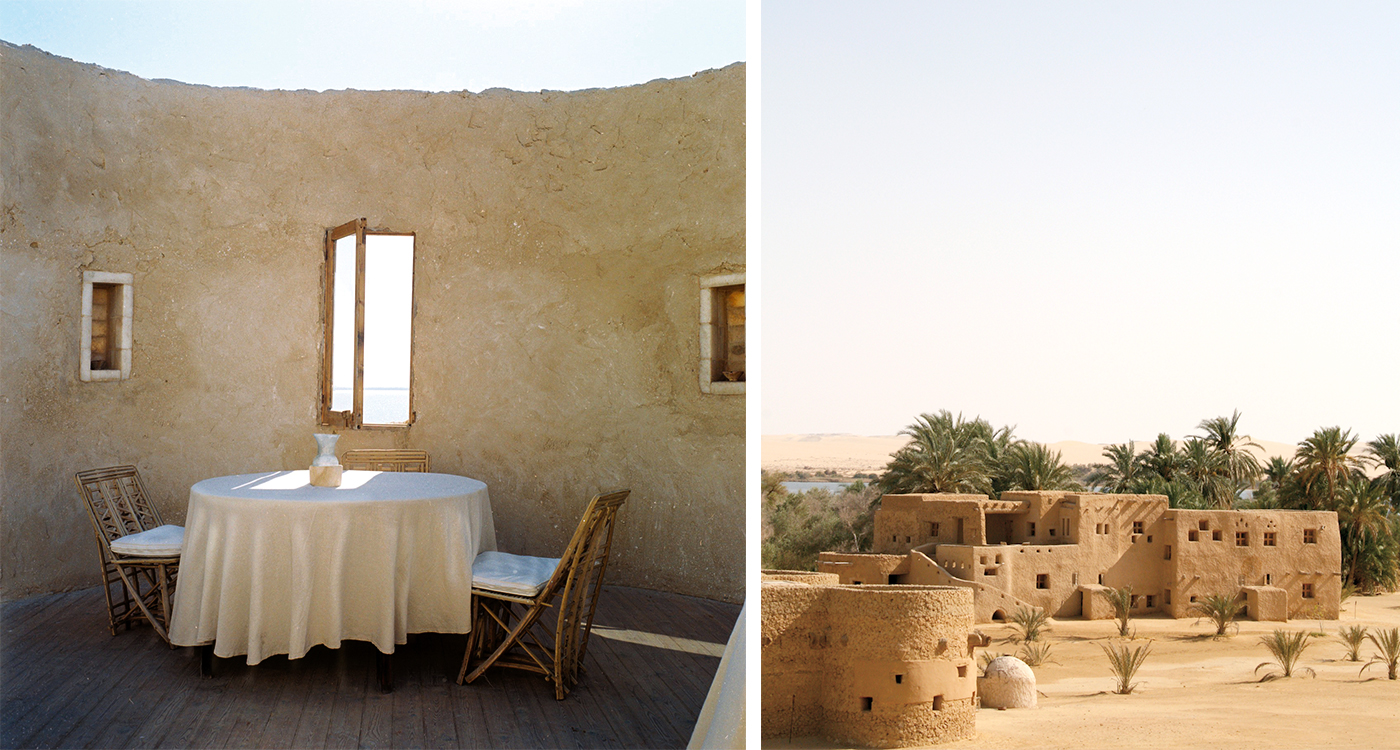 In fact, I did. I had first heard of the Adrere at a party in Beirut. Two of the guests were discussing the hotel in terms so glowing that I thought maybe they had spent a little too long in Egypt's desert. Then over the next few years, I kept meeting other people who'd been. All of them developed the same far-off, dreamy expression when they talked about the Adrere and curiously, many former guests seemed to know one another.
It was as if the Adrere was some kind of private club. At first, that put me off. Like Groucho Marx, I don't readily join any club that would have me as a member. It was only when I mentioned the hotel to a well-travelled friend in Cairo and she told me she went whenever she had a few days to spare, that it was the only place she could ever completely relax that I decided I would have to go and see for myself.
Location is the least of the Adrere's idiosyncrasies. There is no check-in, no need for passports and no forms to sign. All those formalities are dealt with over the phone when you make a reservation. Upon arrival, you are met by hotel staff wearing colourfully embroidered gallabeyas, who show you to your room.
The low-rise hotel complex curves sinuously around the base of the chalk and sandstone cliffs after which it is named and is built out of local materials, mostly salt rock, palm logs and mud brick using traditional methods. Walls are thick, ceilings are high and rooms are oriented to take advantage of the prevailing breeze.
The décor is simple but elegant. The furniture is made mostly from palm wood and reeds. The bed sheets are of the finest, softest Egyptian cotton and the carpets are produced by local weavers. Toiletries too are simple, a few bars of Pears glycerine soap and some organic shampoo. In all ways, the Adrere is designed to have as little impact on its surroundings as possible.
Consequently, it comes with none of the bells and whistles we have been conditioned to associate with the words 'luxury' and 'hotel'. There is no marble. No gilt. No air-conditioning. Room service is not available. You do not get a butler, a concierge or for that matter, a key, for rooms do not have locks. No electricity also means no television, no Internet and no telephones.
And that is perhaps the Adrere's greatest luxury. Not the silver service at the dining table. Not the simple, yet gourmet meals, made with organic ingredients grown in the hotel gardens. Not the complimentary afternoon trips to the dunes, nearby oases, Roman tombs or Siwa's old city. It is the luxury of time. With nothing to distract you, there is time to sit and think. Time to appreciate the simple things in life. The sparkle of sunlight on water. The wild flamingos feeding in the lake. Sunset. Sunrise.
Less like a hotel than a family home, the Adrere belongs to the world that existed before instant connectivity flooded our lives with neon chatter and high-speed travel made it possible to have lunch in London and dinner in New York. Perhaps this is why it is favoured by the kinds of people whose lives are lived on the fly; fashionistas, film stars and even the odd royal, many of whom return year after year. The kind of people who normally might be expected to stay in seven-star hotels with 'wall-to-wall' servants. The kind of people who ultimately, having been there and done that all before, are looking for something out of the ordinary.
That too, the Adrere delivers in spades. When it first opened, the Egyptian tourist authorities told owner Dr. Mounir Neamatallah that they couldn't give his hotel more than a three-star rating. Unfazed and every bit as iconoclastic as his hotel, Dr. Mounir courteously replied that it was fine, that they didn't need to rate the hotel at all. "I told them that we didn't need stars," he says sweeping his hand across the sky during a dinner in the middle of the desert. "We have millions of them right here."
IT IS THE LUXURY OF TIME. WITH NOTHING TO DISTRACT YOU, THERE IS TIME TO SIT AND THINK.TIME TO APPRECIATE THE SIMPLE THINGS IN LIFE. 
The afternoon before I leave, I am lying by the pool reading when three newly arrived couples troupe through the trees. Clearly excited to have arrived after their own long drive, they are a storm of gossip and laughter. A cellphone rings. I've only been here two days but already it sounds shrill and intrusive. One of the women answers. Judging by her accent, she's Cairene. Judging by the way she's dressed, she probably lives in Mohandiseen. She chatters away as the rest of her group circumvent the pool. "Yes, yes, we're finally here. Ufff, you won't believe how long it took! Sand, sand and more sand! I swear!" She pauses, pressing the phone into her ear as her caller asks her something.
"The hotel? No, it's beautiful, just beautiful. I've never seen anything like it. It's so…..", she trails off as she suddenly realises that she's probably making enough noise to be heard for several kilometres. Her face softens as she takes in the pool, the palm trees and the lake beyond, truly aware of her surroundings for the first time. She removes her sunglasses and props them on her hair. "Listen, I'll call you in a couple of days, okay? Have to go now. Yes, habibti, bye, talk to you later." She hangs up, takes a long look at the lake, then puts her shades back on and hastens back to her friends.
Two birds sing in a nearby olive tree. A warm wind rustles through the fronds of my palm tree. Sunlight flickers across my face. I close my eyes and put down my book. A donkey brays faintly in the distance. It's too early and too hot to think of going for a walk. What then? A nap? Why not? What a marvellous idea.
what's nearby