October 30, 2019 Nadia Michel
1970s inspired wide-leg pants, faux-fur and a monochrome palette of greys and burgundy: that's what Zendaya dreamed up, along with image architect, Law Roach for her second collaborative capsule collection, Tommy x Zendaya autumn 2019.
Q&A
with Zendaya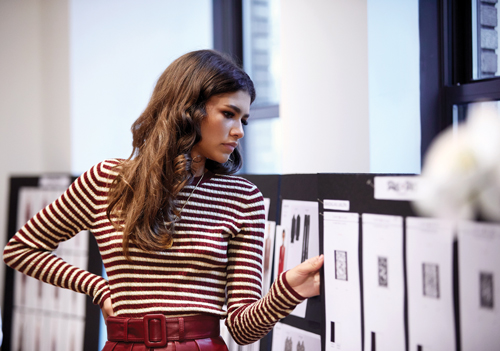 WHAT ARE YOUR FAVOURITE PIECES OF THE COLLECTION?
Honestly, I love every piece in this collection but if I had to choose I would say the tailored suits, the polka dot tie-neck dress, and faux-fur leopard coat.
WHAT DID YOU LEARN FROM YOUR FIRST SPRING 2019 COLLECTION THAT YOU APPLIED TO THIS SEASON?
I learned more about the design process and how to be more efficient at the different stages throughout product development.
WHO ARE THE INSPIRATIONAL WOMEN IN YOUR LIFE?
The women in my family inspire me the most. Both my grandmothers, my mum, my aunties and my sisters play such an important role in my life.
WHAT INSPIRED YOU TO USE A CONSTELLATION PRINT THIS SEASON?
We wanted to find something that tied back to the Spring 2019 collection and felt that the constellation print was a nice continuation of the zodiac theme.
WHAT WAS THE MOST FUN PART OF CREATING THIS COLLECTION?
The most fun part of creating this collection has been experimenting with the different prints and scales, and mixing them together. We wanted to create something fresh that women can also wear in their everyday lives.
HOW DO YOU REACT WHEN YOU SEE PEOPLE WEARING ITEMS FROM YOUR COLLECTION?
I feel so honoured and humbled when I see fans wearing a piece from my collection. I created this collection for them so I am so happy that my fans enjoy it as much as I do!
WHAT ROLE HAS FASHION PLAYED THROUGHOUT YOUR CAREER?
It's really helped me grow into the woman I am today. I've said it before that I don't really have one "style", but use fashion as a means of telling a story. Law and I have a lot of fun coming up with different personas in my looks, and I love showing up on the carpet in something unexpected.