August 27, 2011 Jonathan Glancey
At 82, Frank Gehry has designed his first skyscraper and it has transformed Manhattan's skyline. Official Bespoke tracked down the spirited architect to discover his side of this twisting, rippling tower.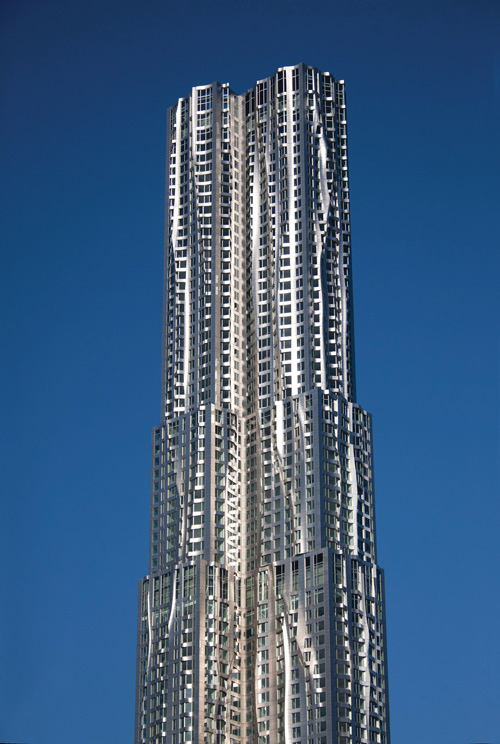 "I'm getting tearful," says Frank Gehry when we ask him how he feels about finally making his mark on the Manhattan skyline. "My father grew up in Hell's Kitchen, 10th Avenue, on the city's West Side." Irving Goldberg was one of nine children in a very poor immigrant family; his son changed his name in the early 1950s. "He started work at 11," says Gehry. "He had a hard life. I'd like to share 8 Spruce Street with him. I got to build a skyscraper right by the Woolworth Building. That's me, Dad. Up there!"
What Gehry, evergreen at 82, has been building up there on the site of a former parking lot, bordering New York's financial district, close by Brooklyn Bridge, is an 875 million USD, 265 metre, 76-storey residential tower, clad in heroic, sculpted folds of stainless steel. It houses 903 rental apartments – none are for sale – with prices ranging upwards of 2,630 USD a month. It is due for completion in four months' time – although the builders who show me around say that some 200 flats have already been let.
Over the course of a day, 8 Spruce Street changes mood and colour with the sun and the sky. One moment it's pink, another gold; at others, it shines silver, or a broody pewter. Seen across the East River from Brooklyn, it animates Manhattan as no skyscraper has done since the Empire State Building opened 80 years ago, when Gehry was still a toddler in Toronto. His father was then scratching a living as a slot-machine salesman.
There have been fine and charismatic New York towers since then: the serene Seagram Building dating from 1958 on Park Avenue, by Mies van der Rohe; Eero Saarinen's sleekly muscular, black-clad CBS Tower (1964) on Sixth Avenue; Philip Johnson's controversial 1980s postmodern 'Chippendale' tower, crowned with an outsized split pediment, for AT&T on Madison Avenue. But these aside, Manhattan skyscrapers have been almost resolutely glum and workaday for too long: 8 Spruce Street brings back the dazzle and the ritz, the catwalk strut and sheer brio that have made the great New York towers so compelling.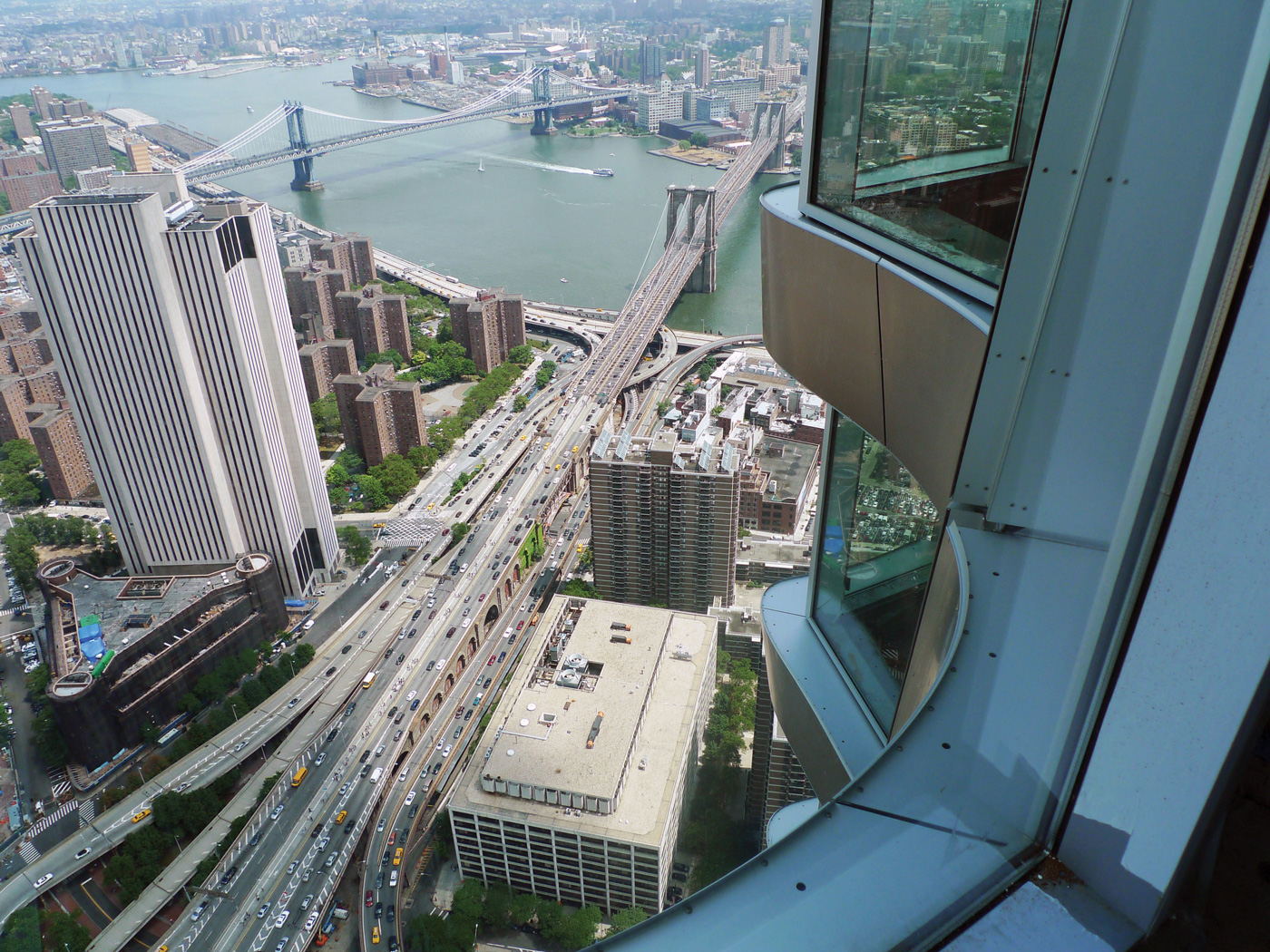 Gehry has long been associated with sensational arts buildings: the epoch-making Bilbao Guggenheim, and the striking Walt Disney Concert Hall in downtown Los Angeles, the city where he lives and works. Eight Spruce Street, referred to as 'New York by Gehry', is a very different kettle of fish. "New York's a wonderful city," says Gehry, "but it's a tough place. Buildings, like the people there, work hard for their living." Commissioned in 2003, this – like most Manhattan skyscrapers – is a design built to a demanding budget, and one required to pay back the investment made in it many times over. It is architecture as big business writ sky high.
Gehry has worked hard to walk tall in Manhattan. To date, in 59 years as an architect, he has managed no more in the city than a 10-storey office block in Chelsea, looking like the sails of ships cutting through a low-lying cumulus cloud; a titanium-walled cafeteria for Condé Nast's headquarters in Times Square; and the fit-out of an Issey Miyake store in Tribeca.
There have, however, been unbuilt projects aplenty: a serpentine tower for the New York Times; a highly sculpted new Guggenheim museum overlooking the East River; and Atlantic Yards, a vast stretch of mixed-use development over a Long Island railroad yard in Brooklyn peppered with 16 towers. Gehry showed me a colourful model of the latter scheme when we went to see him in LA three years ago. Now he's off the job; the developers have taken fright and gone for a cheaper practice. "I asked a developer what value the name Frank Gehry had in New York," the architect says now. "You know what he said? 'A big zero.' Like I said, it's a tough city."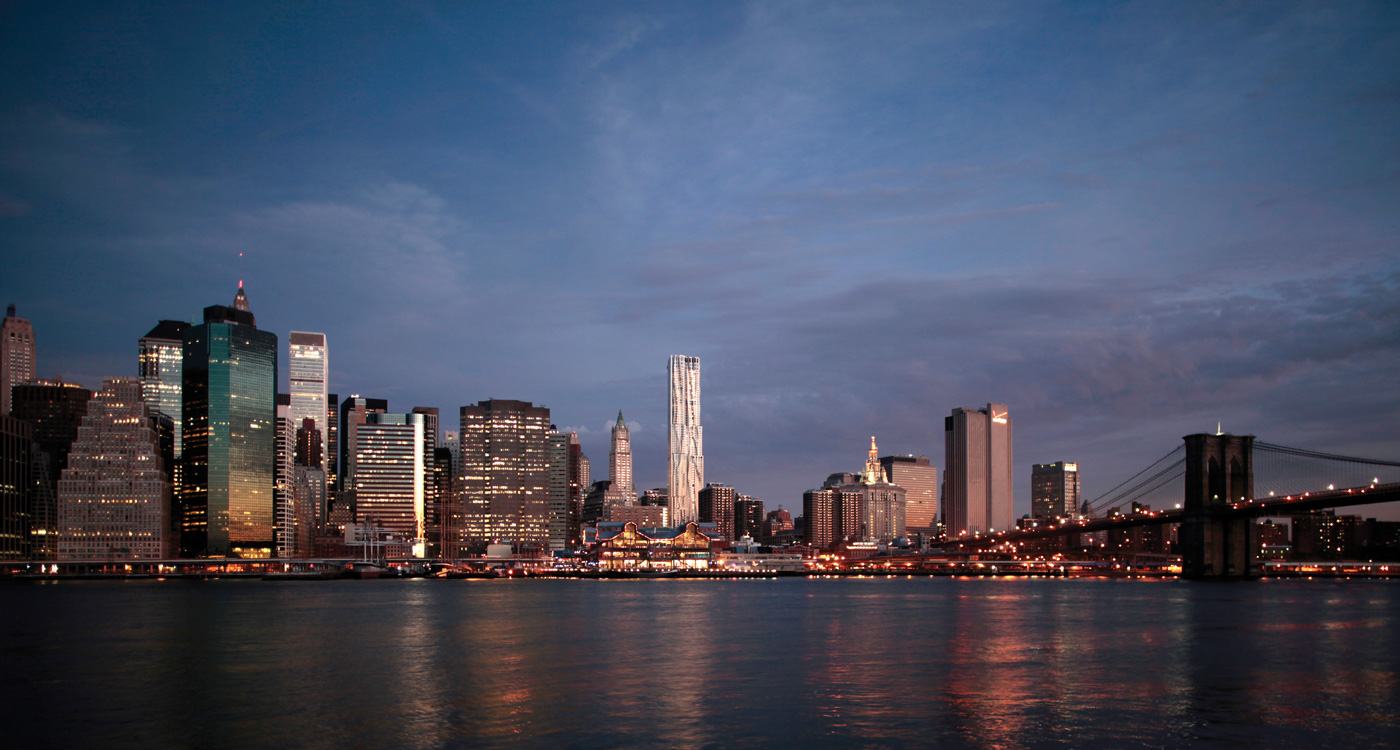 It is – though 8 Spruce Street must surely make up for Gehry's losses here (it was also commissioned by Bruce Ratner, the developer behind Atlantic Yards). The tower is a revelation, though it appears to rise not from pavement level as you might expect, but through the top of a self-effacing six-floor brick block, housing a new elementary school and a service floor for the New York Downtown Hospital. Why? The brick block, also by Gehry – is part of a trade-off between the developer and the city planners. Ratner could have his tower, but the school and hospital floor had to be part of the deal.
On its south side, the tower rises in what appears to be one sheer sheet of stainless steel; it might have been cut with a laser. Impressive, yet as you walk around the block – wham! – the tower rockets waywardly up from its humdrum base, flanked by a huddle of bars, corner cafes and local businesses, in overwhelming pleats of stainless steel draped now loosely, now tightly, over the frame of the building. Imagine the Statue of Liberty as an apartment block, and you get an inkling. My initial impressions were of a vertical river bed, a titanic cyborg, muscles and veins bulging under robotic skin, and of the disquieting drawings of HR Giger, the Swiss surrealist who created Ridley Scott's Alien. Or, perhaps, the artist Christo agreed to wrap a Manhattan skyscraper in an outsized Issey Miyake gown. This might sound fanciful, but seen for the first time, 8 Spruce Street is a visceral shock to the system.
"What was I really thinking of?" Gehry says. "Michelangelo and Bernini." "Really. Those guys drew book loads of folds and fabrics, so beautifully. I've looked at these a lot over the years. Michelangelo does softer lines; Bernini's are harder. I love the architectural quality of those folds, and these are what inspired the skin of the building."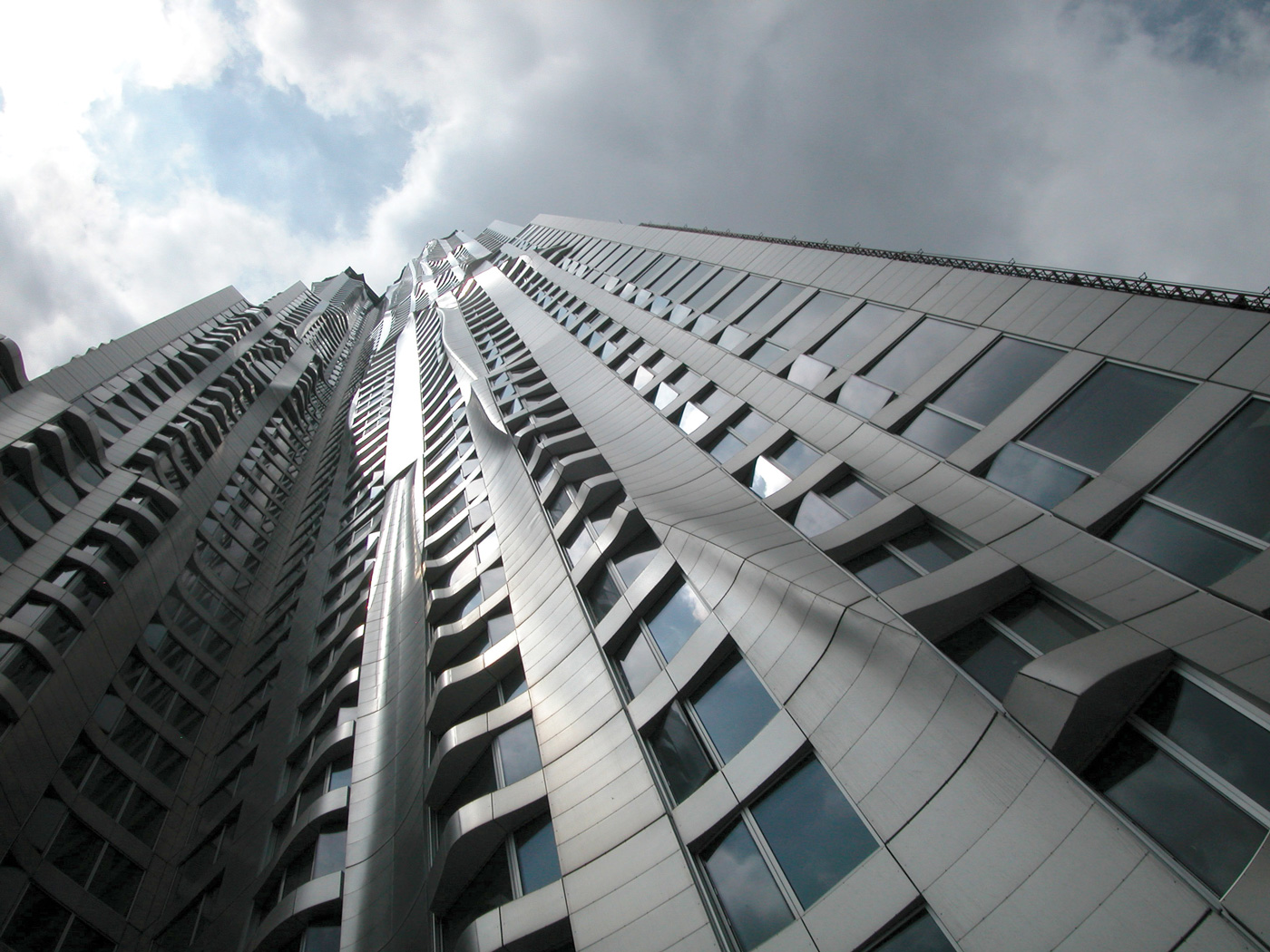 This undulating skin, fabricated from 10,500 individual steel panels, gives many of the individual flats a baroque quality; there are bay windows where the folds billow up and across the facades. Set at any number of angles around the three draped sides of the tower, these offer a dazzling variety of views across New York.
"Originally, I wanted to have the folds going all the way around," Gehry explains. "But the marketing folk said that 15 per cent of people didn't want apartments with wrinkles. So that's why there's a straight side. But, then, they started to rent out the wrinkly apartments, and asked for more of them. By then I'd begun to like the straight side. The models we made showing the tower completely wrinkly just didn't look tough enough for New York."
Ideally, Gehry would like to have spent more money. "I wanted to do it in titanium. It would have been beautiful on a grey New York day. But I'd have needed much thicker sheets of titanium than I've used before, and then the cost would have been prohibitive… Fifteen per cent of construction cost is usually wasted in design changes on site, caused by the fact that architects are still doing 2D drawings for 3D buildings. We do 3D modelling that shows exactly how the whole building fits together, and we don't need many design changes. That way we've come in on budget."
I wondered, too, if the way the building appears to stop all of a sudden at the 76th, without a crown or spire, was another way of saving money. "I started with something on top," Gehry admits. "I toyed with the thing, but it ended up looking pretty trivial, trying too hard to be something, against the Woolworth Building [Cass Gilbert's superb neo-gothic terracotta and steel skyscraper, opened in 1913]. I have too much respect for the Woolworth Building to do a hoopty-do thing."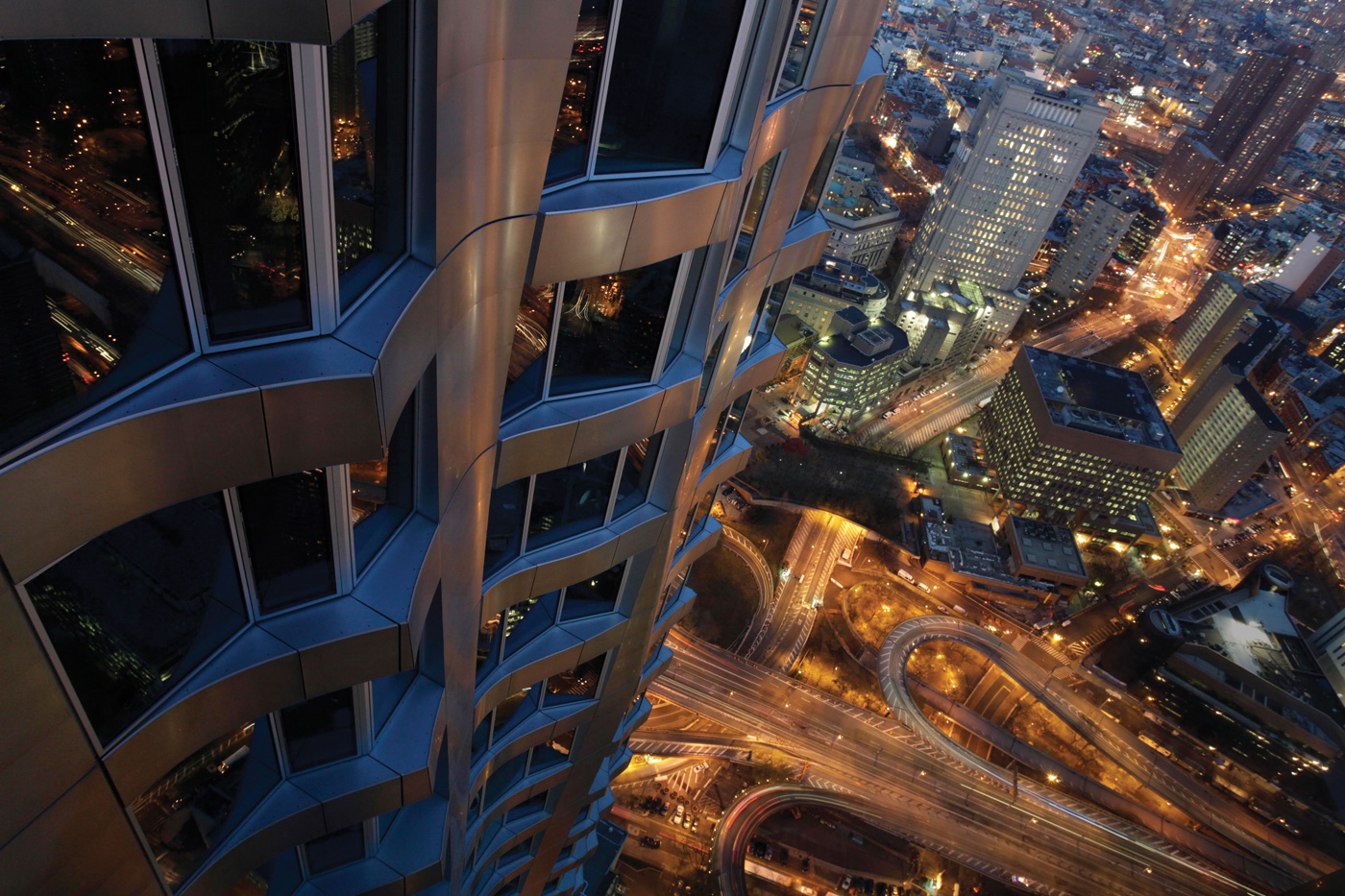 Up inside the spireless tower, the Gehry-designed show apartments are much of a piece, views aside, with their white oak floors, stainless steel kitchens, swooping furniture and sinuous, brushed stainless steel door handles. For the most part, city professionals will rent these – although the rents are not especially high for this patch of Manhattan. So, while the tower is imbued with a great visual sense of freedom, an anything-goes spirit, its future population looks set to be pretty homogenous. Those living here will, soon enough, be able to enjoy a 15-metre seventh-floor swimming pool opening on to a deck, as well as a gym, spa, library, children's playroom, screening room and an underground car park.
With a Manhattan skyscraper to his name, Frank Gehry is increasingly part of the myth and legend of modern America. It's not just that his wildly energetic and boldly sculpted buildings are world-famous; this humorous, emotional and still-ambitious man has become larger than life. And, already famous enough to be the butt of satire, 8 Spruce Street featured in an April Fool's spoof in the New York Times this year: the heat reflected from its shiny surface was so great, the article claimed, that it had caused fires in neighbouring buildings.
"I don't want to do architecture that's dry and dull," Gehry says. "When you talk to New Yorkers, like the guys you met in the Irish bar across the way from 8 Spring Street, like my dad, you want to show them something like Bernini or Picasso, not some dumb thing that bores the pants off everyone."
Photography: Geto & de Milly, dbox, Gehry Partners