August 21, 2017 Michael Verdon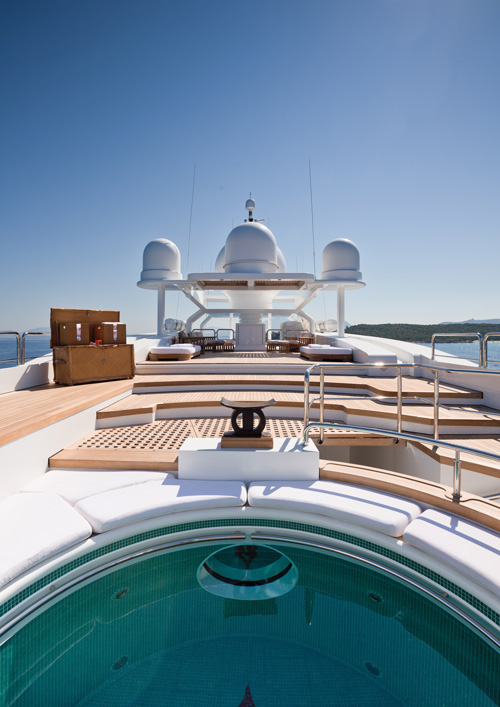 Lürssen's 73-metre Coral Ocean, designed by the late-great Jon Bannenberg, was a closely held secret for 22 years. But after last year's refit, this striking masterpiece is now available for charter.
Considered the maestro of yacht design, Jon Bannenberg would often wow new clients by sketching loose, flamboyant designs for yachts on the backs of menus at meetings in restaurants, and then insist on total control of the project, down to the type of teaspoons that would be used on-board. He became known not only for his bold new concepts, but for a laser-like attention to detail. And clients were rarely disappointed.
Bannenberg's first yachting project, a two-storey lounge for the massive QE2 (the flagship of the Cunard Line for over 30 years and arguably the most famous liner in the world), turned out to be a light-filled space featuring a semi-circular staircase with curved glass sides. That lounge, and several highly innovative yacht interiors, lured Lürssen to his studio. The German yard gave him carte blanche to design the 72-metre motoryacht Carinthia V. This yacht, Bannenberg later wrote, was considered "avant garde" in 1973. Three decades later though and she was considered a "classic." Such was the influence of Bannenberg that his avant gardes eventually became the superyacht world's go-to designs.
The 73-metre Coral Island has a similar backstory, though nobody knew it for 22 years. After Lürssen launched the Bannenberg-designed yacht in 1994, the owner, Saudi Arabian businessman Abdulmohsen Abdulmalik Al Sheikh, kept her so secret that Coral Island gained almost cult status. Last year, after a refit by Lürssen designed by Bannenberg & Rowell, Coral Island not only emerged from yachting's X-Files as Coral Ocean, but she became available to the public for charter.
AFTER HER LAUNCH IN 1994, THE OWNER KEPT CORAL ISLAND SO SECRET THAT SHE GAINED ALMOST CULT STATUS. LAST YEAR, AFTER A REFIT SHE NOT ONLY RE-EMERGED AS CORAL OCEAN, SHE BECAME AVAILABLE TO THE PUBLIC FOR CHARTER.
Cruising on the rejuvenated Coral Ocean, which is available through Nigel Burgess, gives you the chance to experience the yachting high-life on arguably one of the most compelling designs ever made. With Al Sheikh's carte blanche, Bannenberg pursued a Polynesian beach-house theme, buying the entire collection of a Manhattan gallery specialising in South Pacific art. In the wrong hands, the interior could have been as kitschy as the sale aisle at Pier One Imports. But Bannenberg subtly balanced the tribal art with rough-hewn marble, driftwood furniture and fractured glass seashells. Coral Ocean, years ahead of her time, is so intricately detailed that features like seashell handles look right at home next to fine crystal. The maestro also created the superyacht world's first beach club that includes a steam-room, gym, and spa.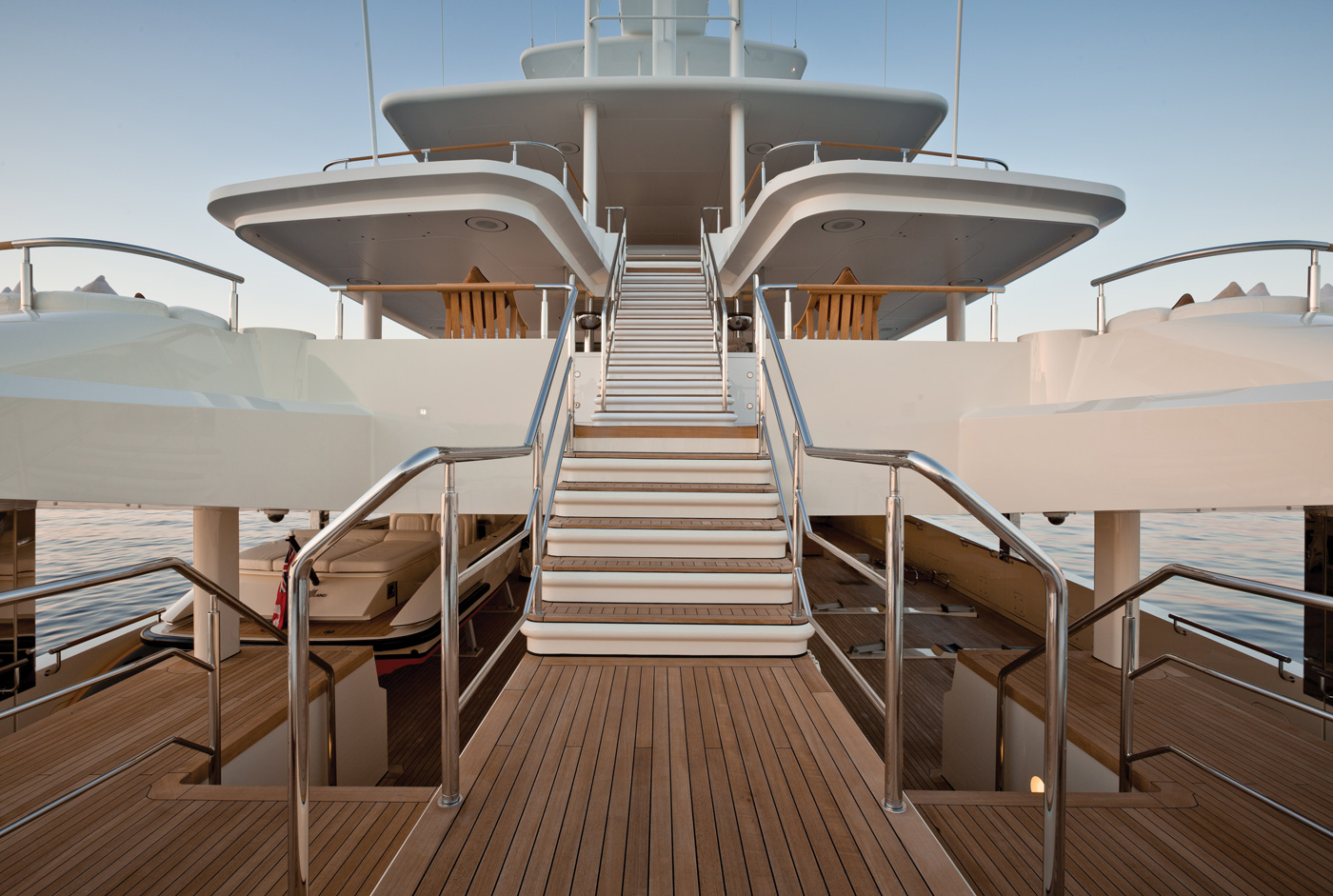 Living aboard a masterpiece, rather than a typical, ho-hum charter yacht, is an inspiring experience. Coral Ocean has artistic beauty and creativity at every turn. Its signature bronze staircase has its own waterfall. The pool on the upper deck has a wide porthole that extends through the wall, allowing guests on the terrace below a clear view into the pool, with its stunning, tree-like red coral motif tiled into the wall. That same branch, Coral Ocean's icon, is emblazoned on the steam-room walls.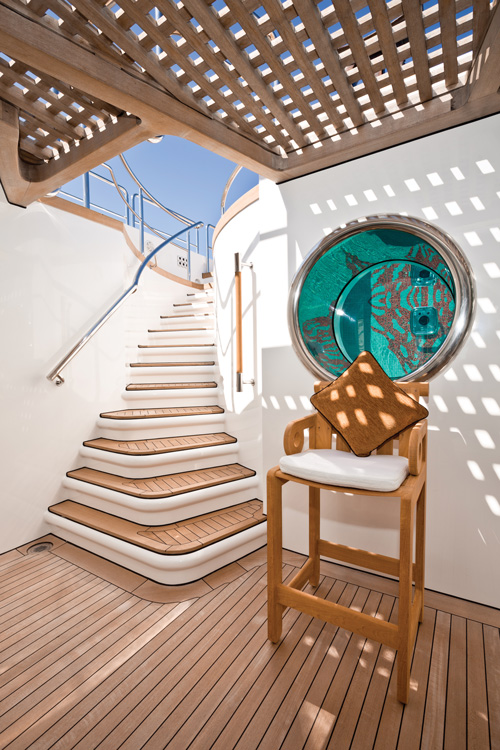 Of course, life aboard Coral Ocean is like on most other superyachts, with a crew of 19 and a professional chef to cater to the whims of up to 12 guests. The most fortunate will stay in the master suite on the upper deck, in a bedroom surrounded by a semi-circle of glass windows. The ultimate room with a view has a king-sized bed in its centre, which will raise and lower for the guest who wants to enjoy the view from its confines. A skylight just overhead also floods the bed with natural light. Soft lounges with tables sit next to the forward windows. The apartment also has a wood-clad bathroom with soaking tub and, for good measure, an ancient Incan headdress with feathers.
The VIP suite is also one of a kind, with its en-suite bathroom and dressing room. The suite connects to a private study, which doubles as a television room, with burr-birch panelling, oak floor, and parchment wallpaper. Handmade mahogany chairs pair well with the owner's glass desk.
Throughout the yacht is handmade driftwood furniture from an English artisan. Colourful, with mother-of-pearl shell handles, it creates a beach-house feel without being showy. Below-decks are four other guest cabins, two doubles and two twins adorned with Indonesian art
Dining, an indispensable part of the Coral Ocean experience, happens in the formal dining room, with its wallpaper of silver-leaf tree bark. Two tables become one by inserting a piece of the wall panelling to form a centrepiece. The main salon also has burr-birch chairs and yet more ethnic artwork, balanced by fractured glass tables from an Italian artisan. The entire side glass wall opens outwards to let warm winds into the salon for more barefoot elegance.
The exterior is all about play. Guests can swim in the top-deck's counter-current pool, sun themselves on loungers or hang out at the covered bar (the vessel can accommodate a party of up to 100.) On the deck below, a dining table for 12 delivers al-fresco dining, while glass panels slide into place for wind protection on blustery days. Of course, Coral Ocean also has a garage of tenders, jet skis, Seabobs and other water toys.
For rainy days? The upper salon provides a comfy place to hang out, with soft lounges and, naturally, elephant headgear from India on the wall.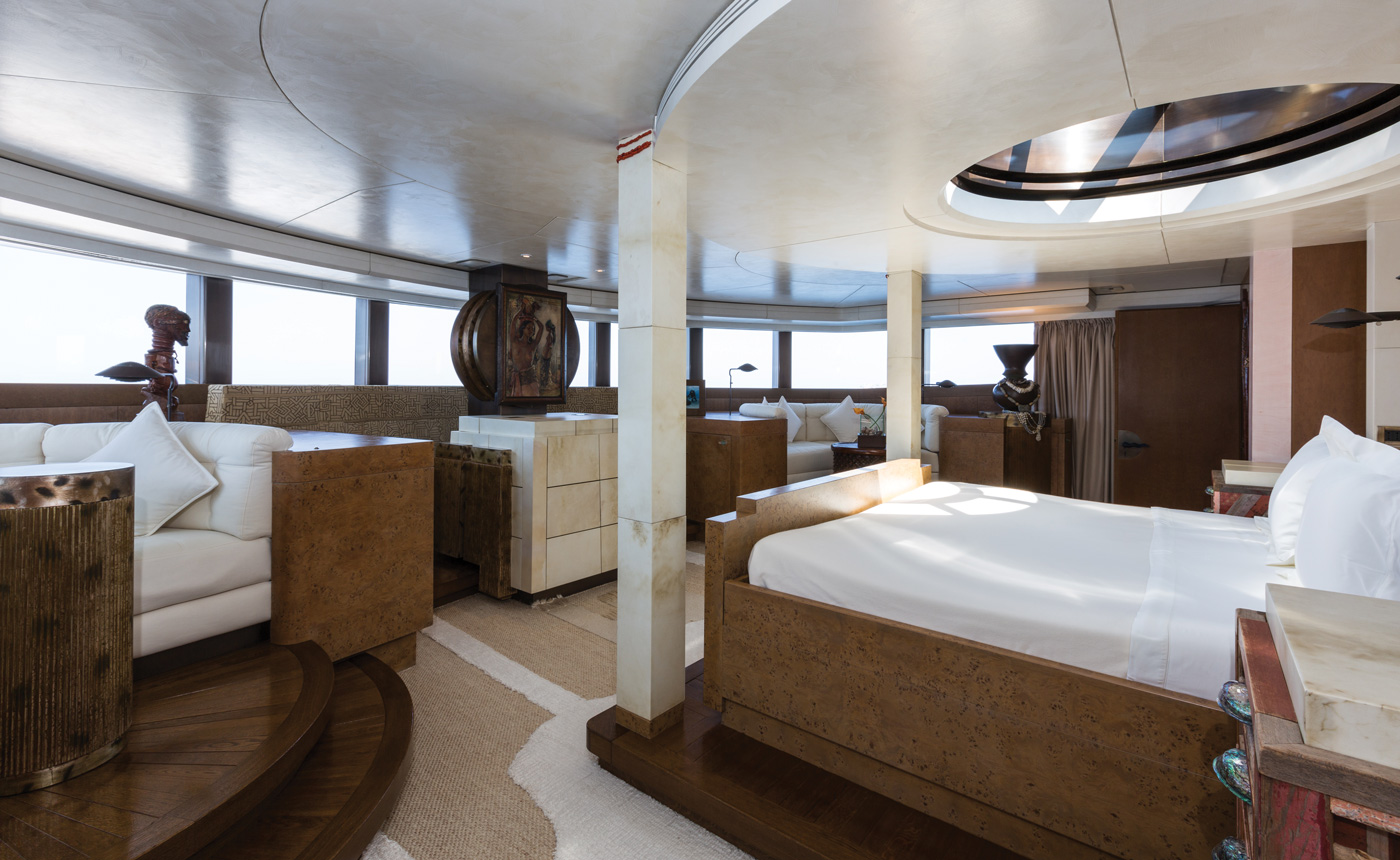 PHOTOGRAPHY Jeff Brown