April 11, 2021 Joumana Samandal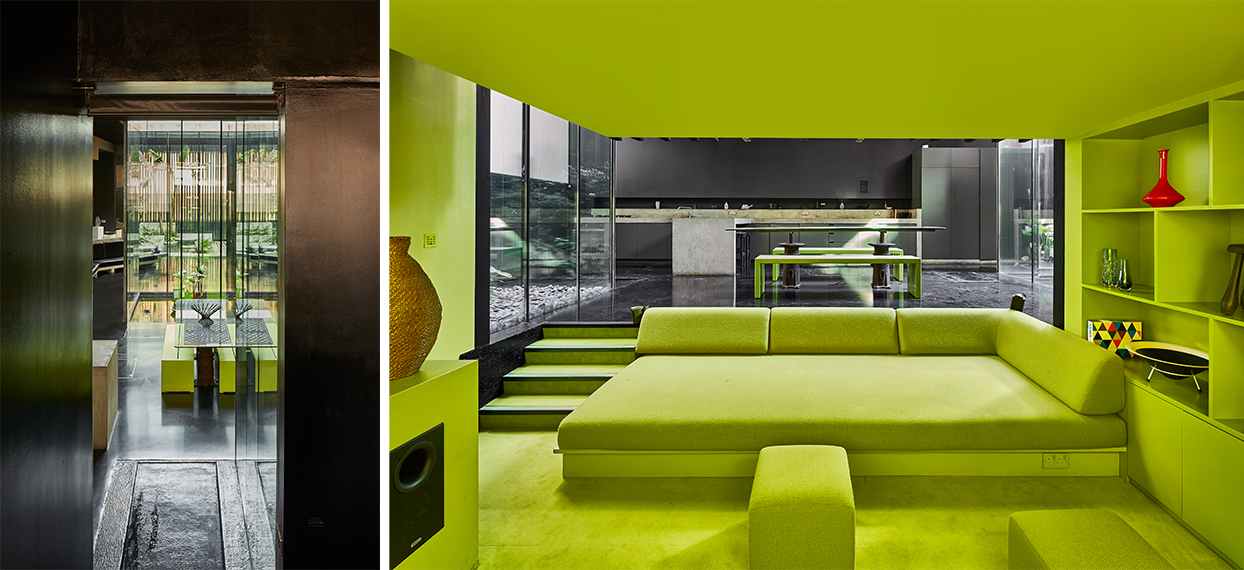 They say a home isn't just where you are, it is who you are. In the case of The Lost House in London, possessing the title deeds to such a pad will, ipso facto, make you a chef-d'oeuvre. Designed by the Ghanaian-British architect Sir David Adjaye, it is such a triumph in spatial design and light that it's almost impossible to believe that this space was once a dingy King's Cross delivery yard.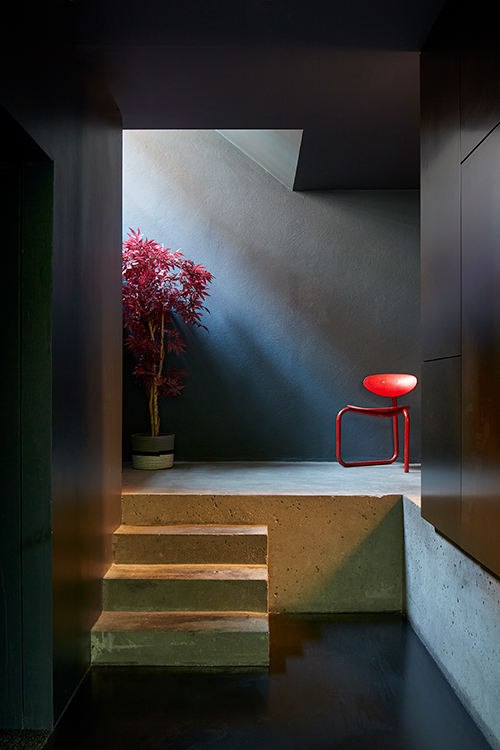 For those who have not yet had the pleasure, David Adjaye is arguably the most influential architect of his generation. His defining work was of course the Smithsonian National Museum of African American History and Culture (NMAAHC) in Washington DC, but, closer to us, he has also penned the Aïshti Foundation in Beirut and the upcoming Abrahamic Family House in Abu Dhabi; he has won a London Design Medal, a RIBA Royal Gold Medal, was named among Time magazine's 100 Most Influential People and even received a knighthood from the Queen of England. It's a highly impressive resumé especially for someone who is still only 54. Thelma Golden, director and chief curator of the Adjaye-designed Studio Museum in Harlem explained what makes this particular starchitect so special: "Adjaye's work – deeply rooted in both the present moment and the complex context of history – has envisioned new ways for culture to be represented and reflected in the built environment."
So what is the cultural significance of The Lost House? Nothing more than it represents Adjaye's awesome skillset and his ability to turn to what was once an unattractive depot that had just a single external window on its exterior façade into what is now an inky black residential jewellery-box illuminated – throughout – with an abundance of natural light thanks to the addition of three light wells that run the length of the home.
You know what else makes this home so extraordinary? It would presumably be nigh on impossible to get Adjaye to take on such a project ever again, now that he's so so busy with towering skyscrapers and colossal museum projects. It would stand to reason then that The Lost House, which was completed in 2004 (just four years after Adjaye Associates was established), should be that much more valuable as a result. That was presumably factored into its listing price of 6.5 million GBP (which equates to 8.5 million USD, or a whopping 23,000 USD per square metre).
"There is almost always a healthy market for great design and many of our buyers see themselves as the caretakers of the homes they purchase," says James Klonaris, the Head of Appraisals at The Modern House, the English estate agents assigned with selling the place. "For some, owning a beautifully-designed house is like investing in art. Particularly at a time when interest rates are low and financial markets are inflated, a beautiful home is an attractive and life-enriching asset. Lost House is an epitome: a meditative retreat with incredible lateral space and volume punctuated by tropical-planted courtyard gardens. And it has a swimming pool."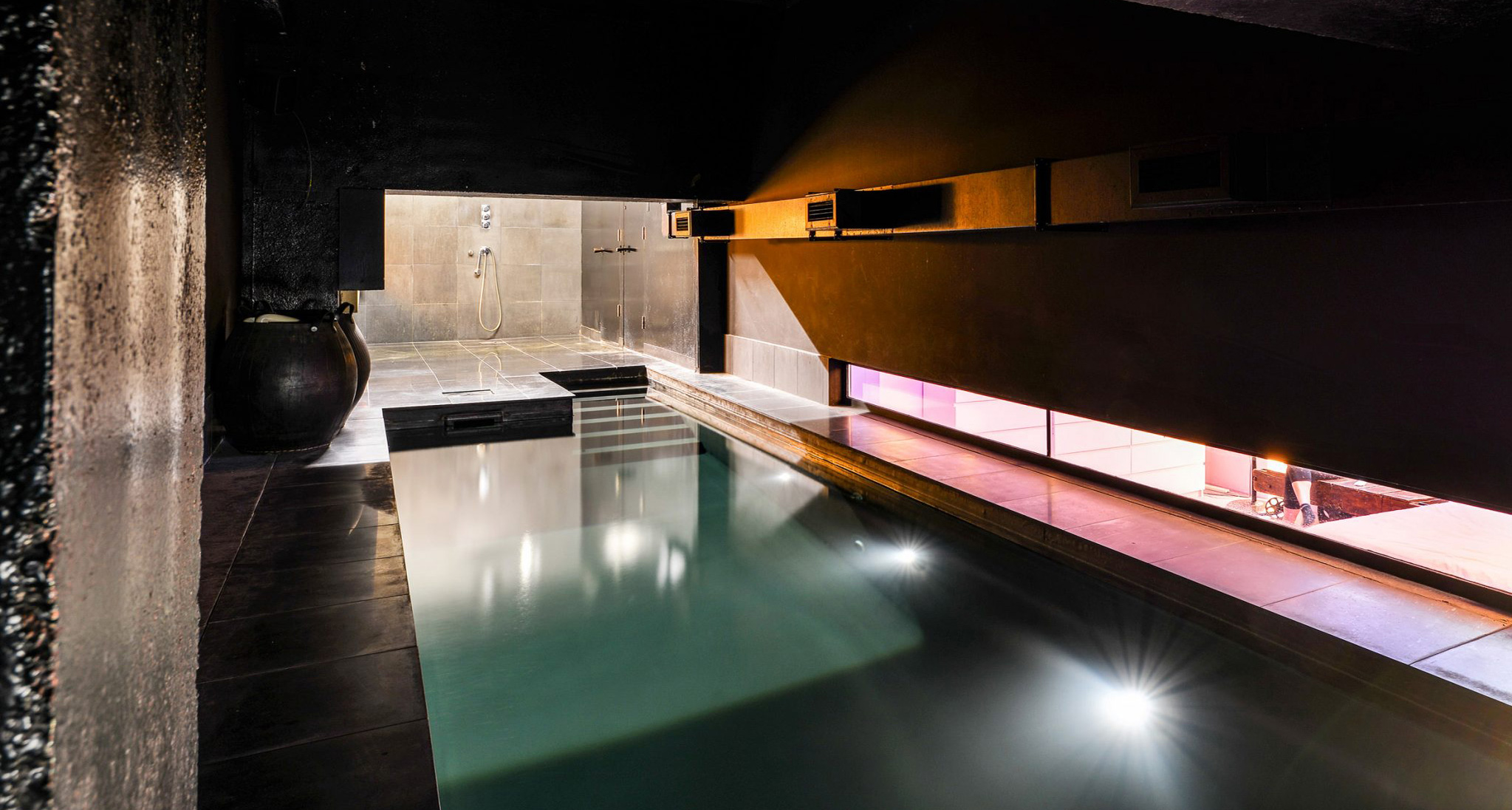 Swimming pool? Yes, but let's not get ahead of ourselves. You'll find The Lost House on a once unassuming alleyway in King's Cross. And though King's Cross used to be an underused industrial wasteland that resembled something along the lines of the West Midlands teleported into London, it has recently become one of the city's buzziest areas after a multi-billion-pound redevelopment that has brought with it new homes, shops, offices, galleries, bars, restaurants, schools, and even a university. There's also a new postcode – N1C. But that's not all. King's Cross has become a tech hub too, with Google building its "landscraper" London headquarters here (designed by Bjarke Ingel Group and Heatherwick Studio to be longer than The Shard is tall, at 312 metres) and Facebook taking 57,000 square metres of office space across three buildings. Indeed, the past few years have seen the opening of several national tech and science organisations in the area, including the Francis Crick Institute and the Alan Turing Institute, with more and more startups choosing King's Cross as their base too. As Klonaris puts it, "Lost House is situated in London's regeneration success story, King's Cross, one of the most exciting and best-connected parts of the city." Best of all, it's a stone's throw from no fewer than three mainline railway stations – Euston, St. Pancras, and King's Cross. Not that you'd need to worry too much about public transport when you have a sizeable two-car garage, but it's nice to have options.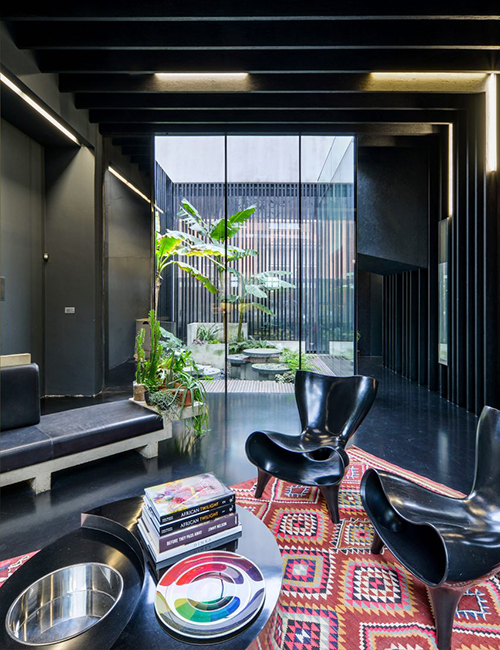 The main level is massive – measuring some 18 metres in length and boasting double-height ceilings. There's a stunning all black front reception area with built-in furniture, as well as an open kitchen, dining area, and sunken lime-green living room toward the rear. And, as there wasn't a window in sight, Adjaye managed to bring light in via strategically placed sky-lights as well as three expansive light wells that define a series of glass-encased outdoor areas featuring a goldfish pond and courtyards filled with banana trees, palm trees, and other flora. "Clearly one of the best features of the property is its volume," says Klonaris, who adds that the sellers have in the past entertained more than 100 people at a time in the home. He also notes that the stunning property has featured in television shows such as 'Spooks' and 'Silent Witness', has made an appearance in Danny Boyle's film 'Trance', and was used in photoshoots for numerous magazines including Vogue, Glamour, Harper's Bazaar and In Style.
The black chipboard walls, ceiling and exposed timber beams are reflected in the house's shiny black resin floor. Adding to its industrial look are the thick concrete elements of the built-in kitchen, which forms a continuous countertop and splashback. This element continues from the kitchen to the living area, where it forms a low bench upholstered in black leather cushions.
At the far end of this expansive living room, you'll find a few steps that take you up to a Mezzanine floor. This was once the loading bay plinth of the depot, but it's now where you'll find a pastel green guest room and a pink-coloured main bedroom, complete with the aforementioned black-painted lap pool that's accessible from an en-suite bathroom that includes two stone sinks situated on a concrete shelf below mirrored cabinets as well as a wet-room style shower that allows residents to wash before and after swimming. The master bedroom used to have a bright neon artwork right above the bed that read: "If not you then who, if not now then when" but that was put aside with the sellers' personal effects. There's a second bedroom too on this floor, and the third bedroom can be found on the first floor but that's now being used as a home office. "Versatility of space is paramount in today's environment," adds Klonaris. "The third bedroom makes for an amazing work setting."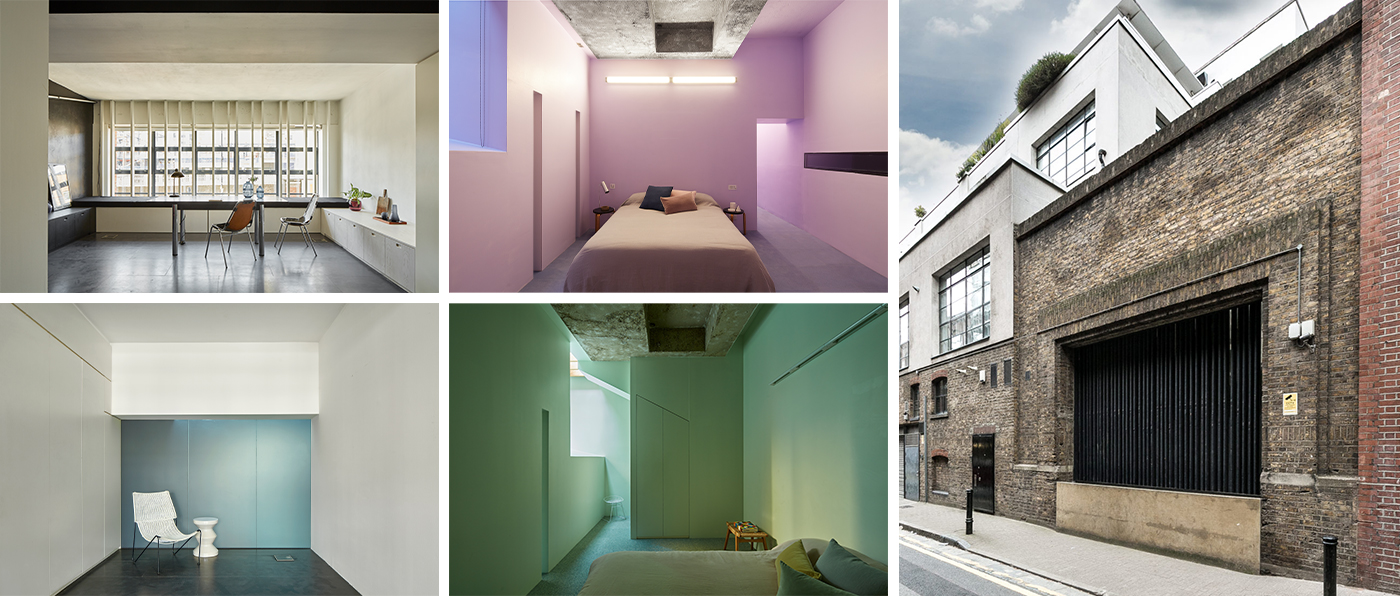 If you're anything like us then, at this point, you're probably wondering about two specific points. First, is the furniture for sale? (Especially given how good the various curated pieces look around the house, among them those stunning Marc Newson Orgone chairs). The good news is that Klonaris says everything is available by separate negotiation. Second, is this a good time to invest in London given Brexit, the coronavirus lockdowns and a contraction in the prime property market? But again, Klonaris seems upbeat. "There is no doubt that many are making lifestyle moves to rural and coastal locations in the wake of the Covid-19 lockdowns, however, throughout this and to this day London appears to have lost none of its appeal, and where there is demand, there is value, particularly for great design. The current market is strong and that suggests a great deal of optimism for the future of London." So, there you have it: The Lost House won't just make an incredible home, it might also make a solid return on investment too. If that's not a win-win, what is?