October 14, 2009 Louis Parks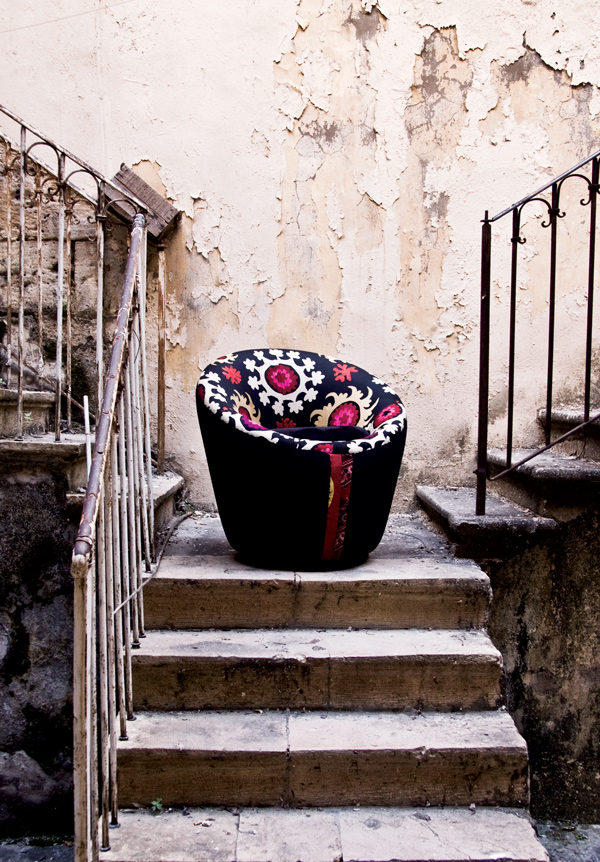 I recently had the pleasure of meeting Maria Hibri and Hoda Baroudi, the founders of Bokja Design, an edgy firm producing truly unique furniture. These vibrant and garrulous Lebanese women have literally taken the interior design world by storm. Their brand is the realisation of a juxtaposition of aesthetics: Baroudi always had a passion for ancient tapestries and textiles, and Hibri for antique furniture. They decided to join forces, combine their talents and the rest, as they say, is history.
Walking into the Bokja store in Beirut's Saifi Village is an eye opener: the pieces are challenging, striking, original, and quite frankly a visual feast. The company's bold mix of textiles, styles and colours, makes every one of its pieces a unique little work of art.
Taking its name from an old Turkish word for the embellished velvet wrapping containing the traditional hand-embroidered dowry of a bride, the modern Bokja is a fusion of all things oriental, with a little of the West thrown in for good measure, "What we're trying to do is to show 'bokja' in a new way. This was the whole exercise. To show our tradition from a different angle," says Maria Hibri. The resulting combination of the handicraft of local skilled artisans with the sleek lines of modernist furniture makes for a very exciting and fresh design brand.
This clash of cultures could have been a mistake; the pieces are certainly something of a visual kaleidoscope and are often psychedelic. But it works. A mix of old and new, East and West, Bokja Design is a rich source of beautiful pieces of art, at once new and relevant, while harking back to a traditional age.
Masters of reinvention, Hibri and Baroudi obviously have a keen eye and they use this to breathe new life into chairs, sofas and other pieces. Their brand is a celebration of sustainability and history thanks to their reinvention of vintage furniture and found textiles. I take it you can't get these cloths in any old fabric shop, so where are they from? "All over the world. Could be Tunisia, could be Morocco, could be the 'Stans, Damascus, Jordan, Cairo or a lot of other places. We always end up in flea markets!" says Hibri. So how do you find a balance? "When we work on a chair, we use the fabrics from one region and then the middle's from somewhere else. So it's a mixture of things. Yet they're all complementing each other," adds Baroudi.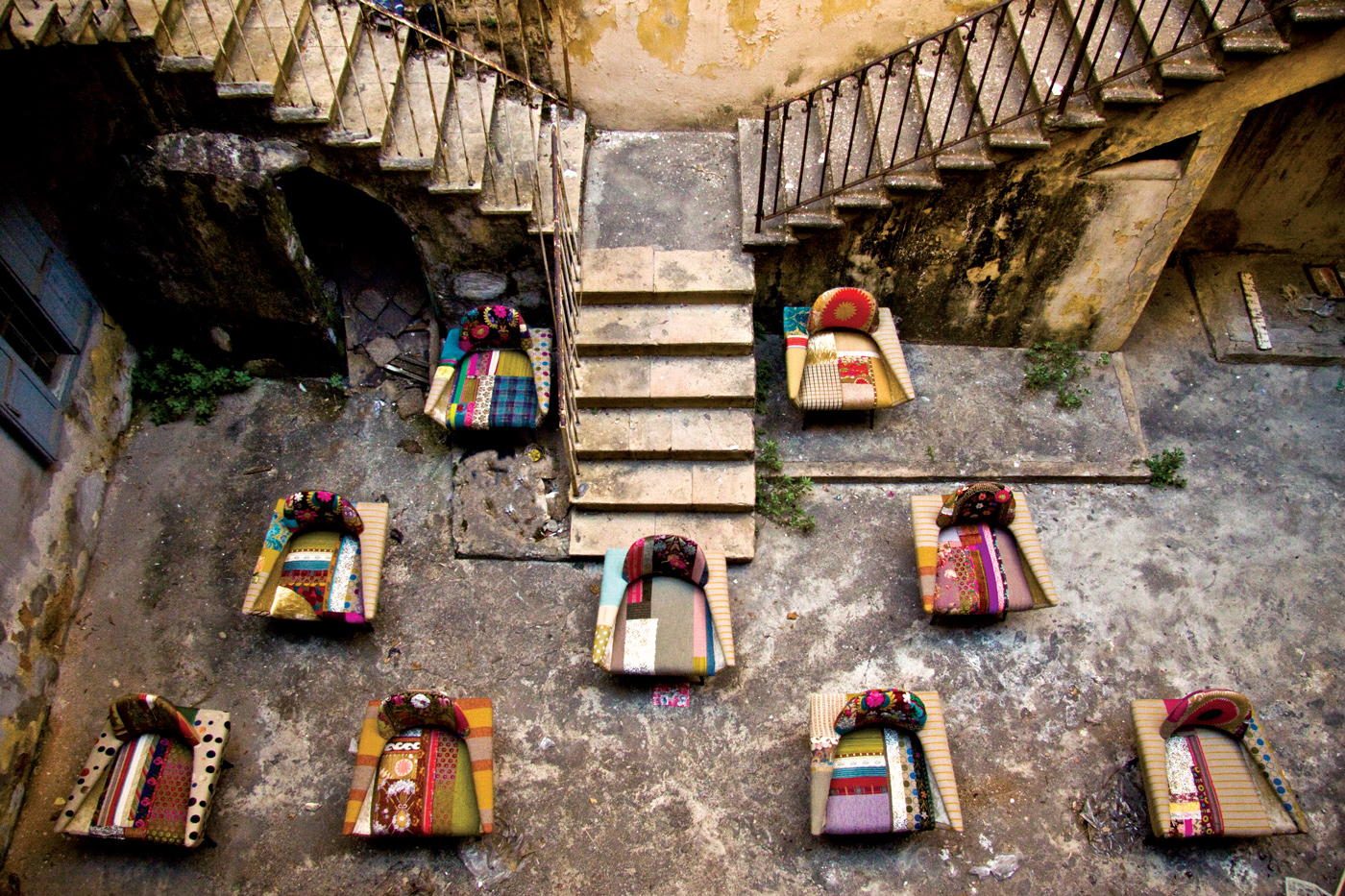 'Whatever works' seems to be the order of the day. Some of the fabrics, predominantly the modern synthetic ones are, how should I put this? Interesting… They're not exactly the sort of thing you'd initially imagine in your living room. Think back to flares, medallions and chest rugs. Yet, incredulously – they are very becoming. There's a certain genius to their 'haute bohemian' talent. The new colours and patterns give the chairs a distinct and wholly new presence that isn't so much a new character but rather a whole new life.
Beautiful Russian chintzes, Chinese silks and brocades, Turkey embroideries, hand woven pieces from Lebanon and suzanis (embroidered tribal textiles) from Central Asia are mixed and matched to form an unlikely marriage of style and textures. Not everyone will have the nerve to put a Bokja chair in their living room, but those who do clearly have their finger on the pulse of interior design.
I try to dig deeper into their psyche. It turns out that the majority of the creative input comes from these two exceptional women, but they're keen to stress that they're part of a team. Bokja employs a small group of skilled artisans who do everything from the embroidery, to the stitching, to the restoration of older pieces. "We feel that the people we work with are very important. They're passionate about what they do. There aren't many like them anymore. You can find a lot of people who do modern, factory-like upholstery but the artisans we work with are people who take their time, who study each piece," says Baroudi.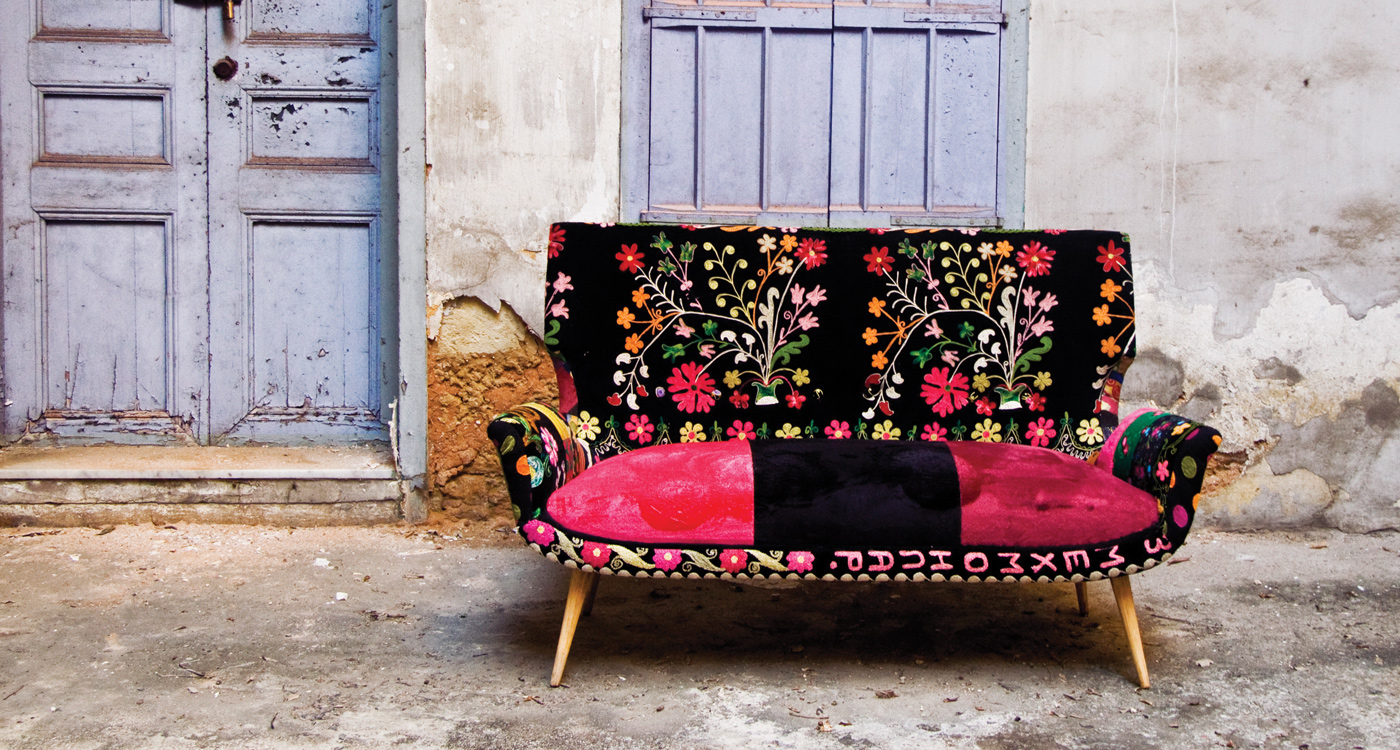 You get the feeling that anyone working with Baroudi and Hibri would need to have an endless supply of patience. I asked them about this, the result was an explosion of laughter and hand waving, "Our pieces are very in the moment. If we don't like it, we'll change it!" says Baroudi, with Hibri adding, "We like to change our minds a lot!" So you're difficult to work with? "We are! We are! We're specific in our enthusiasm," Hibri chuckled. Whatever works; their answers only reinforce my impression. Nonetheless this chaotic environment is clearly inspiring. Bokja's pieces are stunning blends, perfect for today's cosmopolitan, international world. They're from everywhere and nowhere, a sophisticated swirling of colours, patterns and embroidery that carry a message of joyous laissez-faire vibrancy that is so lacking in today's mass produced world.
What started off in 2000 as a one off exhibition has now grown into an international business. Bokja has been well received throughout the Arab world, is appreciated in the US and is exploring the French and British markets. Hibri rattles off a list of celebrity clients: they've been selected for the new Matthew Williamson store in Manhattan as well as Christian Louboutin stores worldwide. They were included in the retrospective of Li Edelkoort's work in Paris, alongside Marcel Wanders, Christian Lacroix and Philippe Starck, mapping out the broad themes that have, and continue to, influence trends in design. Yet strangely you get the feeling that this isn't primarily what interests the pair. They balance the need to make money with their passion saying that the business is very much based on their connection to their work.
Hibri tries to explain their approach, "So much emotion. You can't hide from it; it's part of us but we're trying to be more structured in our jobs." It sounds like the women are moving toward the perfect blend, an unstructured, free, creative environment, feeding a more considered business model yet the designers are self-aware enough to recognise that they are real people seeking emotion rather than perfection. "We work everyday because we can't wait to see the results; it's always a surprise. If I knew what something would look like, I'd probably wait until the morning but I'm always too excited." That excitement is highly contagious; with the rest of the world slowly waking up to its charms, Bokja has put the Middle East back on the map.