November 29, 2014 Nadine Khalil
Chances are, if you've ever walked into an Aesop shop, you won't have forgotten it easily. I remember when I first did. It was in New York's Grand Central Station, where entire walls were constructed from thousands of reclaimed issues of the New York Times.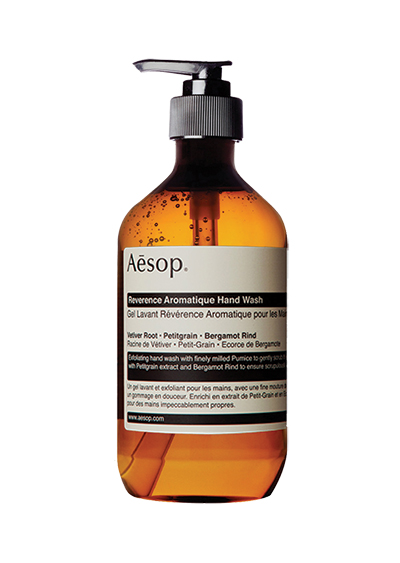 In places like France, Singapore and Hong Kong, the brand has created shelving out of steel pipes normally used for plumbing, fashioned booths from huge blocks of untreated wood and even crafted an entire ceiling from thousands of amber-coloured bottles, positioned to produce an undulating glass wave effect.
No two stores may ever be alike but they all respect the same ethos of stark, functional interiors that push the boundaries of design with their quirky installations. As Aesop founder and creative director, Dennis Paphitis puts it, "Aesop is part of a small movement best described as the Muji-Hermès mix. Our design sensibility is somewhere between the utility of Muji and the luxury and materiality of Hermès. They are healthy contradictions. It's about substance, not spin."
If you're still unsure of what exactly Aesop is, then you'll be pleased to know this is actually key to how the brand works. Aesop is a hair, body, skincare and now, fragrance brand but, more than that, it's a lifestyle. As their manifesto says, "We advocate the use of our formulations as part of a balanced life that includes a healthy diet, sensible exercise, a moderate intake of red wine, and a regular dose of stimulating literature."
If that last reference seems odd, you should consider that Aesop is named after an ancient Greek storyteller. As such, you'll find a smattering of relevant quotes on many of their products, including Marcel Proust's "The features on our face are hardly more than gestures which have become permanent" or Salvador Paniker's, "Better than a face-lift, to stay young we need to be permanently in a state of intellectual curiosity."
This sensibility to design and prose comes from Aesop's founder who is famous for saying that the reason why he launched the company was because he 'wasn't patient enough to be a philosopher, nor tolerant enough to be an architect.' The son of Greek barbers in Australia, Paphitis created the company in 1987, working with a chemist and a few bottles of plant extracts. He started with a limited hair line that has since expanded to become wide range of expertly formulated, botanically based products. And don't expect any narratives about anti-ageing either. Instead, the brand's creed is to prevent skin damage especially when it comes to free radicals.
So how do people learn of Aesop considering it's a brand that shuns advertising? Principally, there are two ways. The first is direct: word of mouth (and don't underestimate the solid reputation they've been able to build in this manner). The second is far more subtle but no less effective: they place bottles of their Aromatique Hand Wash, whether Reverence or Resurrection, in some of the world's best hotels and restaurants. We even found a bottle of Reverence in the bathroom of Brioni's flagship store in Milan. And let's just say that once you try that invigorating blend of vetiver root, petitgrain and bergamot rind, you'll be sniffing your hands for hours. Still, we aren't just fans because of its fragrance, the handwash mildly exfoliates your mitts thanks to finely milled pumice that leaves them as soft as a baby's bottom. It's little wonder we love it so much.
WHAT Aesop Reverence Hand Wash
WHERE 78 stores across 13 countries
PRICE 40 USD for 500ml
WHY This hand wash isn't just superior it's also refreshingly honest in its packaging and promises, which is why we cannot but reciprocate and say that it's simply the best we've ever used.