July 12, 2018 Michael Verdon
If the definition of passion is a "strong and barely controllable emotion," then high performance boats are the most fitting symbols of passion in the yachting world. One could easily use the words intense, exciting, agony, ecstasy, tempestuous, and even rapturous to describe a boat blasting past 160km/h (85 knots). Or you could just forget the words and bite your tongue as you let rip aboard Cigarette Racing's 515 Project One, inspired by AMG's 350km/h Project One supercar, itself derived from their Formula One championship winner. Well, I had the chance to do exactly that at this year's Miami International Boat Show.
But first let's take a moment to remember that the 1978 water speed record of 511 km/h, which was set by Ken Warby in 'Spirit of Australia' (a small boat he actually built in his backyard) continues to stand 40 years later. To put things in perspective, the craziest of the crazies in the premier category of drag boat racing – Top Fuel Hydroplane Class – cover the liquid quarter mile in less than three seconds, and top out at 400 km/h. Most non-professionals however will never get the chance to broach 160 km/h. I on the other hand did manage to break that glass ceiling.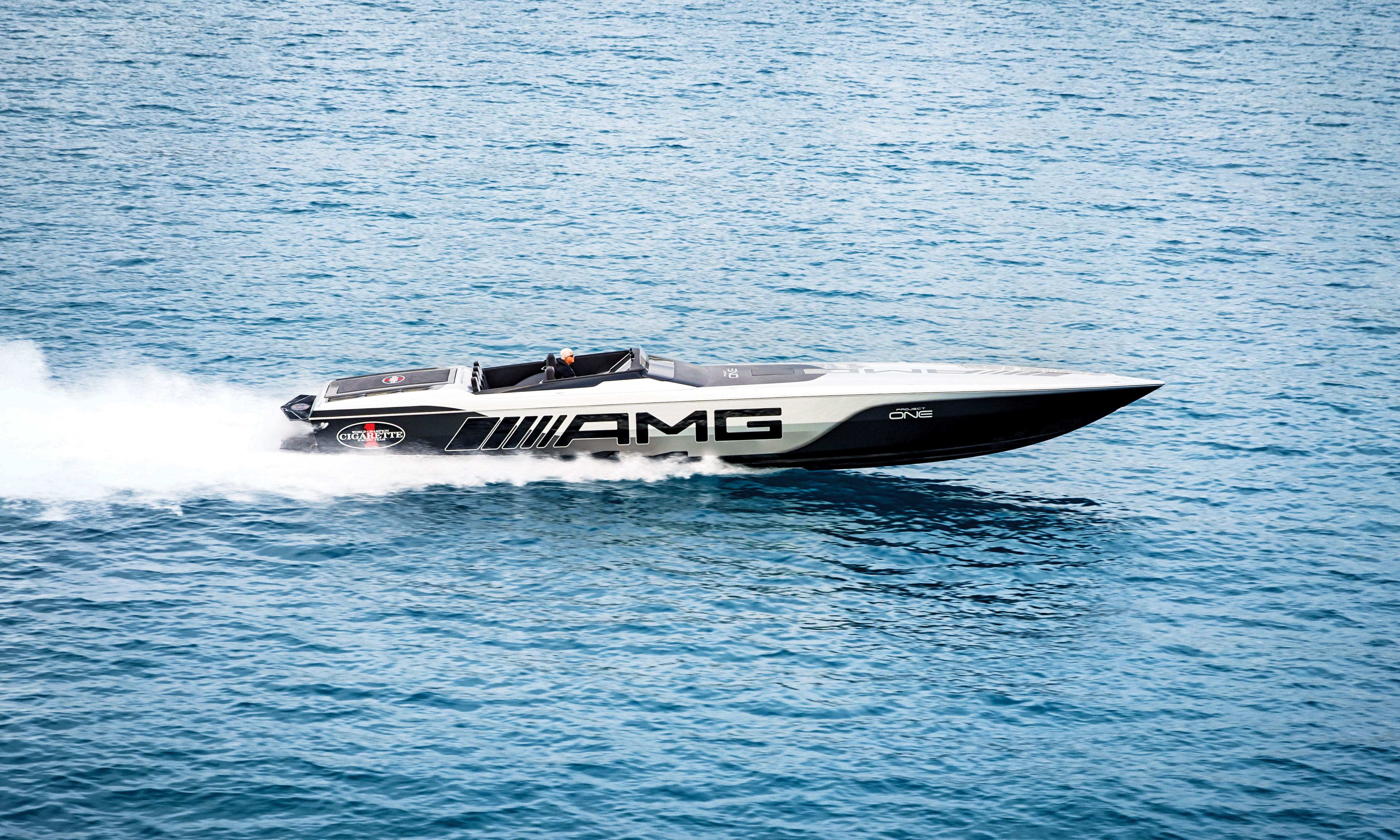 The story of Cigarette Racing began in 1969, in that special Florida hotspot where most go-fast boats are made – Miami. Don Aronow, who launched performance boat brands Formula, Magnum and Donzi (all of which still thrive today) also founded Cigarette, making fast boats inspired by 'rum-runner' boats, used during American Prohibition to out-run larger vessels and also 1960s 'go-fast' boats, designed for offshore racing (and drug smuggling) from the Caribbean to the United States. In the 1980s, during the Miami Vice years, the Cigarette guys were cocky, they sported cowboy boots during offshore races and they strutted their stuff while the rest of the boat-building industry was still cautiously feeling its way forwards. As you can imagine then, the Cigarette name carried a special mystique.
That cachet holds as true today as it did all those year ago. But Cigarette has also evolved and is now a far more sophisticated company, which has put some clear distance between it and its former competitors from the 1980s. Owner Skip Braver, who bought the company when it was teetering towards bankruptcy in 2002 has since turned it into a state-of-the-art, 68-person operation that produces 40 hand-built boats a year, using space-age materials and most importantly for our purposes, has been engaged in a key partnership with Mercedes' AMG division for over twelve years now.
I myself have been attending the Cigarette launches for about a decade and it's clear to see how Braver and Gorden Wagener, Daimler AG's chief design officer, have developed a tremendous respect for each other over these years. Indeed, Wagener says this collaboration with Cigarette has been one of his most rewarding and challenging: "The process of moving features from a hyper-car to a hyper-boat means that nothing is decorative. Everything is function matched to the features of the sea." And as such, both teams have been pouring an ever-larger sum of money into each year's new collaboration. This year though, Cigarette has taken a big step forwards with totally new hull. "Our goal was to create a boat that's a foot longer, three feet taller and 1.5 feet wider than last year's 50 Marauder," said Chad Braver, Cigarette's head of product development. "But we needed it to be the same weight. That involved a new way of thinking about engineering."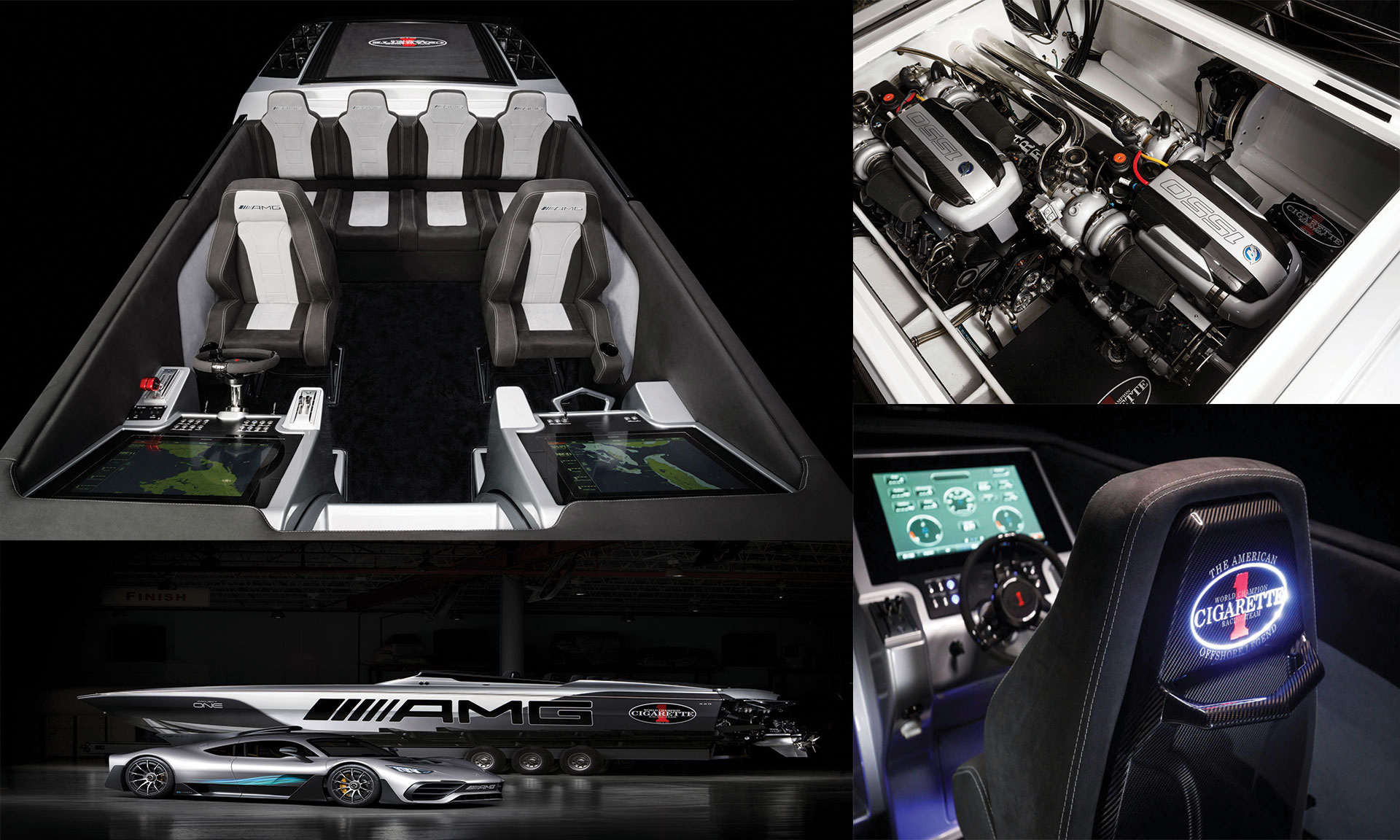 Those extra dimensions might sound minor, but they added 30 per cent more volume to the hull. The team couldn't just add a foot (0.3m) to the stern and widen the cockpit. Go-fast boats have to be lightweight and structurally sound since they take a beating by the ocean at such high speeds. If they're not built right, they can literally break apart. So Cigarette designed this latest launch with carbon fibre and other exotic materials in the deck, bulkheads, cabin liner and engine hatch, thereby keeping the boat both light and strong. Indeed, it came in 40kg lighter than Cigarette's 50 Marauder, the hull of last year's AMG boat. That's not to say last year's ride wasn't a thrill of course, but this year's one is something else.
At 2 million USD for a 15.7-metre yacht, you might expect something extraordinary, and this is. It's the best craft Cigarette has ever produced. The extra beam has added more stability without compromising speed and the 515 manages to reach 225 km/h, which is over 30 km/h faster than the previous AMG model. And that's with a cabin, which let's not forget was once considered sacrilege in stripped-down, go-fast boats but is now a feature that owners demand. For me however, strapped in and holding on in that open-cockpit, it wasn't about acceleration but exhilaration, and as we surged from 145 to 175 km/h, time literally morphed from an even flow to freeze-frames as everything – the landscape, other boats and colourful shacks in Stiltsville – became an indecipherable blur.
Back at the dock, adrenaline still pumping, I felt more alive than I ever have – maybe that's the real definition of passion.