January 31, 2019 Warren Singh-Bartlett
Walk into the soaring, light-filled lobby of The Abu Dhabi Edition and the first thing you'll notice is the seductive fragrance perfuming the air. It's a proprietary blend created expressly for the chain by Parisian parfumiers, Le Labo and the tones of black tea, bergamot and other undisclosed ingredients will be instantly familiar to anyone who has visited sister properties elsewhere.
The second thing you'll notice, apart from the eye-catching overhead kinetic sculpture by Amsterdam's Studio Drift and Latifa Saeed's striking braid-meets-brioche armchairs, is the elegant layout. Somewhere between a gentleman's club and a living room, the lobby's sofas, tables and gold leaf billiard table are all there to be used.
And they are. By day, it is by klatches of ladies who lunch, guests coming in from the pool and creative-types with ruly children in tow. After dark, though, as the candles are lit and the dreamy Lounge music soundtrack gives way to more uptempo beats, a sophisticated club feel sets in. Sit for a while and it will become increasingly difficult to tell if the smartly dressed individuals circulating between cocktails at the Library Bar, carnivorous treats at the Oak Room or seafood dishes at Alba, are lingering in the lobby at the start of their evening, or at its end.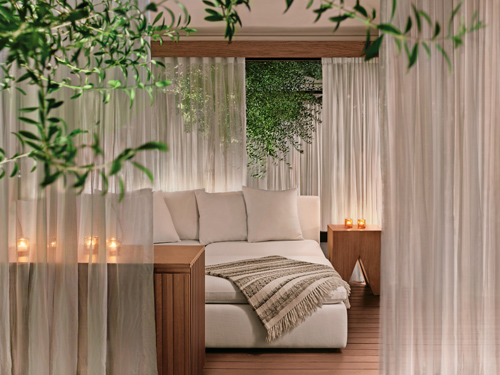 But that, you see, is all part of the plan. As a lifestyle hotel, the first of its kind in the region, all of the Edition's public areas are 'activated'; there to please visually but also to live in their own right, a succession of beautiful, buzzy work and socialise spaces that collectively create the hotel's identity.
The effortlessness with which the Edition pulls it all together is the result of decades of experience. Five years ago, shortly before the second Edition opened in London, I listened to Ian Schrager, the man who invented the boutique hotel when he and then partner Steve Rubell traded Studio 54 for a hotel and gave the world Morgans, talk about his dream of opening a mass market boutique hotel chain called Public, and why he had decided to partner with the Marriott to create The Edition. His goal in both cases, he said, was to democratise luxury, to open the boutique experience up to the widest possible audience.
And it is this, rather than the hotel's glorious appearance – Wimberley Interiors' perfect palette of calm colours and rich accents, Brett Weston's beautiful black and white photographs, Le Labo's sinful bathroom amenities, the thick quilted bathrobes, stand-alone tubs and downy, ocean liner sized beds in the simple, stripped-down but chic 198 rooms and 57 serviced residences – that makes the Edition such a class act.
Yes, the sinuous balconies do convey the kind of Guggenheim vibe that would make Frank Lloyd-Wright, not Gehry – smile. Yes, chef Tom Aiken has absolutely outdone himself, wielding meat, fish and vegetables with precisely the dexterity you might expect from the youngest-ever recipient of two Michelin stars. And yes, the marina setting and lush landscaping does lend this urban retreat the feel of an out-of-city escape.
But in a region already awash in lavish places to stay (even if too many still confuse opulence with excess), what makes the Edition different is its experience.
Because it does not have a story – in other words, it's not housed in a Moorish palace, attached to the seabed or larger than Versailles. The experience is built upon service, which from the moment you arrive to the moment you say goodbye, is light-handed and delightful, chatty but efficient, informal but not intrusive, charming but never at the expense of professionalism.

Of course the staff knows your name, that's old hat. Naturally, they track your preferences to better tailor future stays, but that's standard. What sets the Edition apart is the way every encounter becomes a conversation. Just as the lobby blurs the line between hotel and living room, so the service blurs the line between hotel and home stay. I won't claim that you'll come away having made friends, but you will leave with a definite sense of character, for if you are inclined to listen, each and every member of staff has a story to tell.
In the world of contemporary hospitality, bonhomie abounds but it is very hard to get right. Too little and it comes across as insincere. Too much, and it can blur the line between server and served and speaking as one who has experienced Virgin (in both its terrestrial and aerial forms), I can confirm that 'mateyness' might be fine when you're a child but it grates on anyone who has actually paid their own way.
The Edition walks right up to that line, but does not cross it. Informal, but measured. Close, but never oppressive (or worse, patronising). The result is an experience that is warm, welcoming and human. Relax, the staff appear to say, settle in and kick off your shoes and whatever you want, whenever you want it, we are here for you.
what's nearby