December 31, 2017 Nadia Michel
Just because something is really amazing doesn't mean it's perfect. But there's a place in the middle of the Indian Ocean that comes pretty close. The turquoise water is crystal clear, the sand is sugary white and the air is so pure and clean that by the time it makes it across the water and onto your stylishly-appointed private deck, it might actually cure any allergic rhinitis or airway flu symptoms you might have (a.k.a. the common cold). Oh, and I haven't mentioned the award-winning architecture.
The wow-factor at the St. Regis Maldives Vommuli Resort is actually rather understated – just like it should be, in our current state of world affairs. The 77 glass-walled villas dotting this near nine-hectare island have a futuristic feel – if your vision of the future is one that's set in paradise. At eye level, the 44 overwater villas are made to look like modern fishing huts, but from a bird's eye view, they look like a collection of wooden manta rays. Designed by WOW Architects, a Singapore-based collective, the resort is pretty fantastical to be honest.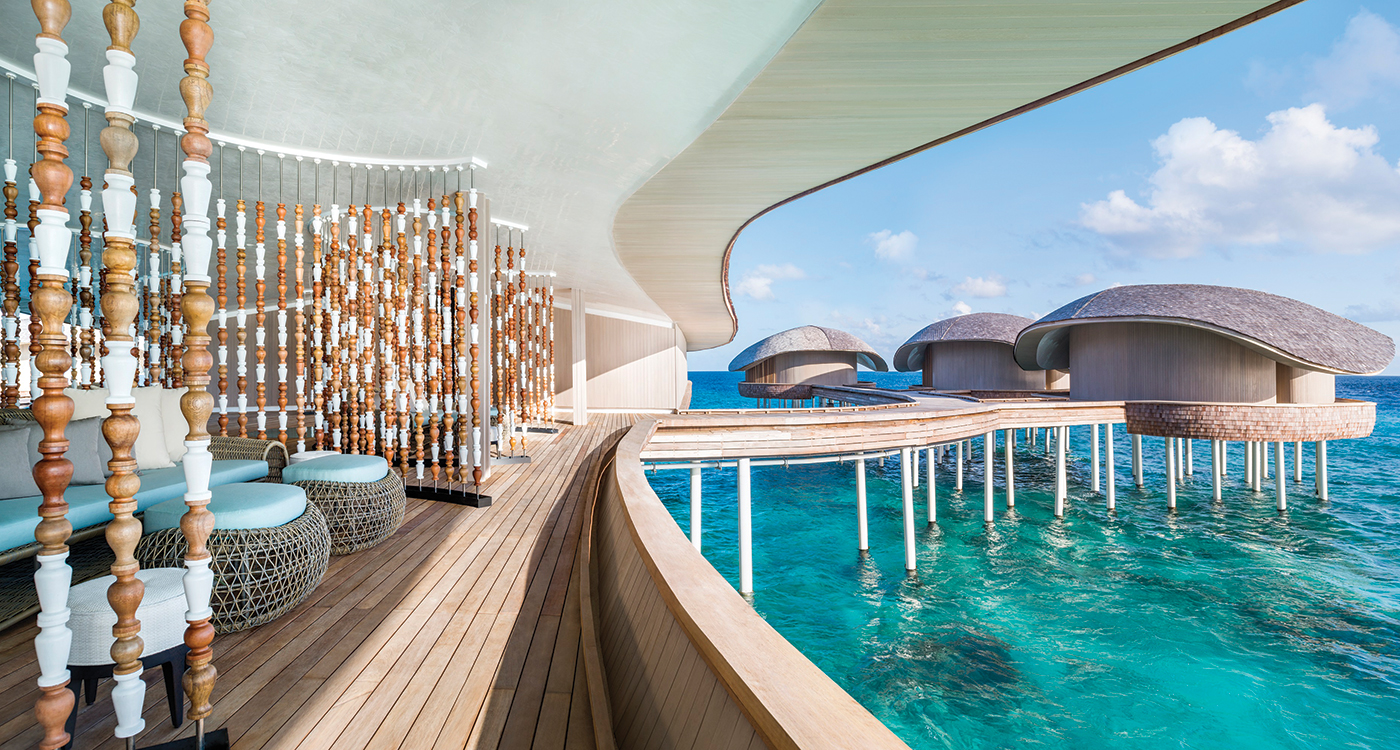 You'll get your first clue as to how great it's all going to be immediately upon landing via seaplane (a loud propeller plane with a 12-passenger capacity) at this private island, set in the secluded Maldivian Dhaalu Atoll. A lineup of staff ready with cold towels and fresh coconut, dressed from head to toe in white, stand waiving as the newest batch of guests arrive. Shortly after comes the introduction to your assigned butler, a companion-in-the-shadows who will sort out any annoyances you might have during your stay, and also the person who'll keep you on schedule, in case you lose track of time, which is a likely occurrence. On this particular mission, her name was Ice, which as it turns out, is rather well suited to her comportment. You'll see what I mean.
The reason for our trip? Besides the obvious – Maldives is simply the most beautiful beach destination in the world – we were there for the launch of a capsule collection by Dubai-based designer Deborah Henning. With photographers in tow (and an influencer, who shall remain unnamed), Henning jet-setted to the island, with not much more than a suitcase-full of her trademark minimalistic, versatile vacation-friendly pieces. And by the first afternoon, she had recruited my companion and I for a fitting and subsequent cocktail and photoshoot on the breezy terrace at the Whale Bar, where a brisk wind played dangerously with my Thrill Seeker skirt – a long, airy georgette number that lived up to its name, with two full-length front slits. It's worth noting that the setting for our meeting was breathtaking, which is probably why the Society of British and International Design recently awarded St Regis Vommuli's Whale Bar the Overall Winner prize in a competition that included projects from over 40 countries. Yes, this bar looks like a beached whale and it's spectacular, especially when viewed from a distance, like from the beach restaurant, Crust.
That's where we found ourselves for lunch shortly after arriving, and where had our first dose of Maldivian-grade harsh reality: the fish curry we ordered was not as exciting as we had hoped, and it took a very, very long time to arrive. While that's admittedly far from terrible in the grand scheme of things, it was enough to convince us that crusty pizza and quesadilla is the way to go at the beach bar here, even this is a St. Regis – and one would think that making curry should come as second nature to the locals here.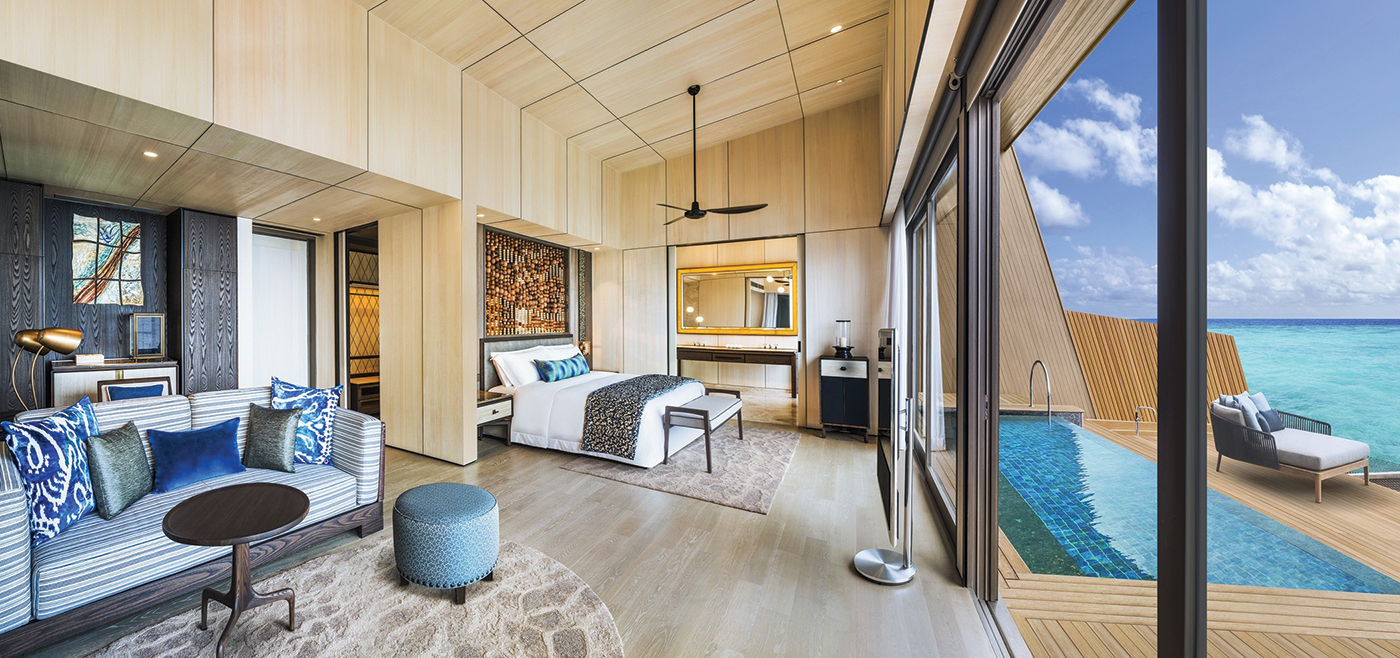 But the curries, and the food in general, got exponentially better as the days went by and we became familiar with menus around the resort. Our initiation started at Orientale, where we dined on a melting pot of Asia's best, from sushi to wok noodles and curried lentils. Though it is overly ambitious, and the service a little too laid back for my taste (when I asked a waiter what was in the the 34 USD Vegetables Moelli, his reply was in the form of a question. "Why? Are you allergic to anything?"), the food here hits the spot. But Alba is where I left my heart: its billowing white drapes overlooking the beach just might be where I'd choose to have my last meal. And the breakfast menu, with options like lobster and Alaskan crab omelet and sourdough topped with oven roasted pumpkin – well, it makes you wonder what the heck you've been eating every morning until now.
Ice's by-now familiar knock at the door came just before 11 o'clock on the second morning, just in time for our scheduled anti-gravity yoga lesson, a fitness technique that entertained my companion, but that I will never attempt again. Spending that much time upside down though, is a good way to appreciate the simple things in life – like gravity, which is necessary if you don't want five litres of blood rushing to your head. It was a mixed bag in terms of a workout, but we made it in time, thanks to Ice and her trusty golf buggy.
Riding in carts is optional here, as the distances are short and therefore provide ideal opportunities for pleasant strolls. But when you're in a hurry (or don't want your stilettos to take a beating on the deck), carts are great. The same goes for painstakingly patient butlers. Despite the fact that we developed a rather annoying "Knock-knock, it's Ice!" Open door. "Ok, we just need a few more minutes!" routine, which often turned into a prolonged 15 minutes of delay, Ice never flinched. In fact, she was the glue that kept the inconsistencies of our stay from going south. When, after a couple days I pointed out – with a definitive edge in my voice – that one of the chocolate truffles that had been left in our villa upon our arrival was still sitting there in an otherwise empty plate, days later, and that the fruit basket had not been replenished, she smiled sympathetically and nodded. I know from experience that most people would have recoiled or blushed, or at least become defensive. But not Ice. The next time we came into our spacious villa, it was impeccable.
Stale chocolate became a distant memory while on the massage table at the lobster-shaped Iridium Spa, following a dip in the Blue Hole, a whimsical pool built over the sea. The Signature Touch massage, topped off with a coconut head rub, made everything seem clearer.
The St-Regis Vommuli Maldives has gorgeous villas, with absurdly comfortable beds facing floor-to-ceiling windows overlooking an endless turqoise sea. You can go snorkeling directly from your terrace, and might even catch some octopuses mating, if the timing's right. The resort boasts one of the largest overwater villas in the Archipelago, the John Jacob Astor Estate, which comes complete with glittering chandeliers, four-poster beds, three private pools and Bentley-branded electric buggies. And, you might even get to meet Deborah Henning, or at least shop her clothes at the pop-up boutique on the island.
Sure, some of the staff could use some polish, and for an island under threat from rising sea levels that could see it totally submerged by the end of this century, there needs to be more effort made towards sustainability – like offering reusable water bottles instead of plastic. But this place is of a beauty that is imperfect, impermanent, and incomplete – which is often the best kind.
what's nearby